Fuel crisis: Hit by rising transport prices, Maharashtra's farmers would rather let the tomato crop rot in the fields
Maharashtra's farmers are a worried lot. Diesel now costs Rs 73.64 in Mumbai. By comparison, it sells at Rs 69.17 in Delhi.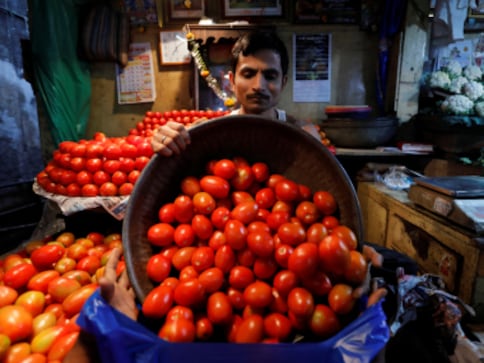 Higher crude oil prices and their cascading effect on diesel and petrol rates has made the going harder for farmers. Vegetable growers in Maharashtra said they prefer to let their tomato crop rot in the fields than harvest it. That's because "it is much more expensive to harvest tomatoes and transport them to the mandis these days" Sopan Kanchan, a Pune-based farmer, told Firstpost.
Taking the crop to the mandis via diesel-powered, or at times petrol-powered, vehicles means one has to shell out more now, as transportation costs have gone up.
"What does our crop fetch? Just Re 1 or Rs 2 a kg. What is the incentive to harvest it? We would rather let the tomatoes rot in the field," Kanchan added.
Diesel and petrol prices rose for the 15th consecutive day on Monday. Diesel now costs Rs 73.64 in Mumbai. By comparison, it sells at Rs 69.17 in Delhi. Meanwhile, the other transportation fuel, petrol, costs Rs 86.08 per litre in Mumbai, while the fuel sells at Rs 78.27 in Delhi.
The government says it is pro-farmer. But "what is the government going to do about higher diesel and petrol prices?" asked Kanchan.
Higher fuel prices, read diesel, are troubling farmers. They need affordable fuel to power tractors that till lands, run pumps that irrigate fields, and drive three-wheelers, utility-vehicles and trucks that ship produce to the markets. And rising diesel prices are throwing farm economics out of gear.
The grower-community is obviously a worried lot, said Kanchan. Any farmer with a large acreage deploys tractors these days, as getting bullocks to plough is not viable. Not everybody owns a tractor and the cost of renting one has gone up, by 40 percent to 80 percent for an hour, on rising fuel prices.
"We fail to understand as to what's going on in the country," Kanchan said. "The government earlier announced fixed prices, and then remunerative prices. Whatever is in the government's hands logs a surge in prices, while whatever is with the farmer logs a dip in prices. Nationalised banks charge a higher rate of interest making it difficult for us to borrow. Electricity and water costs are higher now. Transportation costs are up. But my tomatoes fetch a meagre Rs 1 or Rs 2 per kg," he said.
Onions
Two weeks ago, onion farmers decided to upend their crop on the roads in Nashik. But none of these developments have impacted the prices of vegetables and fruits, said Digvijay Ahir, DGM, Nashik Marketing Board.
However, Kanchan said it's wrong to presume that the status-quo won't change. If the situation gets worse, there will be a glut of vegetables in markets across the state and the country, and with lower supplies, whatever hits the mandis will be priced higher, he warned.
Mangoes
The rise in transport prices have come at the end of the mango season in the Konkan region. Fresh stock hitting the markets is being sourced from Alibaug, Maharashtra, and from Gujarat. The prices of mangoes sold in India cannot go up. But mangoes exported can be priced higher.
"The rise in transport costs do not help the farmer as the price of mangoes cannot go up much, for it is perishable and is available in plenty in the market. The transportation costs for a truck of mangoes to Jaipur or Jodhpur has gone up, from Rs 40,000 to almost Rs 60,000. Farmers can't pass on these costs to the consumer because there is no shortage of mangoes in the market," said Ashok Hande, the representative of the fruits and vegetables merchants association, Navi Mumbai.
Entertainment
Shabana Azmi is a source of inspiration for generations of women and men. She pays very close attention to the young generation.
India
Onion is the main cash crop in Maharashtra and it accounts for 35 to 40 per cent of the country's total production of the staple vegetable
India
In a viral video, the vegetable vendor, named Sharif, can be seen urinating on the vegetables kept on the handcart