Narendra Modi does well to stand by industrialists; nation leapfrogs in ease of doing business but Make in India still a pipe dream
The manufacturing rut can be gotten out of only through Make in India which sadly is eluding us.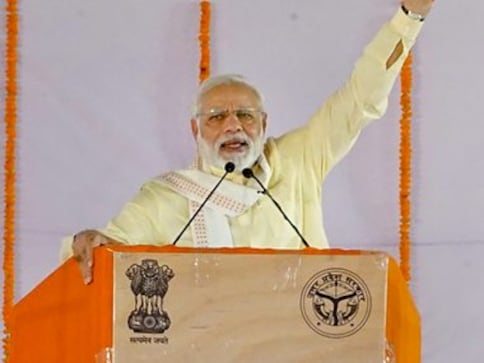 Addressing industrialists at Lucknow on 29 July 2018, Prime Minister Narender Modi made no bones about his good relationship with Indian industrialists who he said contribute as much to nation building as farmers. Drawing a parallel with Mahatma Gandhi's worldview of industrialists, he said Gandhiji had no qualms about living in Birla House, Delhi. So long as your intentions are good and conscience clear there is nothing wrong in openly interacting with industrialists, he said. Modi was right. Interactions and consultations cannot be denounced as hobnobbing.
While Narendra Modi's explanation was in the context of the Congress Party's frequent jibe thrown at him for his perceived friendliness with industrialists, it also came as a morale booster to industries and industrialists at a right time when manufacturing is stuck 15 percent of the gross domestic product (GDP) right through 1991 when liberalisation was announced till date.
To be sure, mere homilies cannot bring manufacturing back on rails and accelerate the process of industrial growth badly needed to provide employment to millions of youth. But to brand the entire industrial class as crooks for the chicanery of a few does a signal disservice to industrial activity in particular.
Investments have been shy lately impacting adversely both growth and employment. What Modi has done is to disabuse the Communist notion that all industrialists are crooks. This could be seminal in making them shrug off their prolonged shyness.
Equally heartening is India's leapfrogging in the pecking order of doing business from 130 to 100th position in the world. But these two developments are at best optics if not theatrics. The manufacturing rut can be gotten out of only through Make in India which sadly is eluding us.
Micro-enterprises or establishments that employ less than five workers accounted for 61 percent of manufacturing employment in India in 2009 . The latest figure is not likely to be markedly different.
We continue to obsess over MSMEs (micro, small and medium enterprises) when we should be focusing more on realizing the Make in India dream. Self-employment, to be sure, is important and therefore the Congress' jibe that youth cannot be fobbed off with the status of pakora makers is facetious. We can make a serious dent in the unemployment problem and manufacturing growth only through the Make in India initiative. Big investments are the key.
The GDP from Manufacturing in India increased to Rs 5942.29 billion in the first quarter of 2018 from Rs 5267.57 billion in the fourth quarter of 2017. The GDP from Manufacturing in India averaged Rs 4376.88 billion from 2011 until 2018, reaching an all-time high of Rs 5942.29 billion in the first quarter of 2018. This most certainly was due to the mainstreaming of the economy on the back of the Goods and Services Tax (GST) and to some extent thanks to demonetisation's upside---ill-gotten wealth finding its way into the banking system.
But the share of the manufacturing sector to the GDP languishes at 15 percent and still has a long way to go before it can reach the government's target of 25 percent by 2022 creating 100 million new jobs in the process on the back of its Make in India initiative.
Defence production was supposed to be the spearhead of the Make in India drive with India serving as a hub for international defence majors. But defence like pharmaceuticals is an industry which is extremely chary of copycats. In the event, not much has flown in by way of foreign direct investment (FDI) in the defence sector despite the 100 percent foreign investment permission.
Lockheed Martin, the US armament giant had proposed to relocate its entire F-16 production line to India and signed up with the Tata group as its partner. The Modi government should rollout the red carpet and speed things along, addressing all concerns including the secrecy of its technology. India as a defence and automobile hub can indeed catalyse industrial growth like nothing else.
Harvard economist Dani Rodrik uses the picturesque phrase 'premature deindustrialisation', a malaise that has afflicted many economies notably India. Wealthy nations achieved their pre-eminent status by graduating from agriculture to industry and from there to services. India seems to have been in a tearing hurry to make services its primary vehicle of growth what with its contribution to GDP at around 55 percent. He attributes this malaise mainly to aggressive exporters like China.
Alyssa Ayres in his vastly informative piece, while bemoaning India's sluggish industrial growth pays fulsome tribute to its automobile and its related ancillary industry that now contributes as much as 7 percent of India's GDP.
While the auto industry shines as an island of excellence, manufacturing in India still faces problems, including poor infrastructure, red tape, disconnectedness from global supply chains, and restrictive labor laws that have stymied the growth of business and limited economic dynamism.
Neither the 1991 liberalisation nor the Narendra Modi government has done anything to come out of the rut. Unfortunately, many of the world's leading multi-national companies (MNCs) are still recovering from the 2008 world economic slowdown. Nevertheless, we must woo them.
(The author is a senior columnist and tweets @smurlidharan)
India
The bird is currently under observation and will be released into the wild once declared fit
India
Prime Minister Narendra Modi will continue the tradition of addressing the nation from Red Fort in Delhi. Here's how you can watch PM Modi's address live
India
This was a special Rakshabandhan, as the girls that tied rakhi to PM Modi were the daughters of sweepers, peons, gardeners, drivers, etc working at the Prime Minister's Office