Infosys board blames Narayana Murthy's 'continuous assault' for Vishal Sikka's exit
There were no immediate comments from Narayana Murthy on the allegations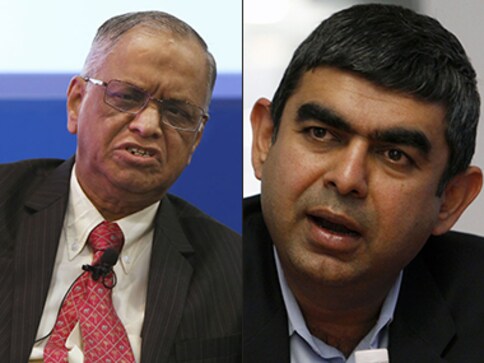 New Delhi: In a scathing attack on N R Narayana Murthy, Infosys Board on Friday blamed his "continuous assault" as the primary reason for CEO Vishal Sikka quitting the company and ruled out a formal role for the co-founder in the company's governance.
There were no immediate comments from Murthy on the allegations.
In a strongly worded statement, the country's second largest software services firm defended Sikka's performance saying under him, Infosys has delivered profitable revenue growth.
The Board alleged that a letter authored by Murthy "has been released to various media houses attacking the integrity of the Board and management alleging falling corporate governance standards in the company".
"Murthy's letter contains factual inaccuracies, already-disproved rumours, and statements extracted out of context from his conversations with Board members," it said.
The Board said Murthy has repeatedly made "inappropriate" demands, which are inconsistent with his stated desire for stronger governance.
The Board argued that Murthy's "campaign" has intensified over time.
"Over time the demands have intensified, which when declined by the Board resulted in the threats of media attacks being carried out," it said.
The Board rued that its efforts to resolve the concerns of the founders - who together own about 12.75 percent stake in Infosys - over the course of a year through a dialogue have not been successful.
The statement added that the Board had tried earnestly to find "feasible solutions within the boundaries of law and without compromising its independence".
It also cautioned that Murthy's actions and demands are damaging the company.
The Board sought to assure shareholders, employees and customers that it "will not be distracted by this misguided campaign" by Murthy and will continue to adhere to the highest international standards of corporate governance.
During an investor call, Sikka said the "continued drumbeat" about former CFO Rajiv Bansal's severance package and Panaya deal in the last 4-5 quarters have been
"sickening".
Infosys co-chairman Ravi Venkatesan said the management is highly distressed by the continuing allegations against Sikka and Board members.
Education
Apart from the official website, students can visit the websites including keralapareeksahabhavan.in, results.kite.kerala.gov.in, results.kerala.nic.in, keralaresults.nic.in, prd.kerala.gov.in and sslcexam.kerala.gov.in to check the results.
Education
The board has cautioned the students and their parents against falling prey to fraudulent calls and has asked them to only trust the official sources including the official website for any announcement related to the results.
India
Total 95 inmates cleared the Class 10th board exam while 68 cleared the Class 12th exam