Will Chidambaram walk the talk on faster disinvestment?
If the first signs are anything to go by, the new FM is on the right track. But serious challenges remain to be tackled as experts slash GDP estimates<br /><br /> <br /><br />
When Palaniappan Chidambaram was reappointed as finance minister recently, Firstpost had argued that he could begin this important innings by adopting a strategy which started off with disinvestments as the first step, rather than attempting big bang reforms.
In a situation where the United Progressive Alliance (UPA) government will need the support of its allies to push through key reforms, the best way for Chidambaram could be to start small and focus on the relatively easier ways to kickstart the process of bringing the fiscal deficit back on track.
If initial reports are any indication, the finance minister, now into his third stint, may well be doing that. A report in Wednesday's Economic Times suggests that the finance ministry is contemplating reviving share sales in public sector undertakings, particularly those in which the public holding is below the mandatory minimum of 25 percent.
Stake sales in SAIL, NMDC, Coal India and NTPC are being talked about in this context, since the government holdings in these companies are well above 75 percent, and there is enough headroom for share sales to bring in the much required finances to try and address the ballooning fiscal deficit. The divestment route is particularly critical in the wake of the problems the government could face if it tries to push through hikes in politically sensitive fuels like diesel.
Astute politician and administrator that he is, Chidambaram will know only too well the value such a disinvestment programme can bring both for the government's efforts as well as in boosting investor sentiment. According to the ET report, the government needs to dilute 9.5 percent in NTPC, 10.8 percent in SAIL, 15 percent in NMDC and 24.3 percent in MMTC to conform to the 25 percent public holding rule by June 2013. This can also get the government much-needed funds for this fiscal, where the targeted disinvestment amount has been set at Rs 30,000 crore.
However, while Chidambaram's finance ministry seems to be beginning to get its act together, major challenges loom on the economic front. A critical meeting between the finance minister and Reserve Bank of India (RBI) Governor Duvvuri Subbarao has also been keenly discussed in financial circles since it is now well known that Subbarao has, by and large, made further easing of interest rates conditional to fiscal consolidation.
Both the ministry and RBI will need to address the problem of slowing growth and the continuing threat of inflation in a fluid global economic situation. And to that extent the meeting assumes great significance, particularly since RBI did not reduce rates even at its last policy review on 31 July, choosing instead to reduce the statutory liquidity ratio (SLR) by 100 basis points to 23 percent to give banks some room to lend.
Against this backdrop, a report by Citi India, put out on 8 August, paints a mixed picture. The report says "the stars just don't seem to be aligning for India," with almost all the growth drivers being hit. Drought fears are coming true, politics and policies are still not conducive for investments, power outages are taking their toll on growth, confidence is low and consumption has begun to splutter, and exports are more sensitive to global demand than the weaker rupee.
On the monsoon, however, the report says while Citi has been highlighting the risk of sub-par monsoons shaving off 40-80 points from its earlier 6.4 percent GDP estimate for FY13, the macro situation has become grimmer both domestically and globally. Hence, the bank has now revised its FY13 and FY14 GDP estimates sharply to 5.4 percent for FY13 and 6.2 percent in FY14 from the earlier 6.9 percent.
The report also says pressure on food prices is likely to result in average inflation going higher at 8 percent. "We thus lower our rate cut call from 50-75 bps to 50 bps," it says. According to the bank, slippages on expenditure (subsidies/drought relief) and revenues (tax/divestments) will result in a headline fiscal deficit at 5.9 percent. The current account deficit (CAD), however, may improve, as exports will contract, but a sharper fall in imports is likely to improve CAD to $55 bn (3 percent of GDP) from $78 billion, or 4.2 percent, in FY12, thus supporting the rupee.
But the report also points out that the India story is 'dented' but not 'broken'. "The structural drivers, namely a domestic-driven economy, demographics and relatively high saving rates, still exist. However, we believe the government needs to get down to serious business with more action to stem a further deceleration in growth."
The report welcomes Chidambaram's appointment, but with a caveat. "We reiterate our view that while a change in guard in the finance ministry is positive, actions may be less than words given the continuation of the dual leadership model and all eyes on the next polls," it says.
In such a scenario, every action Chidambaram takes will not just be keenly watched. How much the new finance minister will be allowed to walk his talk will also depend on the political leadership. It is time for collective action on the economy.
India
Sources said in 2011 Karti Chidambaram allegedly got these illegal visas from Home Ministry against rules when father P Chidambaram was minister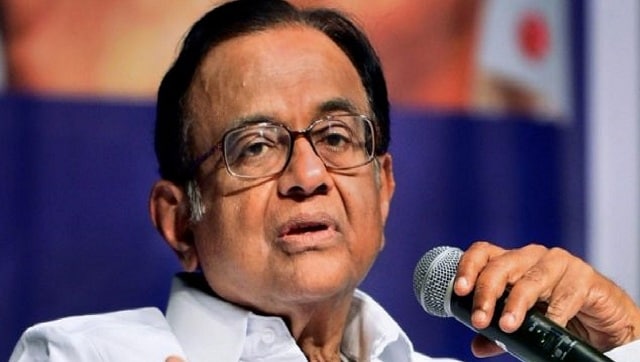 Politics
Addressing a press conference, Chidambaram said a slower rate of growth has been the "hallmark" of the present government in the last eight years, and the post-pandemic recovery has been "indifferent and halting
India
Bhaskararaman was arrested in connection with a Rs 50 lakh alleged bribery case for clearing visas of 263 Chinese nationals working at Talwandi Sabo Power Ltd in Punjab