Why the Buddha never smiled
As we mark the 13th anniversary of Operation Shakti, in which India conducted five nuclear test explosions, and the 37th anniversary of Smiling Buddha, when Indira's India first went nuclear with a test explosion at Pokharan, we find ourselves in the gutter with a bloody nose and several stinking questions.
"You should try not to pick up a fight with the very poor or the very rich. They can go to lengths you and I can't."
This is the advice superstar Rajinikanth gave his sidekick in the famous Tamil comedy film, Guru Sishyan. The middle class is typically a timid lot. With our families and reputations and clean linen shirts to protect, we should normally avoid messing up with the poor, who have nothing to lose, or the rich, who can swat us like a fly.
This week is a good time to remember that advice. As we mark the 13th anniversary of Operation Shakti, in which India conducted five nuclear test explosions, and the 37th anniversary of Smiling Buddha, when Indira's India first went nuclear with a test explosion at Pokharan, we find ourselves in the gutter with a bloody nose and several stinking questions.
Have nuclear bombs made India a safer place? Have they deterred her enemies? Have they dissuaded our archenemy Pakistan from sponsoring terrorism aimed at our people?
Sadly, the answer to all these questions is a resounding No. The nuclear status has put India in incredible danger from Pakistan and her mentees, the multifarious terrorist groups with hyphenated Arabic names. It has not only failed to deter them but has actually emboldened them to intensify their attacks knowing fully well that India can't respond for the fear of provoking a nuclear war.
In short, our policy of nuclear deterrence has failed and it is time to go back to being a non-nuclear state.
Let me explain.
In Rajinispeak, if India were a nice, hardworking, upwardly mobile and God-fearing middle class person, Pakistan would be its indigent neighbour-a depressed, conflicted, violent and crisis-prone slum dog that blames others for its failure. An ugly war-nuclear or otherwise-doesn't make too much of a difference to its perennially failing state. It has little reputation-even its best friends think of it as a chaotic mish-mash of corrupt politicians, psychopathic militiamen, fanatical clerics, freelance terrorists and nuclear-secrets-stealing scientists.
A country with a promise of becoming one of most prosperous nations on the planet, one that seems to have hit the sweet spot between democracy and growth, shouldn't have messed up with that loser. But India did. On May 11 and 13, 1998, by overtly going nuclear, the right-wing government of the day began a dangerous mind game with Pakistan, hoping to scare the small country into submission.
That proved to be a monumental miscalculation. Pakistan not only went overtly nuclear, but also launched a minutely detailed plan to step up incursions and terrorist attacks on India. It escalated the scale of its retaliation step by step as India looked on helplessly.
• In May 1999, around the first anniversary of Operation Shakti, a proxy force of insurgents snuck upon the melting ice of Kashmir and occupied strategic heights. Even Indian army veterans admitted that as far as military tactics went, it was a coup. India sweated its army and spent billions to dislodge the intruders.
• The same year around Christmas, Pakistan helped the illiterate Taliban regime in Afghanistan hijack an Indian Airlines airplane, IC-814 flying from Kathmandu to Delhi. The terrorists took the plane to Kandahar, bled a honeymooner, Rupen Katyal, to death before his young wife. To get back others, India had to release three dreaded terrorists, one of whom was Maulana Masood Azhar who would go on to found an anti-India terror outfit called Jaish-e-Muhammad. Despite knowing of Pakistan's covert support to this shameful operation, India could do nothing. Katyal was never avenged.
• On December 13, 2001, a group of terrorists entered the compound of the Indian Parliament. Brave police officers rebuffed the attack and killed the terrorists but not before seven innocent people died. The BJP government then launched a much-publicised military mop-up, called Operation Parakram, over three long weeks along the border. But this lengthy affair gave Pakistan a window of opportunity to blackmail the Western powers with the threat of a nuclear war. The Americans, who had gone to war over the Sept. 11 attacks, advised India to exercise restraint. Operation Parakram fizzled out and the Westeners lauded themselves for preventing a nuclear war. India came out of it with empty hands.
• On November 26, 2008, Mumbai was attacked. The details are too depressing to recount here. But what happened? India has been intensely attacking Pakistan with heavy dossiers and not much else. You can almost hear generals and terrorist handlers mocking us from across the border for our inability to take decisive action.
• In each of these cases, India has been unable to act because the nuclear war bogey has been raised. Despite being the victims of terrorism, we seem to be on the defensive all the time as the world expects a higher level of reasonableness from us, the middle class, than from our wretched poor cousin, Pakistan.
The nuclear status has defeated our purpose in many ways.
• Before 1998, the US and the UK didn't have much of a locus standi to intervene in disputes between India and Pakistan. They do so regularly now on the grounds that they are helping to prevent a nuclear conflagration between two testy neighbours.
• We have always had a conventional military superiority over Pakistan. "Indian advances in wide-area communications, reconnaissance and battlefield awareness are considerably greater than those of Pakistan; and the naval imbalance rivals or exceeds that between air forces," says a 2005 paper by nuclear policy expert Rodney W. Jones, President of Policy Architects International, a US-based consulting firm. Once both countries went nuclear, this conventional imbalance was rendered irrelevant. Now, both the nations are pretty much equals when it comes to a war.
• India's nuclear doctrine involves a no-first-use policy. That is, India has promised the world that it will never be the first one to attack. But Pakistan has rebuffed India's overtures for a no-first-use pact and reserves its right to initiate a nuclear war. It cites India's conventional superiority as the reason.
• In a wily move, Pakistan has linked its decision to start a nuclear war with any conventional military action that India may take. That is, if Indian soldiers enter Pakistani territory in a non-nuclear conflict, the breach of sovereignty would be enough for Pakistan to use its nuclear bombs. The scary part of this is nobody knows where the threshold lies. Will Pakistan react with nuclear weapons if its territory is breached by 50 kilometres or five? It has been left vague.
• India's nuclear strategy does not focus entirely on Pakistan. It is also aimed at China. But Pakistan's entire nuclear policy revolves only around India. As long as India has nuclear weapons, Pakistan will continue to amass them too. Already, this poor nation that is struggling economically has more nuclear bombs than India has.
•The nuclear command in India is a well-structured civilian-cum-military hierarchy. In Pakistan, it is the army-the same army that sends proxy fighters to Kashmir and plans terrorist attacks on India-that controls the nuclear button. A democratically elected leader, whenever one comes on the scene, will have no say on the matter. The possibility of a small group of lunatics setting off a nuclear war is entirely ruled out only from the Indian side, not from across the border.
• Nuclear jingoists who celebrated the National Democratic Alliance's nuclear adventure in 1998 as a sign of 'India Shining' neither expected these perilous developments nor are willing to discuss them now.
• The only option left before India is to take the moral high horse and leave no excuses for Pakistan to have nuclear bombs. As a first step, we must declare a moratorium on further nuclear weapons research and also announce a cut of, say, 10 percent in the number of weapons in its arsenal. That is just six or seven bombs less. It will hardly make a difference to India's capabilities but will force the West to ask Pakistan to do the same.
• In due course, India must eliminate all its nuclear weapons. There is a remote possibility that Pakistan might reciprocate. Even if it doesn't, India has many options. The US and its NATO allies won't be able to turn a blind eye to Pakistan's status as the lone nuclear power in the region. That will offer just the right conditions for India to form an alliance with the US to invade Pakistan's nuclear establishments and deactivate them.
• And then, in the comfort of a renewed conventional military superiority, we can talk peace.
Find latest and upcoming tech gadgets online on Tech2 Gadgets. Get technology news, gadgets reviews & ratings. Popular gadgets including laptop, tablet and mobile specifications, features, prices, comparison.
First Cricket News
The PCB said squad members, match officials, duty doctors and security managers will be placed in bio-secure zones from the beginning of the season to ensure health and safety of players, officials and all other stakeholders.
First Cricket News
The Zimbabwe team is scheduled to reach Pakistan on 20 October after which the board is expected to schedule their T20 and ODI matches in Multan and Rawalpindi.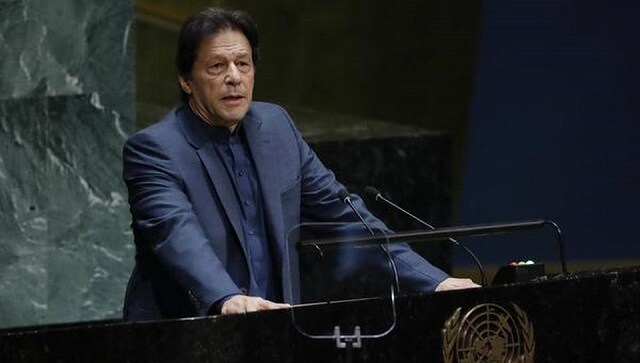 India
The First Secretary in India's Permanent Mission to the UN, Mijito Vinito, walked out of the general assembly hall when Imran Khan started his diatribe about India