US homeowners get a lifeline, economists say it's not enough
US homeowners who owe more than their properties are worth got new help on Monday with the government's expansion of a refinancing program in a step that could help up to 1 million borrowers.
Washington: US homeowners who owe more than their properties are worth got new help with the government's expansion of a refinancing program in a step that could help up to 1 million borrowers.
The regulator of mortgage finance giants Fannie Mae and Freddie Mac eased the terms of a program that helps so-called underwater borrowers who have made payments on time but have been unable to refinance.
"These are important steps that will help more homeowners refinance at lower rates, save consumers money and help get folks spending again," President Barack Obama told a crowd in Las Vegas, a city hard hit by the foreclosure crisis.
The overhaul, which would only help a fraction of the nation's 11 million underwater borrowers, is the latest government effort to breathe life into the crippled housing market.
Officials have been frustrated that numerous attempts to bolster the sector and help borrowers have had little success.
The Federal Housing Finance Agency said it was scrapping a cap that prohibited borrowers whose mortgages exceeded 125 percent of their property's value from refinancing loans backed by Fannie Mae and Freddie Mac under the government's Home Affordable Refinance Program (HARP).
It also took steps to coax homeowners into shorter-term loans and encourage more banks to participate in the program.
The Obama administration sees lowering mortgage payments as a way to free up cash for other spending that could help support the economy's tepid recovery.
The FHFA said it wanted to focus on loans made between 2004-2008, when borrowers typically locked into rates above 5 percent. Currently, 30-year fixed mortgage rates are hovering just over 4 percent.
"Such modifications are no panacea, but they would move us in the right direction for housing-related stimulus for the economy," said Janaki Rao, vice president for mortgage research at Morgan Stanley in New York.
The White House expects homeowners refinancing under the program to save as much as $2,500 per household each year.
Investors in mortgage-backed securities, who had anticipated a revamping of the program, were surprised at the scope of the changes, and prices for housing debt issued by Fannie Mae and Freddie Mac dropped sharply.
With political gridlock blocking legislation addressing the housing crisis, the administration had urged the FHFA to widen HARP to more borrowers. The regulator had moved cautiously, wary of piling too much risk on Fannie Mae and Freddie Mac.
"This is an appropriate balancing of risk that's being borne by Fannie and Freddie, and hence the American taxpayer," FHFA's acting director, Edward DeMarco, said in a conference call with reporters. "This will make HARP more available."
The government seized Fannie Mae and Freddie Mac, the two largest sources of US mortgage financing, in September 2008 as losses on loans they backed spiraled. The two firms have so far received $141 billion in taxpayer bailouts.
After meeting with DeMarco earlier this month, one lawmaker said the expanded program could help as many as 600,000 to 1 million borrowers.
DeMarco and Obama administration officials said there was no way to forecast exactly how many borrowers could benefit, although the FHFA said it could double the number helped by the end of 2013.
Previously, the program was due to expire in June.
The White House has been criticized for over-selling earlier efforts to help housing. When HARP was unveiled in March 2009, it predicted it would help 5 million borrowers, but so far fewer than 895,000 have refinanced through the program.
Housing Secretary Shaun Donovan said the overhaul was "only one piece of a broader strategy to help the housing market."
He said the next step would be to find a way to rent, sell or dispose of foreclosed homes that are weighing on already depressed prices.
With housing impeding a broader economic recovery, some Federal Reserve officials have said the central bank should consider buying mortgage debt to drive down borrowing costs.
To encourage banks to participate in the revamped program, FHFA moved to protect lenders from having to buy back loans if underwriting problems are later found. "Of all the barriers, this may be the most significant," said Gene Sperling, director of the White House National Economic Council.
In addition, banks will only have to verify that borrowers have made their last six mortgage payments and, in most cases, they will not need to conduct an appraisal.
FHFA said Fannie Mae and Freddie Mac will also eliminate certain fees for borrowers who refinance into shorter-duration loans, in a bid to spur homeowners to pay down the amount they owe more quickly.
Morgan Stanley's Rao said while the changes were helpful, they were unlikely to lead to a big refinancing "wave."
Many economists have argued bolder steps are needed given the weight housing is placing on the recovery.
Former US Treasury Secretary Lawrence Summers said what is needed are write-downs on loan principal and mass sales of foreclosed homes to investors for rentals.
"With constructive approaches by independent regulators, far better policies could be in place six months from now," he wrote. "There is nothing else on the feasible political horizon that can make as a large a difference in driving American economic recovery."
Reuters
Find latest and upcoming tech gadgets online on Tech2 Gadgets. Get technology news, gadgets reviews & ratings. Popular gadgets including laptop, tablet and mobile specifications, features, prices, comparison.
World
Biden has resisted calls to move the celebration indoors for the sake of safety. His inauguration committee had already been planning a scaled-back celebration with virtual components because of the coronavirus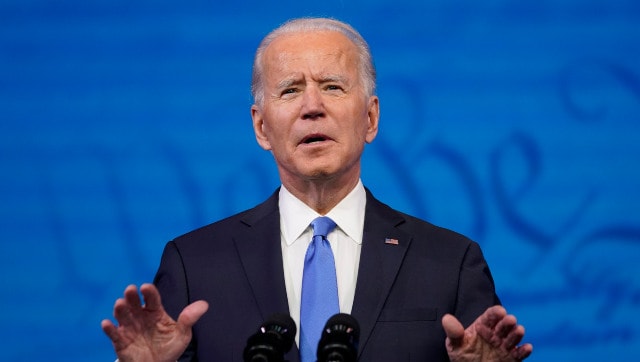 World
Biden will ask the Department of Education to extend the existing pause on student loan repayments for Americans with federal student loans, and will and re-join the Paris Agreement, Ron Klein said
World
The document also said that India remains preeminent in South Asia and takes the leading role in maintaining Indian Ocean security