10YearChallenge: Indian economy too posts her throwback pics and she looks fit, but not all is well
Though GDP is the first thing that comes to mind while discussing the economy, economists generally attach more significance to the per capita income
In the 10-year period, the gross domestic product (GDP) at market price has grown 3.3 times

As a percentage of GDP, the fiscal deficit has improved significantly from 6% of GDP in 2009 to an estimated 3.3% in 2019

The big shocker came when the economy posted photos of bank NPAs a decade ago and now
The year 2019 has officially got its first dose of Internet frenzy; the 10-year challenge. By now, most of you will be familiar with the not-so-challenging, 10-year challenge that's all over the social media, Facebook, Instagram, Twitter; you name it. The challenge is simple; post decade-old pictures of yours alongside a recent one and you are good to go. Look around, you will find all kinds of 10-year stuff floating around and a handful of funny memes too.
Looking at the Internet mania, the Indian economy, not a darling of the Internet and a reclusive individual on a normal day, too wanted to participate in the game. The economy had her fears though. She was perceived to be a boring person. Not many youngsters would possibly want to talk about her pictures as the Internet is too busy discussing 10-year transition of celebrities, she thought. Still, what's the harm in a game? After all, it is just an Internet stuff. With many such thoughts, the economy went back and browsed through some of the old albums. Well, what's in there wasn't boring. No way.
Here's what the challenge showed:
GDP (at current prices): The pictures showed a sea of change. In the 10-year period, the gross domestic product (GDP) at market price had grown 3.3 times. That indeed looked good. GDP is the most widely used indicator when one wants to talk about the economy in general. Well, the throwback picture indeed showed a muscled-up figure and the initial post didn't turn out to be bad at all.
Per capita income: Though GDP is the first thing that comes to mind while discussing the economy, economists generally attach more significance to the per capita income since that gives a more realistic picture of how prosperous (or otherwise) a country has become. Per capita GDP at current prices was Rs 48,787 in 2009 and now, it has grown to Rs 141,447. Here, too, the throwback photo looks cool.
Fiscal deficit: Fiscal deficit, which is the difference between what one country collects as revenue and what it spends, has almost doubled in absolute terms—from Rs 3.4 lakh crore in 2009 to Rs 6.2 lakh crore now. But one should look at it in relative terms to get a clearer picture. As a percentage of GDP, the fiscal deficit has improved significantly from 6 percent of GDP in 2009 to an estimated 3.3 percent in 2019.
Inflation challenge: How has it changed in terms of inflation between 2009 and 2019? The challenge turned to be good here, too. On an average, the consumer price index-based inflation (CPI) was about 9 percent in 2009, which improved significantly to 2.2 percent on an average in 2019. The wholesale price based inflation or WPI declined to 3.8 percent on an average in 2019 from 8 percent a decade ago. There was lot of appreciation for these pics on the social media.
Foreign trade: On the trade front the challenge didn't turn out to be too good for the economy. Total exports improved to $303.4 billion between 2009 and 2019 but imports grew even by a bigger margin from $303.7 billion to $465.6 billion. Total trade deficit widened from $118.4 billion to $162.2 billion. The current account deficit was $27.9 billion back then, and now the figure is at $48.7 billion.
Forex reserves and external debt: The economy posted two more pictures that showed the reserve and debt figures of the country. The foreign exchange reserves increased smartly to $396 billion in 2019 from $252 billion in 2009. The external debt was $224.5 billion back then and now, in 2019, the figure isn't looking good at $510.4 billion.
Bank NPAs: The big shocker came when the economy posted photos of bank NPAs a decade ago and now. From a mere Rs 0.69 lakh crore in 2009 , the gross NPAs of the banking sector has skyrocketed to Rs 9.98 lakh crore. But that, the economy reminded its social media followers, is on account of a massive NPA clean-up process initiated in the banking sector by RBI under Raghuram Rajan's governorship. Even then, remember, the bank credit between 2009 and 2019 has grown only 3.4 times while the NPAs have grown by a whopping 14.4 times!
(Note: For 2019 we took the latest available figures)
Investor wealth: Enthused by the appreciation it received for the throwback pictures it posted on social media, the economy thought it would do a few more. This time what it got was the figures on investors' wealth back in 2009 and now. Just for a point of comparison, the economy posted the BSE companies' market capitalisation back then and now. Yet again, an interesting change. Total market capitalization of Bombay Stock Exchange has increased to Rs 143.9 lakh crore, nearly five times, from Rs 30 lakh crore. But, of course the number of companies traded on the BSE was 2,500 in 2009, while it is 4,100, in 2019.
Investments: The economy then posted two more photos that showed how the investment scenario has changed between 2009 and 2019. Back then, the gross fixed capital formation (GFCF) as a percentage of GDP was 34.5 percent. But, it has declined now to 29.5 percent. Not an appealing comparison, some of those who commented on the picture opined. I'm working on it, the economy replied to one.
Infrastructure: I have posted too many photos in the name of this challenge; this is getting a bit boring now, the economy thought. But that was when she saw one last set of photos in the album. How the number of ports, airports and highways have changed. Major ports—the picture looked identical, number of airports—from 128 to 138, while the length of national highways showed notable improvement from 66,754 kilometers in 2009 to 1,15,435 kilometers in 2019.
To keep watching India's No. 1 English Business News Channel – CNBC-TV18, call your Cable or DTH Operator and ask for the Colors Family Pack (inclusive of 24 channels), available for Rs. 35/- per month, or subscribe to the channel for Rs. 4/- per day.
To keep watching the Leader in Global Market & Business News – CNBC-TV18 Prime HD, call your Cable or DTH Operator and ask for the Colors Family HD Pack (inclusive of 25 channels), available for Rs. 50/- per month, or subscribe to the channel for Rs. 1/- per day.
World
The war in Ukraine which lead to an increase in oil and food prices has largely impacted the economy in Nepal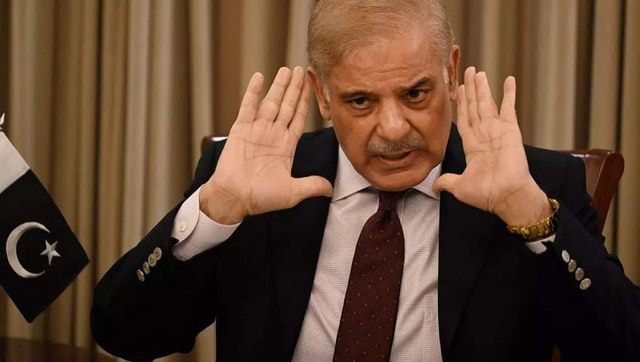 Explainers
Pakistan's dire economic situation just keeps getting worse with reports of its forex reserves being at the lowest in nearly a decade. There is food inflation and an energy crisis, and debt is rising. Now, some are worried Islamabad might go the Colombo way
World
Inflation in the United Kingdom eased slightly last month after hitting a 41-year high in October, providing some relief to the Bank of England. The pressure on households, however, remained intense as food and drink prices climbed at the fastest pace since 1977, according to government data