Lokpal and its other pals
We all know and hoped for the utopian Lokpal. What we got instead were the Jokepal, Thokpal, Chokepal... and many other versions. Which one is your own favorite?
As 2011 draws to a close, let us stop getting all tightly wound up about the political dramas that we have been witnessing, loosen up a tad and take a few cheap digs…including at ourselves.
Since it was the year of the Lokpal, let us review some of versions that have been going around. I, as is my wont, shall refrain from offering unsolicited comments about federal structures, nomination procedures, reservation/representations and ambit (or was it armpit?) of control (with exceptions - and deodorants - of course).
Lokpal: The original version, which got lost in all that grand-standing, debates, nit-picking, spin-doctoring, yogic rants and spiritual chants, airport bonhomie, midnight swoops and general obfuscation. The idea. Which has been raped, pillaged, plundered and sodomised by every passer-by. The thought. The concept. My heart bleeds for this most pristine version.
Jokepal: What we witnessed in the Upper House was definitely the politician's idea of a joke. At our expense. We ALL saw through what MOST of them did or were trying to do….sink the bill while attempting (clumsily) to fool the voters into thinking that ALL of them were fighting for the strongest, most effective bill….elections in 5 states is NOT what this is all about, obviously.
Chokepal For over 40 years, that has been the destiny of this bill. Choking. Every attempt to take in a lungful of air by this version has been thwarted by our elected representatives of yore....this version is the one most likely to come to life shortly, I hear. Like, in the next 40 years? Budget, monsoon, winter, budget, monsoon, winter ad nauseam, ad infinitum.
Roguepal Rustic wit, impressive eloquence and a certain non-elitist charisma apart, Lalu, Paswan and Rajniti types ka ye version hai. Damn! Will they now send goons and party workers to my house, 'Jao, zara Shining Path se nipat lo'?
Cokepal This is the social media version. "Let there be change", said Twitter, and there was change. And if that change comes with 7 "Likes" on FB, well, that just about nails the issue, doesn't it? Sipping coke and making plans to strengthen a revolution by printing some cleverly worded placards (was that the office printer?) and heading to Jantar Mantar or Ramlila. The ones in Mumbai, prefer Pepsi, I assume. Personally speaking, even though I am from Bangalore, I too prefer Pepsi over Coke and tender coconut water. Diet Pepsi at that – toothless, fizz-less.
Pokepal The version which will never see the light of day, as it will always be work in progress……this one is preferred by TV anchors, expert panelists, old and young movie stars and authors, ossified columnists, good-for-nothing bloggers (like me) and intellectuals …poke here, poke there…provoke here, provoke there, an insight here, a gloriously mindless insight there. You get the drift.
Mopepal The avatar preferred by Team Aruna. Someone else stole their thunder, after all.
Croakpal The crown Prince who croaked something about giving the anti-graft bill constitutional status. This is the shortest version.
Yokepal This is the version best preferred by those who forever lament that one bill can't eradicate corruption. And then they mutter something about ethics, integrity and morality at a basic human level. (See my earlier blog  for more on this). You know…look inward, introspect, don't steal office stationery, fly-business-class-when-you-say-you-are-flying-business-class, stone-glasshouses-and-all-that-jazz? Well, this is for them. The times, they are a changing…so shed that idealistic yoke…wake up, and smell the new improved versions of integrity, ethics and morality. Take a leaf out of Sunny Leone's errrr……rrr book? What was taboo yesterday, aaj-kal chalta hai.
Thokpal This is the version preferred by those who go hammer and tongs at anyone who has a differing point of view. Threats of chopped limbs, public lashings for daring to hic, your-derriere-my-kick in the upcoming state elections (and possibly right up to 2014)….the guy with the hammer who perceives everything as a nail-head. Let us give him credit for pushing the issue to the forefront….his other views can be safely ignored. We should send him a CD of the 1949 Weavers song which goes something like
"If I had a hammer, I'd hammer in the morning,
I'd hammer in the evening, all over this land;
I'd hammer out danger, I'd hammer out the warning,
I'd hammer out love between all my brothers all over this land"
(I prefer Trini Lopez's version).
Brokepal: This is the evil deranged twin of Thokpal. The talibanised version. For fear of broken limbs, and empty eye-sockets, I shall not say more on this one.
Dopepal Those panelists who appear in TV debates, prone to verbal flatulence and fatuous views. One has no other option but to ask them "what you smoking, pal?" before changing channels. This one is for them.
ZZzzzzokepal The version most preferred by those sleepy, over-worked parliamentarians who showed us their pearly whites as they sat there with bored expressions, yawning occasionally. Next time, cover your mouths when you do that - I am not your dentist! Though sometimes I wish I was, sadists that dentists are. Maybe I will get a medical degree from one of those colleges in India where, if you fail 4 or 5 years in a row, you are awarded the degree on account of the umpteen imperfect revisions of the course material.
Hopepal The version which the aam aadmi and aurat wait for. Hope lies eternal in our bosoms….even as we swing between cynicism, outrage, anger, sarcasm and skepticism. I hope…
So then, which one is your favorite version?
Find latest and upcoming tech gadgets online on Tech2 Gadgets. Get technology news, gadgets reviews & ratings. Popular gadgets including laptop, tablet and mobile specifications, features, prices, comparison.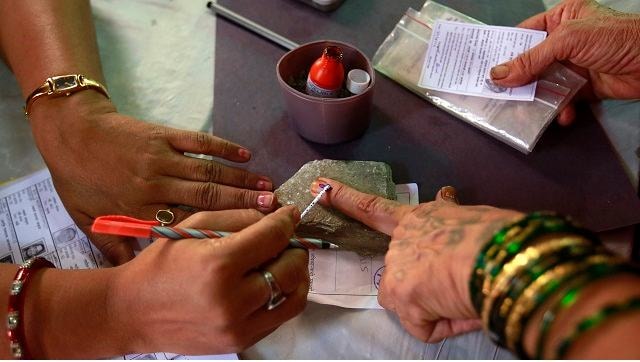 India
The hike was recommended keeping in mind the difficulties candidates may face while holding rallies amid the restrictions imposed due to the coronavirus
India
Once completed, the tunnel, projected as Asia's longest, would reduce the travel time from 3 hours to 15 minutes with avalanche-free travel on the Srinagar-Leh section of NH1
India
Bankipur, the seat Luv is contesting, falls in the Patna Sahib Lok Sabha segment, where his father and ex-Union minister Shatrughan Sinha was defeated in the 2019 general election