In praise of literary twins: Sayers and Yeats
One of the few personality quirks Yeats and Sayers shared is a failing that plagues most writers: terrible romantic judgement.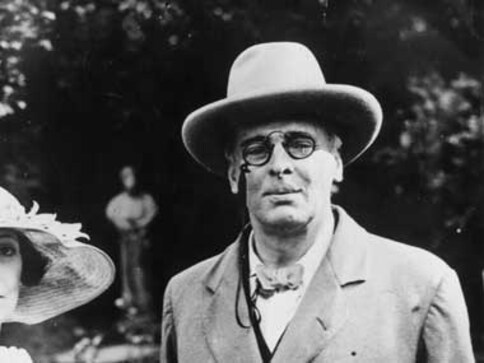 Readers, like all nerds, are sentimental creatures. We thrive on odd convergences and unexpected patterns, trivial though they might appear to more rational humans. Last week, researching Dorothy Sayers for my previous post, the mighty Google informed me that the novelist shared a birthday with the Irish poet W.B. Yeats.  Both were born, 28 years apart, on 13 June. Of course, dozens of literary sorts I've never heard of were probably born on that day— human history is infinite and the calendar year woefully limited— yet these two writers, in the baffling logic of nerd-love, are now forever linked in my head.
To contrast against Thursday's post on the appropriateness of attire, thus, here is Yeats on the matter:
A Coat

I made my song a coat
Covered with embroideries
Out of old mythologies
From heel to throat;
But the fools caught it,
Wore it in the world's eyes
As though they'd wrought it.
Song, let them take it,
For there's more enterprise
In walking naked.
Sayers and Yeats are, it must be admitted, a strange couple. Sayers wrote detective novels featuring the delectable Lord Peter Wimsey, a charming buffoon who hides his intelligence behind flippant quotes for every occasion. She wrote nearly a dozen novels and five anthologies with her quippy detective, and generations of women have swooned over the suave Wimsey.  Later, she introduces us to his eventual wife, Harriet Vane, as stubborn and plucky as Peter himself.  Their meeting- in predictably fatal circumstances- sets off a merry game of catch me if you can. By the last novel, Busman's Honeymoon, it is tough to tell who is most delighted with the happy state of their married existence: the reader, the writer, or the characters themselves.
All Sayers novels, in keeping with their genre, are fiendish labyrinths where murder is abstracted into a fine art. What sets them apart is her graceful wit, which ensures they steer clear of smug satisfaction in their own cunning.  Sayers was amongst the first generation of women Oxford graduates, and her best novel, Gaudy Night, is an intimate exploration of the dilemmas that face 'intellectual' women. Sayers herself was the breed of scholar that used to be called 'classicists' and her varied legacy is a testament to this education in dead languages and medieval thought.  Apart from the whodunits that made her famous, she wrote plays, poems, essays, and a great raft of religious literature. Her pet project, ultimately left incomplete, was a translation of The Divine Comedy. (As an aside to the interested, the Penguin Classics reissue of Inferno is a Sayers translation.)
Yeats, 'born with a fanatic heart', was a pagan anthropologist. He collected Celtic myths and folk tales, spending his life amidst sprites, leprechauns, goblins, and other folk of the Faerie. His interest in the occult was to prove invaluable to later generations of fantasists, who raided his prose to construct their own tales.  For all the lucidity of his essays on folklore, Yeats was a born poet, and he can be as maddeningly obscure as the rest of his species.  His canvas, besides, is often scarily vast.  In one poem, he contemplates 'the fury and the mire of human veins'. Less frequently,  he focuses on a single thought or moment, and these terse verses are my personal favourites.  Whatever the scale of his ambition, Yeats poems unravel deftly once you spend some time with them. After that, with each reread, something new speaks to you, and you are well on your way to worship.
This is perhaps why Yeats has always been the victim of wanton theft.  From comics to television, his phrases have strayed into every sphere of cultural production, whether it is "I will arise and go now, and go to Innisfree" or "That is no country for old men" or "Things fall apart; the centre cannot hold".   To jog your memory this June - a month sadly dominated by the manufactured martyrdom of Baba Ramdev - here is the hair-raising "The Second Coming". It is one of literature's most quoted poems; sunk so deep into our collective subconscious that folk like I mutter "slouching towards bethlehem" when faced with a late period. Panic, after all,  is not an emotion that encourages either context or perspective.
TURNING and turning in the widening gyre
The falcon cannot hear the falconer;
Things fall apart; the centre cannot hold;
Mere anarchy is loosed upon the world,
The blood-dimmed tide is loosed, and everywhere
The ceremony of innocence is drowned;
The best lack all conviction, while the worst
Are full of passionate intensity.
Surely some revelation is at hand;

Surely the Second Coming is at hand.
The Second Coming! Hardly are those words out
When a vast image out of Spiritus Mundi
Troubles my sight: somewhere in sands of the desert
A shape with lion body and the head of a man,
A gaze blank and pitiless as the sun,
Is moving its slow thighs, while all about it
Reel shadows of the indignant desert birds.

The darkness drops again; but now I know
That twenty centuries of stony sleep
Were vexed to nightmare by a rocking cradle,
And what rough beast, its hour come round at last,
Slouches towards Bethlehem to be born?
One of the few personality quirks Yeats and Sayers shared is a failing that plagues most writers: terrible romantic judgement. Despite the elegant eloquence of their working lives, they were struck dumb, as Yeats once said, in the simplicity of the fire.  Ms. Sayers had a child while rebounding from a disastrous live-in relationship with a fellow novelist.  This relationship inspired her first Harriet Vane mystery-  Strong Poison- and her ire was only exorcised many novels later in Gaudy Night.  Unlike Harriet, Sayers didn't have a Peter Wimsey- bibliophile, feminist, aristocratic all-purpose dreamboat- waiting in the wings to rescue her wounded heart. Yeats, for his part, was obsessed with the revolutionary Maud Gonne.  Later in life, their combined passion for Irish nationalism convinced him to decline a knighthood, even as his affair with Gonne  came to a sordid end.  Many Yeats poems chronicle their twisted romance, which wasn't doused by matrimony (hers), fame (his), or infidelity (mutually).
One such, possibly, is "That the Night Come":
She lived in storm and strife,
her soul had such desire
for what proud death might bring
that it could not endure
the common good of life,
But lived as 'twere a king
that packed his marriage day
with banneret and pennon,
trumpet and kettledrum,
and the outrageous cannon,
To bundle time away,
that the night come.
Ideas
Of the all imaginary creatures that Jean Louis Bourges wrote about in The Book of Imaginary beings, the squonk is perhaps the most fascinating of them all.
Ideas
Who can deny that unbridled nationalism has been at the root of much of the destruction of the last century? As we celebrate our tryst with destiny, let's listen to Rabindranath Tagore, Independent India's earliest cultural ambassador.
Life
Author, poet, and artist, Peake was a bona fide literary god worshipped by fantasy-fic fans around the world.