2015 Gulf Monsoon Scooter Rally: 30 entries registered
Entries open till July 31 for event on August 8, 2015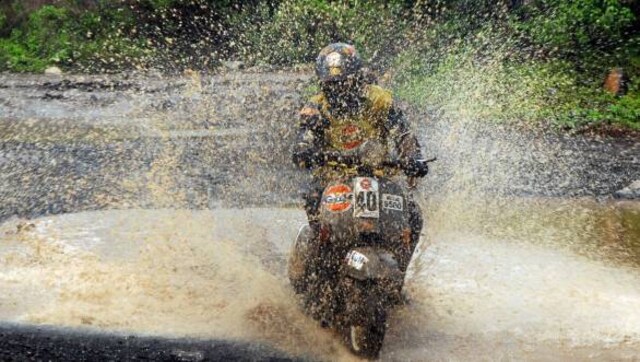 Think your scooter is just an everyday-machine for ferrying you from point A to B, within a reasonable distance and on reasonable terrain? Well, the 26th edition of the Gulf Monsoon Scooter Rally is here to help you realise what more your machine is capable of. The rally scheduled for August 8-9, 2015 comprises of a 25km course through mud, slush, bog and all that the monsoon can throw at you and your scooter " this year the starting point is K-Star in Navi Mumbai. The pictures from last year's rally pretty much sum it up.
The entries for the event are on until July 31 " this year, organisers Sportscraft (in collaboration with Gulf Oil) are accepting a maximum of 45 entries and 30 entries have already been registered. The competition? 2014 Gulf Monsoon Scooter Rally winner R Nataraj from TVS Racing is already signed up along with four-time champions Manjeet Singh Bassan, Muzaffar Ali and Kunal Rao, and scooter rally veteran Avtar Singh. Several entries from Bangalore, Pune and Aurungabad have been received but in the words of Sportscraft's Shrikant Karani, there is "an army of riders" registered from Bhopal in Madhya Pradesh. TVS Racing, Mahindra Two-wheelers and Ceat are the three professional FMSCI-sanctioned teams that'll take part in the rally.
Competitors in the rally can sign up for any of the three classes - Class S1 (80-110cc) two-strokes, Class S2 (110-160cc) two-strokes, and Class FSG (up to 160cc) four-strokes. Winners will be getting prizes of up to Rs 75,000 and there is also a Late Firdosh Wazirdar Trophy for novices.
While the previous scooter rally was divided into two sections " Competitive and Transport - this year's format cuts down on about 50km of the course. The 26th edition of the Gulf Monsoon Scooter Rally will no longer be the 85km affair and will instead start and finish within one day, that is, August 9. The contenders will, however, have to take part in the ceremonial start from Our Lady's Home, in Dadar, Mumbai at 6pm on August 8.
For more details, head to www.sportscraftindia.com.
Auto
Its going to a pretty busy month, with seven different national championship events among an array of others
Auto
Sets the record for number of events organised; Gulf Monsoon Scooter Rally also enters the record books
Auto
Total of 50 entries will be accepted on a first come basis