Zimbabwe's Mugabe backs opposition on eve of election
By MacDonald Dzirutwe HARARE (Reuters) - Former President Robert Mugabe said he would vote for Zimbabwe's opposition in Monday's election, turning on one-time allies in the government ahead of the first vote since they ousted him in a de facto coup. The election will see 75-year-old President Emmerson Mnangagwa, a long-time Mugabe ally, face 40-year-old Nelson Chamisa, a lawyer and pastor who is vying to become Zimbabwe's youngest head of state. Polls, which are unreliable, give former intelligence chief Mnangagwa only a slim lead over Chamisa, making a runoff on September 8 a possibility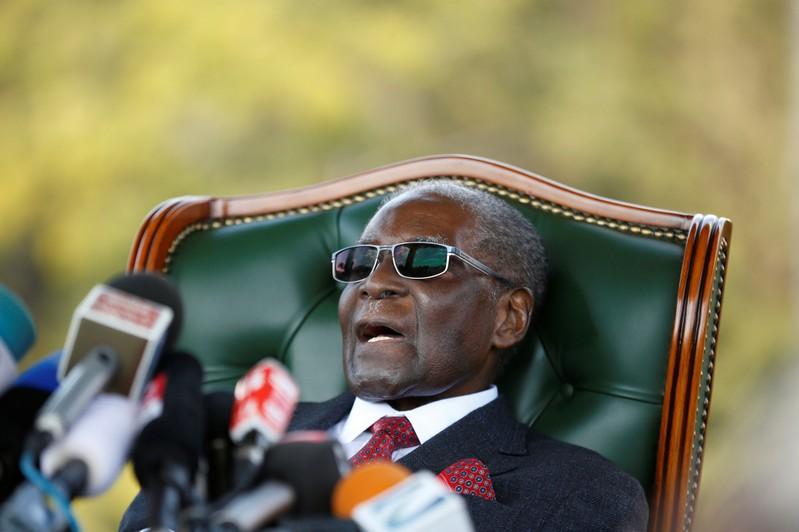 By MacDonald Dzirutwe
HARARE (Reuters) - Former President Robert Mugabe said he would vote for Zimbabwe's opposition in Monday's election, turning on one-time allies in the government ahead of the first vote since they ousted him in a de facto coup.
The election will see 75-year-old President Emmerson Mnangagwa, a long-time Mugabe ally, face 40-year-old Nelson Chamisa, a lawyer and pastor who is vying to become Zimbabwe's youngest head of state.
Polls, which are unreliable, give former intelligence chief Mnangagwa only a slim lead over Chamisa, making a runoff on September 8 a possibility.
Mugabe, whose 37-year rule came to an end when he was forced to resign in November, told reporters at his mansion in Harare on Sunday that Mnangagwa's government was unconstitutional and ruled by the gun.
"I hope the choice of voting tomorrow will throw, thrust away the military government and bring us back to constitutionality," said a frail looking Mugabe, in a rambling off the cuff speech that lasted almost an hour.
"I said I can't vote for those who have caused me to be in this situation ... so there is Chamisa left."
Mugabe, one of the last "Big Men" of African politics, still looms large over Zimbabwean politics and he may yet influence the first vote without his name on the ballot paper since the country gained independence from Britain in 1980.
Though he became increasingly unpopular with most Zimbabweans as mismanagement and corruption sent the economy into decline, he retains support in his rural heartland where supporters remain bitter about the manner of his removal.
Mnangagwa, known as "the crocodile", an animal famed in Zimbabwean lore for its stealth and ruthlessness, was removed as vice president by Mugabe last November to make way for his wife, Grace, to seize power, analysts say.
This was too much for army generals who rolled military vehicles through the streets of Harare and kept Mugabe under house arrest until he resigned facing imminent impeachment.
VIOLENCE FEARS
Mugabe on Sunday said it was "total nonsense" that he wanted his wife to succeed him and claimed that he was preparing to resign at a ZANU-PF congress in December.
Such is the draw Mugabe retains even seven months after stepping aside, he became the focus of questions at a parallel press conference held by Chamisa.
"Mr. Mugabe's wishes are his wishes. I am going to accept any voter with open hands. The more the merrier," Chamisa said in response to a question about Mugabe's endorsement.
Elections under Mugabe were often undermined by violence, rigging and voter intimidation.
Chamisa's Movement for Democratic Change (MDC) has already cast doubt on the election process, accusing the Zimbabwe Electoral Commission (ZEC) of bias.
There have been reports of intimidation and coercion, and state media is biased towards the ruling Zimbabwe African National Union-Patriotic Front (ZANU–PF). But there is consensus that the process has been better than before.
Mnangagwa has welcomed in foreign media and international observers from the EU, United States and the Commonwealth, while opposition parties have been freely allowed to campaign.
If Chamisa disputes the result or no one candidate gets more than 50 percent and there is a runoff, there are fears of street protests and possible violence.
Dozens of people were killed in the lead up to a runoff in 2008 between Mugabe and MDC founder Morgan Tsvangirai, who died in February. Tsvangirai pulled out of the contest before the vote in an effort to end the bloodshed.
"A run-off election is becoming more probable, which also increases the risk of violence as it has in previous election cycles," said Robert Besseling, analyst at EXX Africa.
"Although an outbreak of widespread violence as in 2008 is not expected ... incidents of localised violence are increasing in frequency and intensity."
(Reporting by Macdonald Dzirutwe; Writing by Joe Brock; editing by Mark Heinrich, William Maclean)
This story has not been edited by Firstpost staff and is generated by auto-feed.
Find latest and upcoming tech gadgets online on Tech2 Gadgets. Get technology news, gadgets reviews & ratings. Popular gadgets including laptop, tablet and mobile specifications, features, prices, comparison.
Business
By Jessica Resnick-Ault NEW YORK (Reuters) - Oil prices strengthened on Wednesday, as OPEC and its allies were seen complying with a pact to cut oil supply in September, even as concerns loomed that recovery in fuel demand will be stalled by soaring global coronavirus cases. Early in the day crude was boosted by a bullish stock market. Even as equities whipsawed on pandemic worries, oil stayed higher, buoyed by expectations that OPEC could staunch a supply glut
Business
By Tina Bellon and C Nivedita (Reuters) - Tesla Inc will further cut the price of its Model S "Long Range" sedan in the United States to $69,420, the electric carmaker's chief executive, Elon Musk, announced in a tweet https://bit.ly/2H0JCP0 on Wednesday. The anticipated drop marks the second time this week Tesla has cut the price for the high-end sedan, following a 4% cut of the Model S's price in the United States on Tuesday to $71,990.
World
By Jeff Mason DES MOINES, Iowa (Reuters) - Under siege over his handling of the novel coronavirus pandemic, President Donald Trump on Wednesday cited what he said was his son's mild bout of the virus as a reason why American schools should reopen as soon as possible. Trump made the comment about his son, Barron, as the president swept into Iowa on a mission to shore up support in battleground states that he won in 2016 but is in danger of losing to Democrat Joe Biden barely three weeks before the election. First lady Melania Trump announced in a statement earlier in the day that the virus that struck both her and her husband had also infected their 14-year-old son