Zika chronicles: Everything you need to know about the deadly virus
The Zika virus has found late glory, at last, through its possible association with the debilitating conditions of microcephaly and Guillain–Barré syndrome.
By Shreerupa Mitra-Jha
Hollywood blockbusters thrive on such tropes: a mysterious, incurable pandemic that sweeps through continents and produces deformed babies in its wake. The Zika virus has found late glory, at last, through its possible association with the debilitating conditions of microcephaly and Guillain–Barré syndrome (GBS).
Discovered in 1947 in the forests of Uganda, the Zika has, historically, been a traveling virus crossing Africa, Asia, the Pacific Islands and the Americas with relatively mild symptoms to indicate its incidence. All this changed in 2015. The virus, which, till recently, was little more than a scientific curiosity, has now assumed a scary semblance. For half a century since its detection, there were a little more than a dozen confirmed cases of Zika. Today, Brazil alone has an estimated 1.5 million infected people.
Despite the fact that more than 75 percent of Zika infected-patients are asymptomatic and it has a very low mortality rate, the virus's stature has hopped, skipped and jumped from a regional outbreak to a global health emergency in a matter of eight months. Its only threat seems to be a possible disastrous impact of the virus on pregnant women who give birth to infants with shrunken brains and also, in some cases, triggering a rare auto-immune disease causing paralysis called Guillain-Barre syndrome in adults. Both microcephaly and Guillain–Barré outbreaks, however, seem to be concentrated in north-east Brazil. Some cases of GBS, although, have been recently detected in Columbia. In December last year, the Pan American Health Organisation (PAHO)—a regional office of the WHO—warned of a strong possible association of GBS with the Zika virus.
This has triggered panicked queries as to why a virus deemed more or less innocuous, as far as impacts of viruses go, has suddenly been associated with such dangerous conditions. Could it be a mutant variety?
Alarm bells rung louder when researchers in Brazil discovered the virus in the amniotic fluid of mothers pregnant with fetuses with microcephaly and also detected the live virus in the urine and saliva of patients. The US also confirmed this month the case of a man who had returned from Venezuela sexually transmitting the virus in Texas.
Fresh from the trauma of Ebola this has been enough to set health officials scrambling for a more coordinated response to the virus outbreak.
Brazil has declared a state of emergency and has deployed the army to assist in stamping out the vector-- the aggressive Aedes aegypti mosquito which also causes dengue, chikungunya, yellow fever and West Nile virus. While many Latin American and Carribean countries have urged women not to get pregnant till 2018 other countries have advised pregnant women not to travel to countries with active Zika outbreaks. However, it is "very, very unlikely" that WHO would issue trade or travel alerts, ​even in the case of a mega event like the Olympics in 2016, or advise women to delay conception.
"The level of alarm is extremely high," said the Director-General of the WHO, Dr. Margaret Chan, in a special briefing to the member-states on the sidelines of the 138th Executive Board meeting of the WHO on 28 January.
The UN health agency chief added that she is "deeply concerned" about this "rapidly evolving situation". The virus will infect between three to four million people in the Americas over this year. Chan's concern also stems from the huge potential of international spread of the virus owing to the large geographical spread of the Aedes mosquito—a band of more than 22 countries, including India, who are highly susceptible to Zika transmission.
The virus that, on its own can travel about 200 metres, loves to take a lift in anything from a plane to a boat to bamboos has spread rapidly in an extremely globalized world with criss-crossing trade and travel. The current Zika outbreak, that started in May last year, has now expanded to more than 30 countries with the most recent case being detected in China on February 12.
"At present Zika reports from other countries are all imported. Human beings are the main carriers of the virus and local transmission is only possible if the vector is present in the area," WHO's chief for Vector Ecology and Management told FirstPost.
The concern is also related to lack of immunity of the population that are unexposed to the Zika virus.
However, a relationship of causality is far from being established between Zika virus and microcephaly and Zika and GBS.
"We don't have an answer to what is going on in terms of the microcephaly," said Dr. Bruce Aylward, WHO's Executive Director for outbreaks and health emergencies, and added that it is very important to distinguish between association and causation.
Though the WHO is conducting control studies, cohort studies and ecologic studies, part of the problem in establishing such a causal relation, or even a relation of association, is the lack of diagnostic tools, the fact that most Zika patients are asymptomatic and do not need a run for the clinic, that antibodies generated in the blood may be due to other infections, and also, the difficulties in confirming microcephaly cases.
Health experts say that, in retrospect, French Polynesia in 2013 may have seen a small outbreak of Guillain–Barré syndrome --42 patients were confirmed to have Guillain–Barré syndrome out of about 9,000 suspected cases--after a Zika outbreak though it is difficult to positively confirm such an association.
Brazil's Ministry of Health said last week that there were 4,180 cases of Zika-related microcephaly since October. However, it now turns out, after scrutiny by experts, that only 270 of these were microcephaly cases are related to Zika or other infectious diseases.
Microcephaly has also been associated with exposure of pregnant women to alcohol, drugs and other infections. There have been some murmurs in the health sector of the introduction of Tdap vaccines in late 2014 into the regime of vaccination for pregnant women, the safety of which on pregnant women, some heath experts have argued, has not been proven yet, and its possible association with these microcephaly cases. The WHO, however, dismissed such a possibility saying that the Brazilian government has globally one of the most stringent health regulatory authorities.
India has not yet had a Zika virus outbreak, though, peculiarly, the virus had been detected in India in the early 1950's by the National Institute of Virology in Pune, even before the first virus was confirmed in Nigeria. Blood tests have shown Zika antibodies in India, Pakistan, Thailand, among other countries in Asia, indicating prior exposure to the virus. However, given the possibility that the virus may be traveling in a mutant form, this renders  the 1.3 billion Indian population naïve to the virus.
"We have seen the virus spread further; we don't know whether or not some of the potential associations have spread further as well," Dr. Aylward said.
"There seems to be an evolution clearly," Dr Marie-Paule Kieny, WHO's Assistant Director-General for Health Systems and Innovation, said on February 12, adding that this is what seems to be making the virus spread more quickly. There seems to be a change in the genome, "a mutation in the NS1 gene", that is generating a virus that is fitter and multiplying to a higher titus, she added.
The threat to the Indian sub-continent is real.
"We must use the dengue dynamics as our reference point--where you add the dengue  outbreak during the previous years [and where] the mosquito Aedes aegypti is still present you have a risk of Zika transmission," said  Dr. Marcos Espinal, Director of Communicable Diseases and Health Analysis at PAHO, the health organization at the centre for combatting the Brazilian Zika crisis. During a special session on Zika he explained to governments with a help of a map that stated: 'Risk of Dengue Virus Transmission=Risk of Zika Virus Transmission'.
"In both places [French Polynesia 2013 outbreak and the current outbreak in Brazil] there have been sequential outbreaks of dengue, chikungunya and then Zika. So the question is: is there a direct mechanism or is there an indirect mechanism associated with the  antibodies generated as a result of one  infection. So the mechanism is not at all clear,"  Aylward stated.
Globally, there are currently four categories of countries vis-à-vis the Zika virus: one, countries that have the vector, the virus as well as birth malformations, like Brazil. Second, countries with the vector and the virus but no possible neurological associations or birth deformities. Third, countries that have the vector but not the virus, like India and fourth countries that don't have the vector or the virus, like Chile and Canada.
"What any country that has got the Aedes and within the dengue belt should be concerned about is the possibility of the Zika virus arriving and that is what surveillance should be for, that is, the Zika virus arriving," Aylward warned governments of the dengue regions.
"If there is Zika then they should be putting in place the capacity to detect any change in the neurological conditions that have been temporally or geographically associated with it in other areas," he added.
"For the time being, we don't know if Zika will be closer to dengue or chikungunya," Kieney told Firstpost.
The International Federation of Red Cross and Red Crescents Societies (IFRC) has already started a drive called "clear up, clean up and keep it up" in the dengue belts and has launched an appeal for $2.3 million earlier this week.
"Its not just a one off clean-up or clear-up but you have to keep this up for a long, long time and become a daily routine to reduce the amount of mosquitoes around," said Julie Lynn Hall, IFRC's Director of Health.
"Vector control is the best and most important option right now and personal protection," she added. However, controlling the vector is a tough job evident from the fact that more than 100 million people globally are infected by dengue every year. The eggs of the Aedes mosquitoes can survive for long and under rather unfriendly conditions in the smallest pool of standing water. So even traces of eggs have to be scrubbed off thoroughly in the fight against the Aedes mosquito.
"A coordinated international response is needed to improve surveillance, the detection of infections, congenital malformations, and neurological complications, to intensify the control of mosquito populations, and to expedite the development of diagnostic tests and vaccines to protect people at risk, especially during pregnancy," Dr. Velayudhan told Firstpost.
Additionally, there are no vaccines, specific treatments, and rapid diagnostic tests, available to combat the virus.
"The landscape is evolving very rapidly and numbers change daily.  About 15 companies/groups have been identified so far, most have only just started work," Kieney said on 12 February on Zika vaccines. Currently, two vaccine companies seem to be more advanced: a DNA vaccine from the US National Institutes for Health, and an inactivated product from Bharat Biotech, in India, who are also licensed to produce vaccines for Rotavirus. 10 biotech companies have been identified so far that can provide nucleic acid or serological tests.
"Vaccines are at least 18 months away from large-scale trials," the senior health official added.
Studies are, also, being carried out on medicines and other therapies that could prevent infection in vulnerable groups, especially pregnant women, as is done for malaria.
"For vector control, innovative methods seem promising options – biological approaches for example, such as the controlled release of bacteria to prevent viral replication in mosquitoes; or genetic approaches, such as the release of genetically modified mosquitoes to reduce the mosquito population," she added indicating measures that governments could take in their combat against the aggressive mosquito. The association between Zika and microcephaly and Zika and GSB, however, is starting to reveal faint outlines.
"It seems, although it is not proven yet, but it seems, indeed, that the link with Zika is becoming more and more probable," Kieney said. The same for Guillain–Barré syndrome. "In places where there has been an increase in Zika, there has also been seen an increase in Guillain–Barré. The direct causality is still to be demonstrated but the association in time, in location seems to be clear," she said.
If causality, or even an association of Zika virus with Guillain–Barré or microcephaly is established, and if it is, indeed, a mutant variety, then India could be potentially sitting on a time bomb.
"What needs to be analysed and really ascertained [are] evidence of what changes in the virus is making potentially this virus able, now, to create outbreaks and also, create more diseases than was before," Kieney told this reporter.
The fight with the mosquitoes, in that case, has just begun.
The author is a journalist at the United Nations Office at Geneva and World Trade Organisation.
World
Anti-gay sentiment in Uganda has grown in recent weeks amid press reports alleging sodomy in boarding schools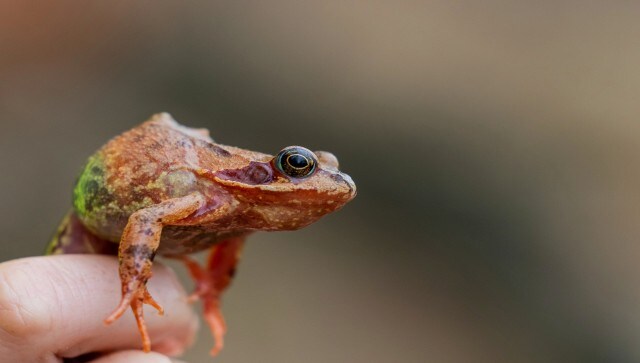 Explainers
The fungus named Batrachochytrium dendrobatidis affects the keratin in the skin of amphibians, resulting in skin infections and lesions. A 2019 study has said that the fungal infection is to blame for the reduction of 39 per cent of frog species across the world
World
Uganda is notorious for intolerance of homosexuality -- which is criminalised under colonial-era laws -- and strict Christian views on sexuality in general