Yusuf al-Hindi: The mysterious Islamic State recruiter in India who's got intel agencies worried
Armar also told Sheikh that he was a follower of Baghdadi and the Islamic State group and that he was on his way to Syria to join the terrorist organisation.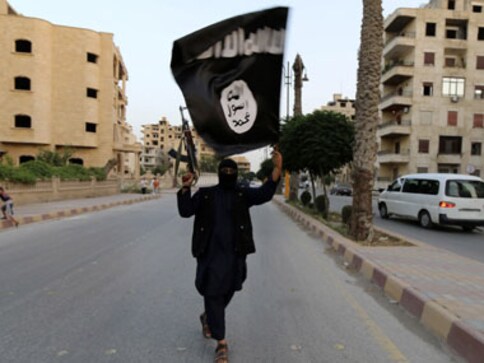 Six suspected Islamic State operatives were allegedly conspiring to carry out terror activities in the national capital and adjoining regions during the Ardh Kumbh in Haridwar to terrorise people, the National Investigation Agency (NIA) told a special court on Monday, reports said.
According to sources, the NIA, in its chargesheet filed before district judge Amar Nath, claimed that the accused were planning to assemble Improvised Explosive Devices (IEDs) from explosive materials extracted from "match sticks".
The chargesheet was filed against Akhlakur Rehman, Md Azeemushan, Md Meraj, Md Osama, Mohsin Ibrahim Sayyed and Yusuf al-Hindi under Section 120 (conspiracy) of the Indian Penal Code (IPC) and sections 18 and 20 of Unlawful Activities (Prevention) Act (UAPA).
While the others were remanded to judicial custody, al-Hindi, who also goes by the name Shafi Armar, is reportedly on the run. He is the head of a group of Indian jihadists based out of Raqqa in Syria and is believed to be working for the Islamic State. Armar's arrest could be a big step for the Indian intelligence agencies, and a sign that they need to crack down on miniature terror modules inspired by the Islamic State.
In April this year, an IANS report quoted official sources and said Armar was killed during a US airstrike in Syria. The report went on to say that his death ended a large hunt of security agencies for a man considered "extremely crucial" in setting up the Islamic State's fledgling bases in India.
"The sources said India was informed by American officials about the death of Mohammed Shafi Armar, a resident of Bhatkal in Karnataka, who headed and recruited Indians for the IS and its regional franchisee Jund ul Khalifa-e-Hind (the army of the Indian caliphate)," an IANS report said. But the report was later refuted by several counter-terror organisations, who confirmed that Armar was very much alive and recruiting.
Speaking to Hindustan Times on condition of anonymity, an official said, "Some social media platforms announced Armar's death, but as per our information, he is still communicating with prospective recruits who are under the scanner of security agencies for showing jehadi tendencies."
NIA's Monday chargesheet said:
"They were conspiring to carry out a terror activity in the area of Delhi/NCR during the Ardh Kumbh festival in Haridwar in order to create terror in the minds of people of India and to send a global message that they are representatives of Islamic State in India."
It further added that the "accused owed their allegiance to Islamic State to further its activities in India by way of motivating Muslim youth in this regard, to ultimately train and prepare them to carry out terror activities in India and also to shift them to countries like Syria, Iraq etc."
"...they were conspiring to carry out terror acts by planting IEDs during the Ardh Kumbh Mela in Haridwar, and for this, they were in the process of acquiring explosives and the necessary expertise in assembling the IEDs with the help of literature provided to one of them through internet," the chargesheet added.
While this is a huge breakthrough for the agency, the bigger problem could be Armar, the mysterious recruiter who was formally an Indian Mujahideen operative, and is currently absconding.
Who is Yusuf Al-Hindi?
Al-Hindi is a common surname that is given or taken by Indian Muslims who join the Islamic State in Syria or Iraq and it is done for identification purposes. Hailing from the port town of Bhatkal in Karnataka, Yusuf al-Hindi was a former Indian Mujahideen (IM) terrorist. Wanted in previous cases related to the IM, Armar allegedly told Mudabbir Mustaq Sheikh, who along with 13 others, was arrested by the NIA in January, that he is an ally of Abu Bakr al-Baghdadi, the self-proclaimed Caliph of the captured territory in Syria and Iraq and the dreaded chief of Islamic State.
Armar also told Sheikh that he was a follower of Baghdadi and the Islamic State group and that he was on his way to Syria to join the terrorist organisation. Armar is four years younger than Mudabbir, who was better known as 'Abu Musab'. In fact, he was given this name by Armar, who was his Syria-based handler.
According to a report in The Indian Express, Armar is alleged to be the chief of Ansar-Ut-Tauheed (AuT), a group that pledged its allegiance to IS.
Armar's name first cropped up when NIA was investigating Islamic State-inspired suspects in Madhya Pradesh's Ratlam. While interrogating more than 30 alleged Islamic State operatives, Armar's name popped up for motivatng and radicalising the Muslim youth in India.
It was even harder to put a face to the name as the Syrian handler was only active online and "real details remained sketchy," DNA report said.
Armar recruited youngsters for the Jund ul Khalifa-e-Hind by radicalising them online and luring them to jihad. He earlier headed the Ansar-ul Tawhid fil Bilad al-Hind — "Supporters of Monotheism in the land of India" — a breakaway faction of the IM.
Armar had also recruited 14 Indian men who were arrested by the NIA in January while they were planning terror strikes in India. The United Arab Emirates deported three Indians in January this year who were allegedly working for Armar.
Recruiting and training
In June this year, NIA arrested five men from Hyderabad who alleged that they were members of an Islamic State cell that was operating under the command of Muhammad Shafi Armar. NIA officials, on previous occasions, have said that Armar was believed to have been in touch with at least 800 Indians through social media like Facebook and WhatsApp.
Many captured sympathisers of the terror group told interrogators that the person who communicates with them identifies himself as Yusuf al-Hindi from Bhatkal. The Islamic State, which governs a vast territory in Iraq and Syria, has a faction in Afghanistan and Pakistan called 'Wilayat-e-Khorasan'. The faction is headed by Khan Saeed, who formerly fought alongside the Tehreek-e-Taliban Pakistan.
The special cell of the Delhi police earlier this year had arrested another suspected Islamic State operative, Mohsin Ibrahim Sayeed. Sayeed, too, had informed the police about Yusuf aka Armar.
"Yusuf tasked them to cause a blast in a train going to Hardwar or during Ardh Kumbh Mela there. For this purpose, the accused collected explosive material, received money to procure explosive materials, purchased SIM cards and mobiles and conducted recce in Haridwar," the police said.
The NIA considers Armar the brain behind the Islamic State's online recruitment in India. The five alleged Islamic State suspects, who were charged by the NIA on Monday, allegedly learned bomb-making techniques from the Syrian-based handler through social networking platforms, including Trillian, WhatsApp and Facebook.
One of the suspects charged on Monday, Akhlakur Rehman, was using Trillian, an instant messaging app that works on phones, tablets, and desktops. He used the Trillian ID "wafabhai 7861" for chatting with al-Hindi, who was available on the same platform in the name of "gummnambhai", the NIA said in the chargesheet.
"Rehman received a link on his Trillian ID regarding 'bomb banana ka asan tariqa' (easy steps to make bombs) from al-Hindi of Indian origin, a IS handler based in Syria," NIA said.
"In compliance with the instructions, they collected explosives (match stick heads)," it said. On al-Hindi's instructions, Osama and Azeemushan carried out a recce of the area of the Ardh Kumbh at Haridwar on 18 January to plant IED. They carried out a recce of other probable places also where they could plant the IEDs to send out a message to the world that they are representatives of the Islamic State in India, the NIA alleged.
The whole conspiracy was hatched at Landhaura near Haridwar in January 2016. "The necessary expertise in assembling the IEDs with the help of literature was provided to one of them through internet by Yusuf-Al-Hindi," the NIA chargesheet said.
With agency inputs
India
The National Investigation Agency (NIA) has chargesheeted 105 accused in the cases against Popular Front of India (PFI) lodged in different parts of the country
World
A one-way attack drone struck a U.S. base in Syria on March 23, killing an American contractor, injuring another and wounding five U.S. troops
World
The violence could further aggravate already strained relations between Washington and Tehran, as attempts to revive a 2015 nuclear deal between Iran and major powers stalled, and Iranian drones being used by Russia against Ukraine