Xi Jinping's unprecedented power consolidation in China 'triggering anxiety': Hillary Clinton
The unprecedented consolidation of power by Chinese president Xi Jinping has triggered 'anxiety' about 'bullying' by China, Hillary Clinton said.
Beijing: The unprecedented consolidation of power by Chinese president Xi Jinping has triggered "anxiety" about "bullying" by a more assertive China among its neighbours, according to former US secretary of state Hillary Clinton.
The Democratic Party candidate in the last year's US presidential election also attacked President Donald Trump in dealing with China.
Xi, regarded as the most powerful leader of modern China, heads the ruling Communist Party of China (CPC), the presidency and the military.
The National Congress of the CPC last month has endorsed a second five-year term for him.
"The paths to the legitimacy of leadership run through responsible cooperation, not through military build-up, a contest in islands or bullying small neighbours," Clinton said while addressing a conference of the Chinese news magazine Caijing through a video link.
Clinton's speech was broadcast to hundreds of Chinese business executives and government researchers, the Hong Kong-based South China Morning Post reported on Tuesday.
The 70-year-old Democratic Party candidate, who lost to Trump, took a tough stance in dealing with Beijing over issues such as sovereignty disputes in the South China Sea and human rights when she served as US secretary of state from 2009 to 2013.
China claims sovereignty over all of the South China Sea. Vietnam, Malaysia, the Philippines, Brunei and Taiwan have counter-claims.
China is also in dispute with Japan in the East China Sea. Beijing has built up and militarised many of the islands and reefs it controls in the South China Sea. Both areas are stated to be rich in minerals, oil and other natural resources. They are also vital to global trade.
Clinton also reiterated her concerns over human rights abuses in China.
The US leader also touched on a number of issues in China-US relations, including North Korea and fair treatment of US businesses in China.
"I said clearly that I want a peaceful rise of China," she was quoted as saying by the Post. Clinton said China and the US must work together to bring North Korea back to the negotiating table over its nuclear weapons programme.
She said the US also wants to see "an end to discrimination against US companies and better protection for their intellectual properties, end preference for Chinese domestic firms and more opportunities for US goods, products and services to enter Chinese markets".
The US still sought "an end to any unfair distortion of currency practices," she said.
The exchange rate of the Yuan has been a thorny issue between Beijing and Washington for a long time as successive US administrations accused China of artificially controlling the Chinese currency against the Dollar to make maximum gains out of its exports.
Criticising Trump, she said "The Trump administration came in and retreated from diplomacy. It appears they have withdrawn their global responsibility and leadership which has raised question about stability in Asia-Pacific as well as the state power of the US."
Sports
The Fijians will next play Argentina, which rebounded to beat South Africa 19-14, and Britain will have to contend with top-ranked New Zealand.
Sports
The gymnast was named by her father as 18-year-old Kara Eaker who is in Japan as a reserve on the squad led by superstar Simone Biles.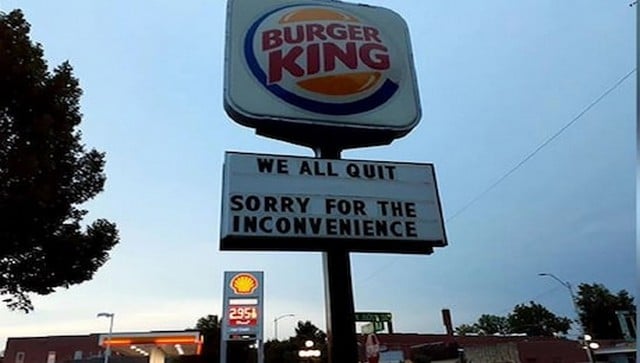 World
Put up by disappointed workers trying to send a message to the management, the sign reads "we all quit" and "sorry for the inconvenience"