Xi Jinping's spy master is China's policy chief on Taiwan
China's 'one country, two systems' policy has now become untenable after Beijing saw the results of imposing it in Hong Kong and the reaction of Taiwanese citizens to its insistence on the island being its indivisible part
New Delhi: China's President Xi Jinping has tasked Wang Huning, considered to be the Chinese Communist Party's top spymaster to draft a new policy for Taiwan, a self-declared independent nation which Beijing maintains is its integral part.
According to a report by Taiwan News, the Chinese 'one country, two systems' policy has now become untenable after Beijing saw the results of imposing it in Hong Kong and the reaction of Taiwanese citizens to its insistence on the island being its indivisible part.
Huning, the chief political strategist of the CCP and a member of its seven-man standing committee of the Politburo, is also considered the party's top propagandist.
Xi, with Hunting's expertise in political theory at his disposal, is soon expected to announce the new policy towards the defiant in the coming months.
Now that CCP is past the mass protests in China against its zero-COVID policy and the subsequent outbreak of the virus, it seems poised to take up Taiwan a policy priority.
However, Chinese scholars aren't very optimistic that diplomacy will prevail in relations with Taiwan.
Chen Xiancai, the director of the Centre of Taiwan Studies at Xiamen University, said that Beijing can be is expected to step up its efforts to integrate and it will more than likely increase the conflict, Taiwan News reported.
He believes that conflict with the US over Taiwan is unavoidable.
What Huning's new Taiwan policy would entail is still unclear. However, reportedly, many believe that it will prioritise communication and cooperation over the aggression Bejing's displayed so far.
Last year, after the then-US House Speaker Nancy Pelosi's visit to Taiwan, China conducted its biggest-ever military exercises in the Taiwan Strait. That led to heightened tensions and stern criticism from the US.
Now, the new US House Speaker Kevin McCarthy is also expected to visit Taiwan in April.
Read all the Latest News, Trending News, Cricket News, Bollywood News,
India News and Entertainment News here. Follow us on Facebook, Twitter and Instagram.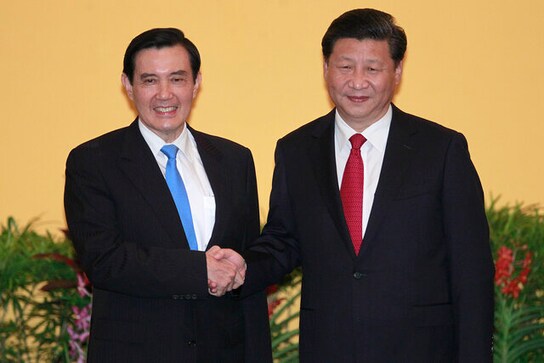 World
Ma presided over a period of warm ties with Beijing, but left office under a cloud after a trade deal with the mainland failed to win approval amid the island's largest protests since the 1990s
World
China views Taiwan as a breakaway province which will one day unite with it. Beijing has not ruled out the possible use of force to reunify the self-ruled island with the mainland. US military and intelligence officials have warned there could be a conflict over Taiwan as early as 2027
World
Taiwan's China-policy making Mainland Affairs Council said 10 more cities would be allowed to have regular flights, including the economic powerhouses of Shenzhen, Guangzhou and Nanjing, while charter flights would be allowed to another 13 regions