Xi Jinping's power grab presents ideal circumstances to extend friendship to China, set out a long-term China policy
Xi Jinping's move presents right time for India to extend the hand of friendship to China, as he has the power to form Beijing's long-term foreign policy.
The proposal by the Central Committee of the ruling Communist Party to change China's constitution and allow President Xi Jinping more than two terms, while not unexpected, will lead to a certain amount of disquiet, and perhaps envy, within circles of international political dialogue.
After all, most politicians would give anything to be in the chair for perhaps a lifetime. That is what Xi is likely to get, as the proposal – which for unknown reasons was held back by a month – goes for consideration of the legislature. The chance of it being knocked back on its heels from that body is zero. So, impermanent heads of democratic states, press barons, and other such gentry need to get used to the fact that Xi is effectually King.
The indicators have all been towards a further consolidation of power. Following the five-yearly Communist Party Congress last October, the virtual initiation of Xi was apparent with the vaunted principle of "Xi Jinping Thought on Socialism with Chinese Characteristics" included in the party constitution.
Again, though the party elevated five new officials to assist him, it declined to name a successor. State newspapers had also started to refer to him as 'lingxiu' a reverent term for a leader, which was last accorded to Chairman Mao Zedong. The path towards accretion of power has also been more than apparent. Apart from the 'anti-corruption' drive which eliminated serious rivals, his leadership of various "Central Leading Groups" has given him a hugely powerful role in decision making in multiple areas.
For instance, he has not just the chair of the Central National Security Commission, a counterpart of our National Security Council, but also the "Central Commission for Integrated Military and Civilian Development", as well as similar groups dealing with Taiwan affairs, financial and economic Affairs, defence and military reforms, as well as the Central Leading Group on Foreign Affairs.
That pretty much wraps up everything worth having, not to mention control over a few such other nodal groups. A largely ceremonial office of a president has therefore steadily been strengthened with the president already the general secretary of the Chinese Communist Party, and the chairman of the Central Military Commission. According to most, that beats the record of Deng Xiaoping hollow. Ironically, it was Deng who instituted the retirement principle, which has now been overturned.
Coverage by international media, particularly neighbouring countries indicates strong unease at this latest development. The Japanese papers underline that Prime Minister Shinzo Abe now voted into his second term will have to deal with Xi through his tenure till 2021. The two have clashed on issues that are fundamental to Japanese security, that includes the South China Sea dispute.
In Australia and New Zealand, there is some cautious hope that the president's continuance could lead to regional stability. Within China, the Twitter-like Weibo has seen guarded criticism, despite strong censorship, with the use of memes to denote disapproval. Western media not surprisingly greeted the news with dismay and prognostications of doom.
There is enough historical evidence to show that a 'Xi forever' will have considerable negative implications for all concerned, India included.
First, a leader who digs in for the longer term will thrive in an atmosphere of sycophancy already apparent in the run-up to his second tenure. Such enthusiastic courtiers – for they are nothing more – will provide advice calculated to please, rather than counsel. That is dangerous for a country the size of China.
While at present his trusted lieutenants like Wang Qishan, who is likely to be vice-president, and a slew of foreign policy advisors, in particular, are likely to provide strong backing for decision making, the historical trend shows that rigidly hierarchical and dictatorial systems are inherently unstable.
Second, country leaders will have to live with a somewhat skewed negotiation disadvantage. A leader for life has to look over his shoulder far less than his impermanent counterpart. While negotiating, it is far better to accept his predominance, rather than challenge it. Third, the tentative hopes that a stable Chinese leader will be less likely to be adventurous, is more hopeful optimism than reflecting present actualities.
This is far from being anything like the era of Mao. A dictator or strongman anywhere in the world is likely to be confronted with far more threats to his stability than before. That's not just from a multiplicity of opposition sources on the net and the ensuing domestic disruption. It's also to do with the business interests of non-state actors like large corporations – some of which are Chinese, not to mention those powerful segments sidelined by his rapid rise to the top.
Xi is therefore unlikely to evolve into a stable, elder head of state capable of a steady hand on the tiller. It's simply impossible given present global realities, particularly the rise of China itself. Fourth, as experts observe, the very move to give Xi a near permanent status, indicates that things are not well within China. The view that "Uncle Xi" can deal with threats from outside is being sedulously pushed, with the support – so far – from vital sections of the party and government.
But if matters really come unstuck – for instance, a military loss of face in any theatre including Doka La – the president could turn dangerous in his attempts to shield himself. History shows that dictators live and die perilously. Fifth, like any other shift in international politics – and this is a considerable shift – there are not only threats but also opportunities. Xi and his advisors will be well aware of the dangers of declaring his virtual permanency, and the ensuing threats from powerful circles that he has antagonized in his rush to power.
In the short term, they will, therefore, want a little less excitement abroad, even as they consolidate within. This is a time for creating suitable conditions to extend the hand of friendship to China, with a leader who has the power and authority to decide on China's foreign policy for the long term.
This is also an opportunity for bureaucrats and policymakers at home, to set out a long-term China policy for themselves. Granted that such a policy may still be rocked at its moorings by the winds of uncertain change, inherent to the rise of an emerging power. But at the very least, there is a certainty in just who is the man on top on the eastern front. That's more than anyone can tell towards the West.
World
The meeting came after the United States said it was looking for China to do more to rein in its ally North Korea, which on Friday test-fired a ballistic missile that US and Japanese officials said was capable of hitting the US mainland
World
Demonstrators poured into the streets over the weekend in cities including Shanghai and Beijing, criticizing the policy, confronting police — and even calling for Xi to step down. Students at some universities also protested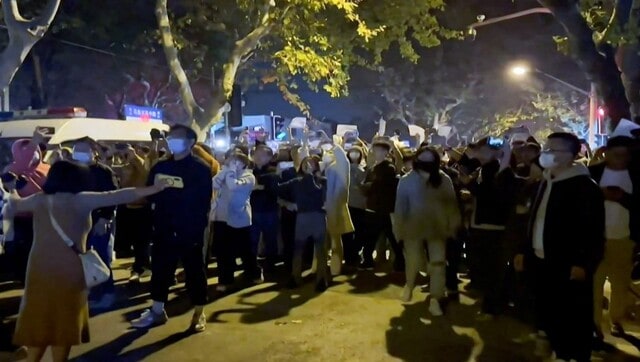 World
China's hardline virus strategy is stoking public frustration, with many growing weary of snap lockdowns, lengthy quarantines and mass testing campaigns