Xi Jinping's naked power grab may further destabilise global order, threaten to hurt India's interests
An unfettered Xi Jinping now becomes vulnerable to arbitrariness fuelled by egotism and delusions of grandeur. In the absence of internal resistance, China's Lingxiu may intensify his heavy-handed rule at home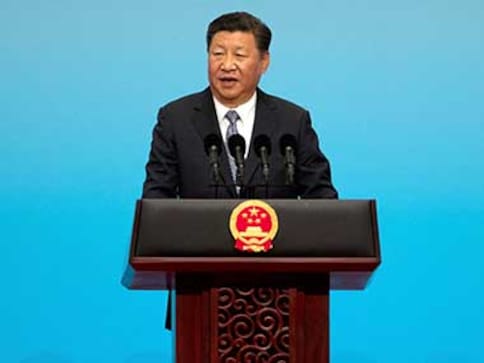 Emperor Xi has arrived.
As China sways further away from democracy towards a return to one-man dictatorship, Xi Jinping's power play raises profound implications for the world. An unfettered Xi now becomes vulnerable to arbitrariness fuelled by egotism and delusions of grandeur. In the absence of internal resistance, China's Lingxiu may intensify his heavy-handed rule at home and take greater risks in redrawing relationships with other powers on China's terms.
In the short to medium term, we may expect greater repression of citizens' voices and rights at home and more expansive projection of assertiveness abroad. For the world, though, there is an additional challenge. We still seem too fascinated by the Dragon to consider it antithetical to our existence. Part of the problem is that now, more than ever, the focus of America, which sets the global agenda of public discourse, has turned inwards.
It is disconcerting and amusing at the same time to watch the western media (and even by extension the Indian English media) get its collective knickers in a twist over Vladimir Putin, the president of a waning power.
American paranoia over the Russian president and his seemingly diabolical ability to meddle in western democracies has reached such ridiculous proportions that Russian "interference" in US presidential elections has been compared to the 1941 Pearl Harbour attack, and even 9/11.
This sheer madness obviously has its roots in the obsession with Donald Trump. More than a year after he was sworn in as the 45th President of the United States, media and US politico-military establishment still cannot come to terms with the reality. Robert Mueller and his team's rather tepid findings (yes, he "discovered" that Russians were trying to meddle, which is hardly breaking news, not Trump's collusion) have received screaming headlines, even in India. A few sober commentators are alerting their brethren to the dangers of falling prey to own paranoia.
What this obsession with Trump and Putin does is that it distracts from the real issue, which is China. Let there be no doubt that Xi's China poses a threat to the global liberal democratic order that is graver, multifaceted and more destabilising than any threat exerted by any other hegemonic power post World War II. And the fact that the true nature of this threat remains yet unrecognised is testament to the clout wielded by Beijing that is now bending the world almost at will through a projection of its hard and soft power.
For India, China's immediate neighbour and the other large Asian power which is seeking to find its feet and voice in the global comity of nations, the Chinese threat is several degrees more serious. Our political systems are antithetical, but theatres of power projection are the same, we vie for the same markets and aim to balance each other's rise by forming strategic alliances and retaining primacy in traditional spheres of influence while trying to exert influence in newer areas.
As professor Mohan Malik writes in The Diplomat, "Their (India and China's) power rivalry and their self-images as natural great powers and centers of civilisation drive them to support different countries and causes. Since India was never part of the Sinic world order, but a civilisation-empire in and of itself, it remains genetically ill-disposed to sliding into China's orbit without resistance. It is the only Asian power that has long been committed to balancing China."
This antithetical relationship is increasingly difficult for India to bear because of the enormous power deferential. China's GDP is five times larger than India's. It is economically stronger, militarily superior, exerts a greater geopolitical, geo-strategic and cultural influence. This differential may exponentially increase, and Chinese hostility towards India may correspondingly intensify with Xi grabbing undiluted, unrestricted power by proposing a change in the Constitution that its rubber-stamp Parliament is sure to ratify.
When the National People's Congress (NPC), that could be loosely termed China's Parliament, meets on 5 March, it is expected to provide constitutional ratification to Xi's power-grab. In a tightly coordinated move, the Communist Party of China's (CPC) all-powerful central committee proposed a motion to lift the two-term curb on presidential and vice-presidential terms. The motion was reportedly adopted during the January plenum but has been made public only now.
In a short, cryptic note, China's official news agency Xinhua reported on Sunday that CPC has "proposed to remove the expression that the president and vice-president of the People's Republic of China shall serve no more than two consecutive terms from the country's Constitution".
This formally does away with Deng Xiaoping's attempts in the 1980s to introduce stability in the Chinese political system by limiting the presidential tenures to two terms. Right after the years when the despotic Mao Zedong's Great Leap Forward killed 45 million people in just four years, Deng tried to drive through reforms by taking China away from one-man rule towards collective leadership.
In a speech addressed to the Political Bureau of the CPC Central Committee on 31 August, 1980, Deng had said, "Tenure for life in leading posts is linked both to feudal influences and to the continued absence of proper regulations in the party for the retirement and dismissal of cadres."
He had warned that "it is not good to have an over-concentration of power. It hinders the practice of socialist democracy and of the party's democratic centralism, impedes the progress of socialist construction and prevents us from taking full advantage of collective wisdom. Over-concentration of power is liable to give rise to arbitrary rule by individuals."
Deng's efforts to reform the power structure of governance and state leadership did go some distance in ensuring predictability in Chinese politics to the extent that his successors Jiang Zemin and Hu Jintao restricted themselves to two terms each, but the institutionalisation evidently wasn't strong enough to insulate the system from the machinations of an ambitious leader willing to rewrite the rules and gain absolute power.
The ease with which Xi put paid to Deng's reforms, therefore, point to the inherent weakness of CPC and the Chinese power structure. This should also hold some crucial lessons for Xi. Perhaps mindful of the vulnerability of the system, Xi has refused to name a successor and moved fast to close the avenues of absolute power once he has sealed it.
Be that as it may, the world now must get used to China's power projection led by a leader who believes that he was born to restore the Middle Kingdom to its ancient glory.
As Bill Bishop, publisher of the influential Sinocism newsletter on Chinese politics, said, "In this new 'Xi Era', the world must learn to deal the most powerful Chinese leader in decades, while China itself is now the strongest it has been in centuries, with plans to become even more economically, militarily and culturally powerful, on the road to its Great Rejuvenation."
World
An arrest warrant has been issued for Vladislav Osipov, a dual Russian and Swiss national who the Justice Department says was an employee of Viktor Vekselberg, a billionaire Russian oligarch and ally of Russian president Vladimir Putin
World
Putin said that "attempts to revise the contributions of our country to the Great Victory (against Hitler) actually equates to justifying the crimes of Nazism and opens the way for the revival of its deadly ideology."
Opinion
While India is broadly in favour of globalisation and free trade, the Modi government has placed the national self-interest stage centre in the mix. It wants reciprocity and mutual advantage, or it tends to lean towards Aatmanirbharta