Wrapped in plastic, no picnic for Hungarian teddy bears asleep in pandemic
By Krisztina Fenyo HARSANY, Hungary (Reuters) - In a small village in eastern Hungary, more than 20,000 teddy bears are 'hibernating' in a warehouse, waiting for the coronavirus pandemic to ease so they can bring joy to children in local nurseries. Nicknamed 'Teddy Bear Mama', Valeria Schmidt looks after her precious collection of bears, now packed up in plastic bags for their unusually long winter sleep as Hungary remains in partial lockdown due to a resurgence of the virus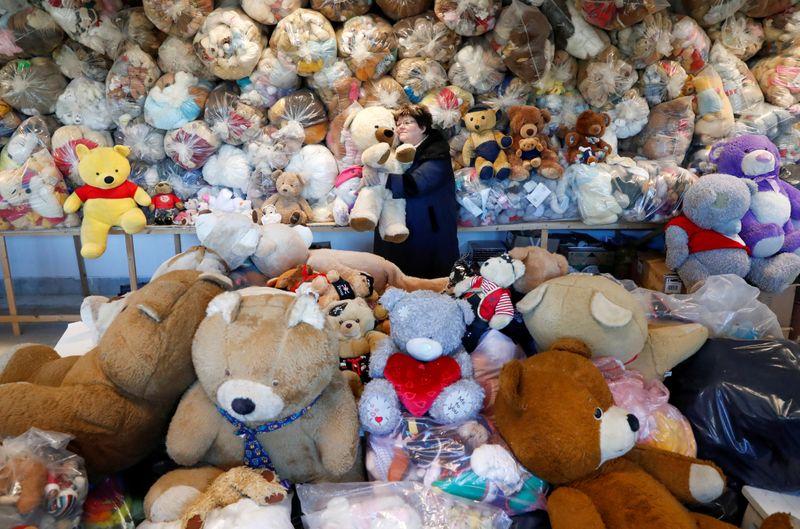 By Krisztina Fenyo
HARSANY, Hungary (Reuters) - In a small village in eastern Hungary, more than 20,000 teddy bears are "hibernating" in a warehouse, waiting for the coronavirus
pandemic to ease so they can bring joy to children in local nurseries.
Nicknamed "Teddy Bear Mama", Valeria Schmidt looks after her precious collection of bears, now packed up in plastic bags for their unusually long winter sleep as Hungary remains in partial lockdown due to a resurgence of the virus.
"I give away teddy bears to nurseries, pre-schools and poor families. I make exhibitions for (children's) institutions, a kind of therapeutic teddy bear corner with about 30-50 bears which the children can play with," Schmidt said.
"Unfortunately, because of the virus situation, I cannot do these now."
The 62-year-old Schmidt, who has four adult children, has been collecting teddy bears for 40 years and entered the Guinness Book of Records in 2019 for the world's largest collection of them.
Her passion for the bears stems from her childhood traumas. Schmidt's parents divorced when she was four, she grew up in very poor conditions and her mother drank heavily.
"Not only we did not have toys but we barely had clothes," she said. "That is why I wanted a teddy bear so I could hug it and get some love from it."
She hugs and strokes her teddies many times a day and she says they have cured her soul.
"Now these teddy bears make up for all the hunger, all the lack of love, lack of toys and everything. Especially when I see children coming to see my exhibition and I see the joy and happiness in their eyes."
(Writing by Krisztina Than, editing by Ed Osmond)
This story has not been edited by Firstpost staff and is generated by auto-feed.
Find latest and upcoming tech gadgets online on Tech2 Gadgets. Get technology news, gadgets reviews & ratings. Popular gadgets including laptop, tablet and mobile specifications, features, prices, comparison.
Business
By Aditya Kalra NEW DELHI (Reuters) - India's tobacco industry will object to a proposal to ban smoking zones in hotels and prohibit advertising at cigarette kiosks as the government steps up anti-smoking efforts, two executives said on Wednesday. India has over the years introduced tobacco controls and launched campaigns to deter its use, but enforcement of the law has been a challenge.
World
HONG KONG (Reuters) - Over 50 pro-democratic activists in Hong Kong were arrested on Wednesday for breaking the city's contentious national security law, local media reported, in the biggest crackdown yet against the democratic opposition under the new law. The arrests in the Asian financial hub included well known democratic figures and former lawmakers James To, Lam Cheuk Ting and Lester Shum, according to the Democratic Party's Facebook page and public broadcaster RTHK. Police did not immediately respond to requests for comment.
World
BRASILIA (Reuters) - Brazil's syringe manufacturers said on Tuesday they will supply 30 million syringes and needles for the country's COVID-19 vaccination program after the government said it would requisition surplus supplies. Executives of the three main manufacturers met with President Jair Bolsonaro at the Health Ministry and it was agreed that each would supply 10 million syringes to cover the initial stages of the vaccination plan.