Would-be Merkel successor Laschet loses ground in local election win
BERLIN (Reuters) - Germany's Christian Democrats were set for an election win in the western state of North Rhine-Westphalia on Sunday, an exit poll showed, but their share of the vote shrank, denting state premier Armin Laschet's ambitions to succeed Chancellor Angela Merkel. Laschet, who is positioning himself as the continuity candidate to succeed Merkel, had hoped to increase the Christian Democrats' share of the vote in the local elections to boost his standing ahead of a December party leadership showdown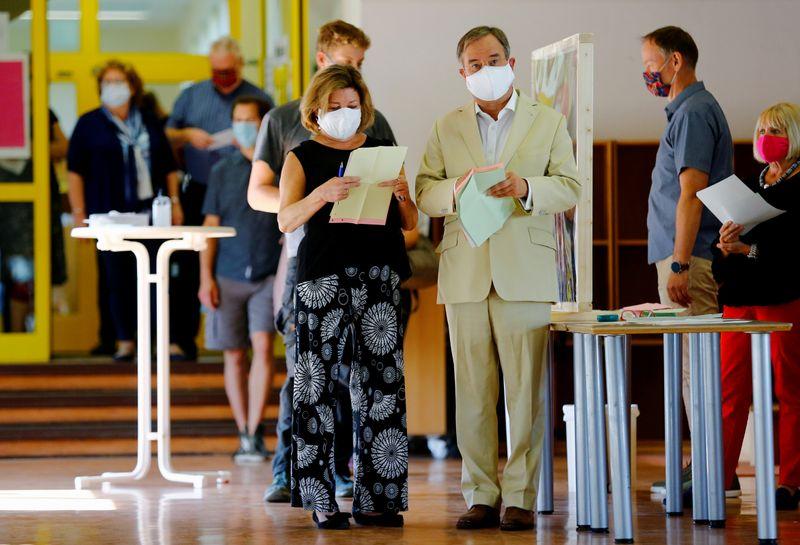 BERLIN (Reuters) - Germany's Christian Democrats were set for an election win in the western state of North Rhine-Westphalia on Sunday, an exit poll showed, but their share of the vote shrank, denting state premier Armin Laschet's ambitions to succeed Chancellor Angela Merkel.
Laschet, who is positioning himself as the continuity candidate to succeed Merkel, had hoped to increase the Christian Democrats' share of the vote in the local elections to boost his standing ahead of a December party leadership showdown.
But an infratest dimap forecast for broadcaster WDR based on exit polls showed support for the CDU slipping 1.5 percentage points from the last local elections in 2014 to 36.0%.
The left-leaning Social Democrats (SPD) came second with 23.5% and the Greens third with 19.0%.
(Writing by Paul Carrel; Editing by Hugh Lawson)
This story has not been edited by Firstpost staff and is generated by auto-feed.
Business
By Lewis Krauskopf NEW YORK (Reuters) - Investors will be zeroing in on the Federal Reserve's monetary policy meeting next week as a "Goldilocks" market environment that has helped lift stocks to record highs and tamed a bond selloff is tested by rising inflation.
Business
CARBIS BAY, England (Reuters) - European Union leaders will threaten British Prime Minister Boris Johnson with a trade war over Northern Ireland, The Times reported on Friday, without citing sources. German Chancellor Angela Merkel and French President Emmanuel Macron will use one-to-one meetings with Johnson on Saturday to demand that Britain honours the terms of the Brexit deal in relation to Northern Ireland, The Times reported
Business
By Herbert Lash and Tom Wilson NEW YORK/LONDON (Reuters) -The dollar rose and key U.S., European and global stock indexes hovered near record highs on Friday as investors embraced the easy monetary policies of major central banks and their message that rising inflation will be transitory.