World's largest aircraft Airlander 10 crashes on its second flight, suffers damage
In a video posted on YouTube the Airlander 10 — part plane, part airship — is seen nosediving towards its airbase.
It has only been days since the Airlander 10, touted to be the world's "largest aircraft" made its maiden flight that it has crash landed on its second test flight. 
According to The Guardian, the 92-metre-long Airlander 10, which was claimed to have potential uses in the commercial sector, crash landed at Cardington airfield in UK but the reason for the crash landing is not clear.
In a video posted on YouTube, the Airlander 10 — part plane, part airship — nosedived suffering some damages towards its cockpit.  The crew members are reportedly safe.  Earlier some reports said that the helium powered aircraft had developed a hitch while air-borne and hit a telegraph poll. However, the makers of the airship, Hybrid Air Vehicles (HAV),  refuted such claims.
Airlander sustained damage on landing during today's flight. No damage was sustained mid-air or as a result of a telegraph pole as reported.

— Hybrid Air Vehicles (@AirVehicles) August 24, 2016
Earlier too a glitch was reported as its maiden flight, originally scheduled on 14 August, had to be postponed till 17 August. The glitch was resolved later for the aircraft to take off in clear weather conditions three days later.
According to a BBC report, the Airlander 10, christened as the Martha Gwyn, was first developed for the US government as a surveillance aircraft. However, the project was shelved amid defence cutbacks.
According to The Independent  the makers of Airlander 10 have put it on sale with a price tag of £25 million hoping that it can be sold for a variety of uses such as carrying cargo.
The firm, which describes the Airlander 10 as the "largest aircraft currently flying", received a British government grant of $3.7 million to develop the project. The Airlander 10 can fly at up to 4,880 metres and reach speeds of 148 km per hour, according to HAV.
Filled with helium, it can stay airborne for more than two weeks unmanned and up to five days if manned.
HAV CEO Stephen McGlennan said the aircraft was cheaper and greener than helicopter technology. At the time of its maiden flight amid hundreds of cheering people, the makers had called it a "a great British innovation."  "It's a combination of an aircraft that has parts of normal fixed wing aircraft, it's got helicopter, it's got airship," McGlennan said.
The successful flight had comes 85 years after another airship — the ill-fated R101 — took off from the same airfield in October 1930 before crashing in France, killing 48 people and effectively ending the development of airships in Britain.
With inputs from AFP
World
China had sharply criticised the trilateral pact, saying such a grouping would undermine regional stability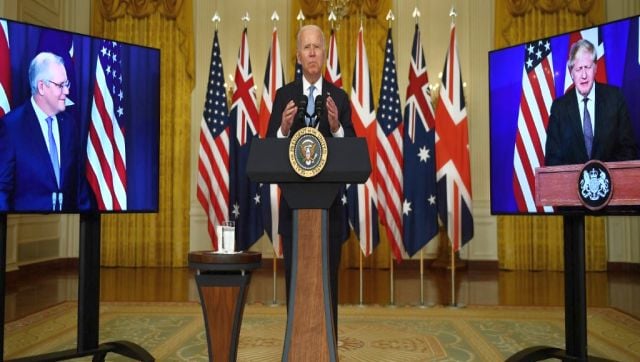 World
The US, UK and Australia announced the new pact as a response to China's growing influence in the region
World
The move comes after Canberra ditched a deal to buy French submarines in favour of US vessels