World Press Freedom Index report: India falls to rank 138 courtesy hate speech, violence targeting journalists
The 2018 World Press Freedom Index, compiled by Reporters Without Borders (RSF), reflects growing animosity towards journalists.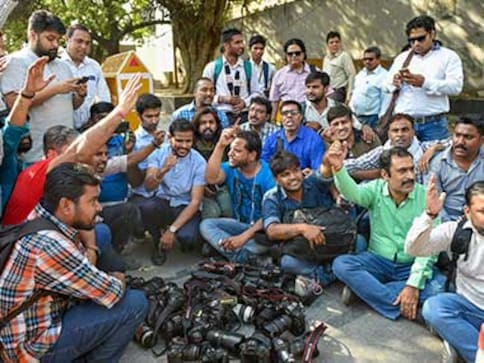 According to the 2018 World Press Freedom Index compiled by Reporters Without Borders (RSF), a growing animosity towards journalists is among the worst threats to democracies.
Published annually by RSF since 2002, the World Press Freedom Index measures the level of media freedom in 180 countries, including the level of pluralism, media independence, the environment and self-censorship, the legal framework, transparency, and the quality of the infrastructure that supports the production of news and information.
This year's report mentioned that more and more democratically-elected leaders no longer see the media as part of democracy's essential underpinning, but as an adversary to which they openly display their aversion. For instance, the United States, the country with the First Amendment (which among other things prevents US Congress from abridging the freedom of speech, and the freedom of the press) fell from rank 43 last year to rank 45.
Back home, India has dropped from rank 136 to rank 138. The report mentioned sharing of "hate speeches" targeting journalists by "troll armies" of Prime Minister Narendra Modi as a reason for this low rank. The report also mentioned "physical violence" against journalists, for example, the murder of Gauri Lankesh as another key reason.
"The unleashing of hatred towards journalists is one of the worst threats to democracies", RSF secretary-general Christophe Deloire said.
"Political leaders who fuel loathing for reporters bear heavy responsibility because they undermine the concept of public debate based on facts instead of propaganda. To dispute the legitimacy of journalism today is to play with extremely dangerous political fire", he added.
In this year's index, Norway is first for the second year running, followed — as it was last year — by Sweden. Although Nordic countries are traditionally regarded to be press-friendly, they too have been affected by the overall decline.
The index also reflected the growing influence of "strongmen" and rival models. For example, the report mentioned that "after stifling independent voices at home, Vladimir Putin's Russia (148th) is extending its propaganda network by means of media outlets such as RT and Sputnik, while Xi Jinping's China (176th) is exporting its tightly controlled news and information model in Asia".
Meanwhile, in the Asia-Pacific region, South Korea jumped 20 places to 43rd, the index's second biggest rise, after Moon Jae-In's election as president turned the page on a bad decade for press freedom. However, North Asia's democracies are struggling to defend their models against an all-powerful China which has been a known silencer of dissenting voices. "Xi Jinping's China is getting closer and closer to a contemporary version of totalitarianism", the report mentioned. It also added that Beijing's influence and tactics were also being felt in Thailand, Malaysia and Singapore.
Turning to the bottom ranks, the former Soviet countries and Turkey continue to lead the worldwide decline in press freedom. Almost two-thirds of the region's countries are ranked somewhere near or below rank 150 in the index and most continue to fall further. However, North Korea continues to rank last.
While, West Asian countries' struggle with war-reporting continues. The ongoing wars in Syria (117) and Yemen (down one at 167) and the terrorism charges still being used in Egypt (161), Saudi Arabia (down one at 169) and Bahrain (down two at 166) continue to make West Asia the most difficult and dangerous region for journalists to operate in.
With inputs from PTI
World
China last month hosted Iran's hardline President Ebrahim Raisi, and is a top purchaser of Saudi oil. Chinese leader Xi Jinping visited Riyadh in December for meetings with oil-rich Gulf Arab nations crucial to China's energy supplies
World
The southwest corner of Taiwan's ADIZ saw the tracking of two Shenyang J-16 fighter jets, one Shaanxi Y-8 anti-submarine warfare aircraft, and one BZK-007 reconnaissance drone. A Harbin Z-9 anti-submarine helicopter also appeared in Taiwan's identification zone's southeast portion
World
The expected appointment by China's rubber-stamp parliament comes after he locked in another five years as head of the Communist Party (CCP) and the military