World can count on China to meet carbon pledge, says Xi
HONG KONG (Reuters) - Chinese President Xi Jinping on Tuesday said China would step up its efforts to peak carbon dioxide emissions by 2030 and fulfil its pledge to achieve carbon neutrality before 2060, according to the official news agency Xinhua. 'You can count on China to keep its promise,' Xi, who was addressing the 12th BRICS summit via video link, was quoted as saying by Xinhua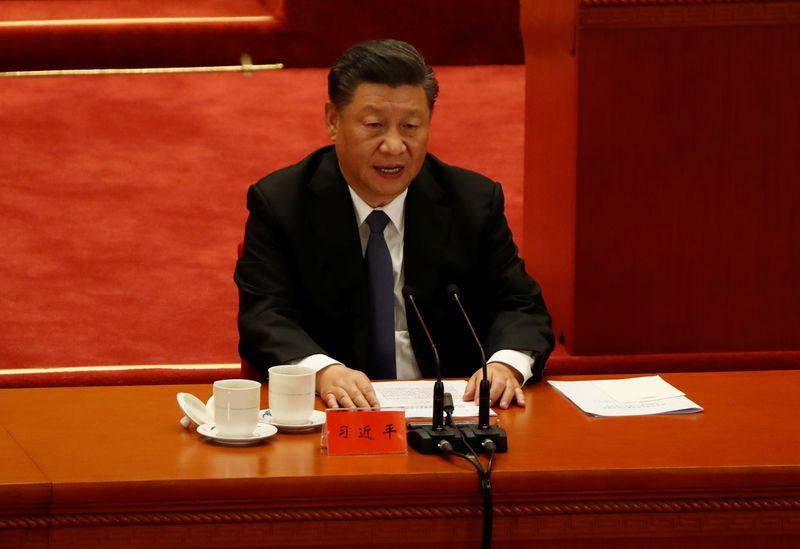 HONG KONG (Reuters) - Chinese President Xi Jinping on Tuesday said China would step up its efforts to peak carbon dioxide emissions by 2030 and fulfil its pledge to achieve carbon neutrality before 2060, according to the official news agency Xinhua.
"You can count on China to keep its promise," Xi, who was addressing the 12th BRICS summit via video link, was quoted as saying by Xinhua.
China, which produces 29% of global emissions, is investing in renewables while also building hundreds of new, carbon-intensive coal plants and eyeing energy-intensive infrastructure projects to help accelerate its post- COVID-19
economic recovery.
"Global warming will not stop due to COVID-19
. To tackle climate change, we must never relax our efforts," Xi said, adding that China would continue to redouble its efforts to respond to climate change.
Xi first said China would achieve carbon neutrality before 2060 in speech at the United Nations General Assembly in September, when he also urged all countries to pursue a "green recovery" of the world economy in the post-COVID era.
A former U.S. climate negotiator, Andrew Light, said China's announcement was aimed at setting the agenda and getting ahead of pressure from former vice president Joe Biden if he became president. Biden, now-president elect, has promised to set a U.S. goal for net-zero emissions by 2050.
(Reporting by Twinnie Siu; additional reporting by Tom Daly; Editing by Philippa Fletcher)
This story has not been edited by Firstpost staff and is generated by auto-feed.
Find latest and upcoming tech gadgets online on Tech2 Gadgets. Get technology news, gadgets reviews & ratings. Popular gadgets including laptop, tablet and mobile specifications, features, prices, comparison.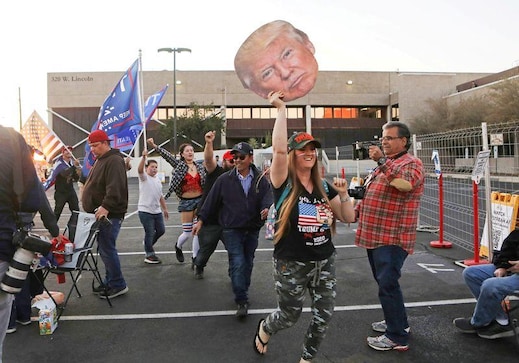 World
By Jarrett Renshaw and Joseph Tanfani (Reuters) - As President Donald Trump seeks to discredit last week's election with baseless claims of voter fraud, his team has bombarded his supporters with requests for money to help pay for legal challenges to the results: "The Left will try to STEAL this election!" reads one text. But any small-dollar donations from Trump's grassroots donors won't be going to legal expenses at all, according to a Reuters review of the legal language in the solicitations
World
RIYADH (Reuters) - Saudi Arabia's King Salman bin Abdulaziz urged the world on Thursday to take "a decisive stance" to address efforts by Iran to develop nuclear and ballistic missile programs, in an annual address to the top government advisory body. "The kingdom stresses the dangers of Iran's regional project, its interference in other countries, its fostering of terrorism, its fanning the flames of sectarianism ..
World
By Jose Sanchez BELIZE CITY (Reuters) - Belizeans headed to the polls on Wednesday to replace a veteran prime minister, with many in the tiny Central American country saying they were ready for change to repair an economy battered by pandemic-driven shutdowns. Dean Barrow, the outgoing prime minister, ran Belize for more than a dozen years.