With Financial Action Task Force sword dangling over its head, Pakistan scrambles to curb terror, adhere to UN guidelines
Pakistan's recent move to curb terrorism seems to be motivated by fears that it is likely to suffer from the findings of FATF, which is reviewing its case.
Recently, Pakistan rather belatedly amended its Anti-Terrorism Act 1997 to bring it in line with its commitments to the United Nations, an obligation that it should have fulfilled long ago. During the same period, Pakistani law enforcement publicly announced the take over of some properties belonging to the Jamaat-ud-Dawa (JuD) and its affiliate, the Falah-e-Insaniyat Foundation (FIF).
These hurried actions are predictable given that this occurs every time the country comes under the threat of being labelled a terrorist state. This time around, these actions seem to be motivated by fears that the country was likely to suffer from the findings of the Financial Action Task Force (FATF), which was engaged in reviewing actions taken by members to curb terrorist financing.
Such a listing puts the country in a category of those considered "deficient" in preventing terrorist financing, and which then leads to a series of measures labelled 'due diligence' by members of the FATF. Translated into simple English, this means that Pakistan is rather less than likely to get its hungry hands on the millions of dollars of assistance it needs.
Pakistan's Anti-Terrorism Act 1997 is, on the face of it, well in line with the requirements of counter-terrorism law among democracies the world over. The problem is that its undoubtedly stringent clauses depend on whom the state considers a terrorist, and whether or not they are on the Fourth Schedule, which is the listing of individuals who are considered as terrorists.
This listing is the basis on which counter-terrorism and policing action are authorised. Just who are the "Fourth Schedulers" has been the something of a mystery, even within the country. The supposed nodal agency for counter-terrorism is the NACTA (National Counter Terrorism Agency), an organisation that has had to fight for funds and staff, and which has the unenviable task of justifying Pakistan's CT policy. Its website only states that it has over 8,000 people on the list and that it has frozen up to PKR 157 million in 5,089 bank accounts.
That's tuppence for organisations like the JuD, whose budget in 2010 was assessed in a secret intelligence memo as more than $5.2 million. Moreover, it appears that about 5,000 of these are from Khyber Pakhtunkhwa, particularly Swat, an area that has been extremely troublesome in terms of activities of the Tehrik-e-Taliban Pakistan.
Another 140 are from Gilgit Baltistan as part of a listing made after locals began protesting against the China Pakistan Economic Corridor. An unknown number – possibly the highest – are from Balochistan, where the Pakistani forces and intelligence have been fighting a raging insurgency. Another hundred odd are from the Sindh province, where the listing expanded as the Rangers moved into the area to conduct counter-terror operations.
The only well known Fourth Scheduler is Hafiz Saeed and a few others of his ilk. In short, the majority of these listed but unknown terrorists are nothing to do with those considered as international terrorists by the UN but are those who are ranged against the Pakistani state itself.
A little more is known about Pakistani law in terms of the status of banned organisations. The NACTA recently put up a list of proscribed organisations in which JuD and FIF are listed as "under watch" from January 2017 onwards. This action is taken under ATA Section 11D which also allows the right of appeal and is only valid for six months at a time.
It was, therefore, unclear whether the JuD and its affiliates were in fact legally banned organisations or not. A banned organisation cannot hold rallies, collect donations, and operate any institutions, much less run colleges and schools as the Jamaat was clearly doing, even while the FIF continued its activities including assistance to Rohingya refugees of Myanmar.
The new Anti-Terrorism (Amendment) Ordinance, 2018 Ordinance signed by President Mamnoon Hussain on 13 February would or should change all of this. The Ordinance will simply insert the words "listed under the United Nations Security Council Act (1948) into the section which provides the legal basis for proscriptions.
Legally, as the State Bank has noted, Pakistan is supposed to do this as a rule. The State Bank of Pakistan says clearly "The Ministry of Foreign Affairs issues Statutory Regulatory Orders to provide legal cover for implementing sanction measures under Security Council Resolutions. These require assets freeze, travel ban and arms embargo".
This Pakistan has yet to do, though it regularly showcases apparent actions from time to time. In early 2017, for instance, when faced with a looming threat from the new Donald Trump administration, the state reacted by including Saeed as well as three others in the Fourth Schedule. Saeed was later released, and nothing much happened to the 'mother ship' Lashkar-e-Taiba (LeT)/JuD because it was legally not yet a terrorist organisation under Pakistani law, despite it being part of the UN sanctions list.
The new Ordinance should remove that anomaly. All organisations and individuals designated by the UN are now legally part and parcel of Pakistan's counter-terrorism laws, requiring the state to take action against them – and that includes the head of the LeT Saeed.
As of now, media reports indicate that the government has moved to take over some properties of JuD and FIF, which include a stud farm, a swimming academy, and its central facility the Markaz-e-Taiba at Muridke. This is actually the second time that the government has 'taken over' this institution.
The first was 2009. At the time, the Punjab government was supposed to have made an inventory of JuD assets, under the charge of a chief administrator, reporting to the Lahore district commissioner. Clearly, nothing has changed in eight years. The institution continues under the protection of 100 plus JuD guards. The only change is that they have been joined by a few added policemen.
The changed law now requires Pakistan to take action against not only Saeed but also the Jaish-e-Mohammed (JeM), a listed terrorist organisation. It requires the state to close down assets of these bodies, or at the very least takeover and re-engineer their schools, colleges and training centres away from a violent interpretation of Islam.
Most of all, it needs to take away the millions of dollars that are part of the funds of these organisations, and which feed terrorism elsewhere. New designations by the US treasury department reveal an extensive financial network that includes fundraising in the Gulf and financing of not only the Taliban but also Al-Qaeda, apart from operations in Afghanistan.
Indian intelligence has considerable details about Lashkar financing of the fight in Kashmir. This needs to be dovetailed with the US data and extensively publicised to be able to provide clinching proof that is legally sustainable, to indict and pressure Pakistan into acting against terrorist groups.
Meanwhile, it can be expected that various analysts will soon be writing about the difficulties that Pakistan is likely to face in 'taking on' the Lashkar and its affiliates. These arguments have been heard before, and need to be weighed against the realities that led to the likes of Mullah Abdul Baradar, one time Taliban strongman, being 'detained' in Pakistan for daring to open negotiations directly with the Afghan government; or the death of Mullah Akhtar Mansoor who tried to get out from under Pakistan's thumb and chart his own course.
Pakistan has its own effective way of dealing with recalcitrant terrorist leaders. And it doesn't include giving them even the slenderest chance to bite the hand that feeds it.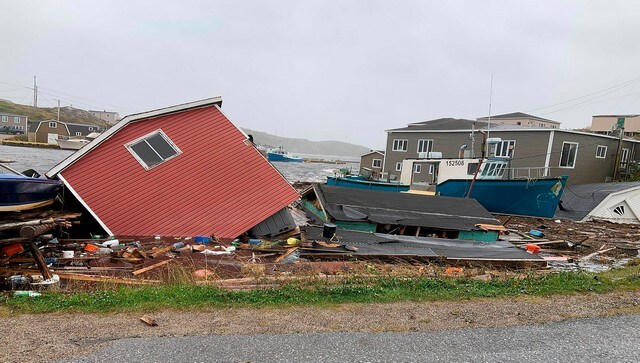 Explainers
Once a storm reaches maximum sustained winds of 119 kmph or higher, it is classified as a hurricane, typhoon, or tropical cyclone. However, the moniker given to it depends on its location
Explainers
Mohan Bhagwat's visit to the Kasturba Gandhi Marg mosque at the heart of the Delhi – his second meeting with Muslim intellectuals over the past month – comes amid an unprecedented outreach to the minority community by the RSS chief and in the backdrop of the Gyanvapi mosque row
India
Farhatullah Ghori had fled India to Saudi Arabia in 1994. He then reached Pakistan in 2015 and joined the Jaish-e-Mohammed (JeM). Farhatullah Ghori works to provide funds for terrorist activities in India