With banging pots and fireworks, celebrations erupt over Biden election win
By Aram Roston and Ned Parker WASHINGTON/NEW YORK (Reuters) - Supporters of Democrat Joe Biden banged pots, honked their car horns and set off fireworks across U.S.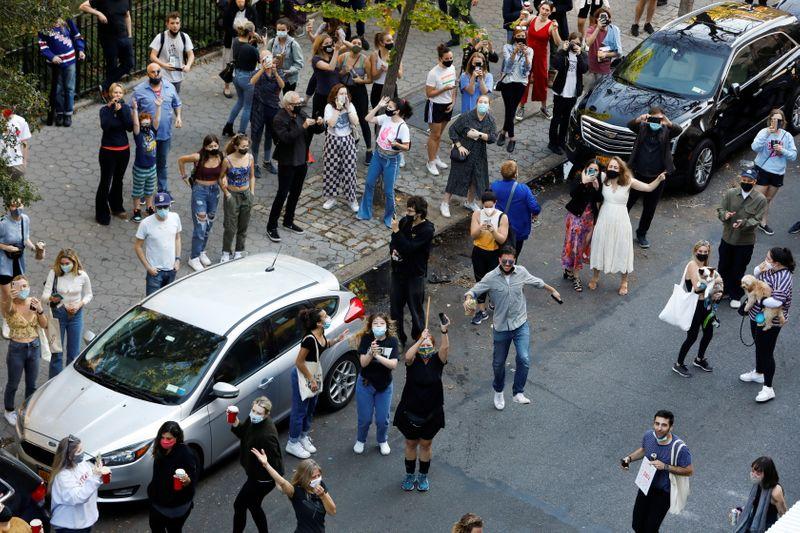 By Aram Roston and Ned Parker
WASHINGTON/NEW YORK (Reuters) - Supporters of Democrat Joe Biden banged pots, honked their car horns and set off fireworks across U.S. cities after their candidate captured the U.S. presidency in a narrow win over President Donald Trump.
Minutes after major television networks declared Biden the winner following four nail-biting days since the Nov. 3 election, people streamed to the White House to celebrate outside a security fence as the sound of booming fireworks was heard in the distance.
In nearby Dupont Circle, several hundred people formed a parade, playing music, singing and dancing and marched towards the White House to the sound of honking horns and clanging cowbells.
Loud cheers erupted in the halls of the hotel where Biden aides are staying. "Worth every minute," of the wait, a Biden aide said. Campaign staff exchanged elbow bumps and air hugs in the hotel lobby.
In the New York borough of Brooklyn, cars honked and people pumped their fist and cheered on the street.
"The nightmare is over," said Andrew Ravin, 45, while his neighbor Kenneth Henry, 51, said, "We can breath again."
Shouts, cheers and fireworks sounded in the Atlanta's Democratic stronghold East Atlanta Village neighborhood as word spread that Biden was named the winner.
Emmi Braselton, 37, a freelance graphic designer of Atlanta, was walking her two-year-old daughter Sylvie, who asked "What's all that Mommy?," Braselton said.
"I told her, the good guy won. And also, now there'll be a woman as vice president. And she told me, 'I want to be president.'"
(Additional reporting by Rich McKay in Atlanta, Trevor Hunnicutt in Wilmington, Delaware, Jonathan Landay, Ted Hesson, Humeyra Pamuk and Jim Oliphant in Washington; Writing by Mary Milliken; editing by Diane Craft)
This story has not been edited by Firstpost staff and is generated by auto-feed.
Find latest and upcoming tech gadgets online on Tech2 Gadgets. Get technology news, gadgets reviews & ratings. Popular gadgets including laptop, tablet and mobile specifications, features, prices, comparison.
Business
By Gustavo Palencia and Ismael Lopez TEGUCIGALPA (Reuters) - Hurricane Iota began whipping a remote coastal area of Nicaragua with catastrophic winds, storm surges and rain on Monday evening, as the region's leaders blamed climate change for destruction that is pushing millions closer to hunger. Iota was due to crash through northeastern Nicaragua's Miskito region overnight, packing maximum sustained winds of 160 miles (260 km) per hour, having reached Category 5 on the Saffir-Simpson scale, the U.S
World
SAQQARA, Egypt (Reuters) - Egypt on Saturday showcased more than 100 coffins dating back 2,500 years, the latest and largest find this year in the vast burial ground of the Saqqara Necropolis.     The 26th Dynasty coffins - sealed, finely painted and well-preserved - were of a higher quality than previous finds there, said the secretary-general of the supreme council of antiquities, Mostafa Waziri, suggesting they belonged to higher ranking families.
World
KYIV (Reuters) - Ukrainian Health Minister Maksym Stepanov said on Saturday he had tested positive for COVID-19, shortly after announcing the country had posted a record number of new cases in a single day. "This is a war, every day the virus takes the lives of Ukrainians," Stepanov told a televised briefing at which he said 12,524 new cases had been registered in the previous 24 hours, up from the record of 11,787 a day earlier