Will US President-elect Donald Trump ever make peace with the US media?
It's not the first time that Trump has had a problem with 'terms and conditions'.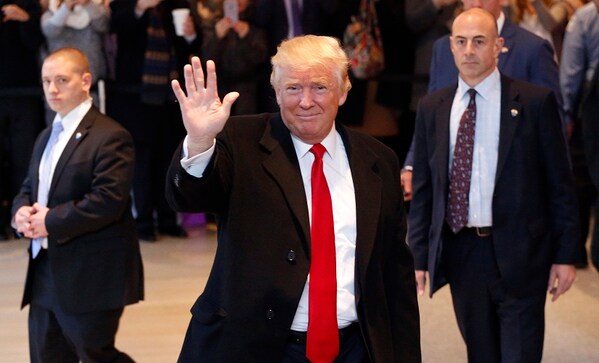 It appears that the media have a lot of opinions on US President-elect Donald Trump's opinion of them. If that isn't meta, perhaps nothing is.
What happened was this: Trump on Tuesday cancelled his meeting with The New York Times, calling it a "failing" newspaper, alleging that it had changed the terms and conditions of his interview at the last minute.
I cancelled today's meeting with the failing @nytimes when the terms and conditions of the meeting were changed at the last moment. Not nice

— Donald J. Trump (@realDonaldTrump) November 22, 2016
But he soon turned around and tweeted this:
The meeting with the @nytimes is back on at 12:30 today. Look forward to it! — Donald J. Trump (@realDonaldTrump) November 22, 2016
The NYT, meanwhile, denied these allegations saying they "did not change the ground rules at all and made no attempt to".
Trump's office had gotten in touch with the NYT about making the interview private and going off the record, an offer which the media house declined. They then jointly came to the conclusion that the interview would consist of a "small off-the-record session" and "a larger on-the-record session with reporters and columnists". Post the 75-minute interview, Trump remarked that "The Times is a great, great American jewel," the newspaper itself quoted the President-elect as saying. It's not the first time that Trump has had a problem with "terms and conditions".
Back in 2011, at Trump's Comedy Central Roast — which saw celebrities like Lisa Lampanelli, Snoop Dogg and the ever permanent Jeff Ross poke fun at the business tycoon — there was reportedly one topic that was "off-limits". His wealth, especially the lack thereof. It's not a one-off incident either: Anthony Jeselnik, one of the roasters, noted that in a conversation with late comedian Joan Rivers, Trump ruled out anything to do with his wealth.
"Donald Trump's rule was, don't say I have less money than I say I do," Jeselnik said. "Make fun of my kids, do whatever you want, just don't say I don't have that much money."
If this seems to hit a level of ridiculousness, we haven't even barely scratched the surface — Trump reportedly met with some members of the media (including ABC, CBS, CNN, Fox and NBC) off-the-record at Trump Tower to discuss the "dishonest media" portrayal of him and complained that NBC used "unflattering" photos of him (read double chin). Trump slammed the media and asked for "fairness" in coverage. It can be summed up that Trump truly views the media as his main adversary — the Joker to his Batman. It isn't enough that he is soon to become the President of the United States, his fixation over media portrayal of him has given him many a heartburn. Vox lists a number of his misgivings with the media: During the election, he reportedly paused an interview with the Washington Post five times to watch TV, he ridiculed newspaper reporters on his campaign, he repeatedly dubs the NYT as the "failing New York Times"... His feud with Megyn Kelly is only well-known. According to ABC News, which documented their back and forth, the duo's spat started last year during the first Republican presidential debate. Kelly directed a question at him, "You've called women you don't like fat pigs, dogs, slobs and disgusting animals." And Trump interrupted, "Only Rosie O'Donnell," for which Kelly got back with, "For the record, it was way beyond Rosie O'Donnell," and listed his derogatory remarks about women. Trump being Trump, responded with a non-answer: "I think the big problem this country has is being politically correct."
Wow, @megynkelly really bombed tonight. People are going wild on twitter! Funny to watch. — Donald J. Trump (@realDonaldTrump) August 7, 2015
Later, at a debate on Fox News, Trump infamously suggested that Kelly was on her period, which he later corrected to blood coming out of her nose.
Re Megyn Kelly quote: "you could see there was blood coming out of her eyes, blood coming out of her wherever" (NOSE). Just got on w/thought

— Donald J. Trump (@realDonaldTrump) August 8, 2015
After all this, how is Trump going to put to rest his scruples against the media? Slate makes a similar argument in a piece titled 'Donald Trump Will Never Make Peace With the Media'. Jim Newell writes that "all that Trump can do is crush the media", because all Trump wants really is their respect. But if Trump does backtrack on the offensive after his win, it would go against his campaign, which primarily focused on him attacking the liberal media.
But as David Remnick writes for The New Yorker, "This is who will be running the executive branch of the United States government for four years." American media will perhaps have to make their peace with it.
also read
Explainers
Elon Musk's brain-computer interface company Neuralink has received approval from the FDA to conduct its first in-human clinical study. The firm wants to put coin-sized implants into human beings, which will allow people with paralysis regain motor function, restore vision, and treat brain diseases
Explainers
Tipu Sultan, the 18th Century Mysore ruler, slept in a hammock suspended from the ceiling of his locked bedchamber with this sword by his side. Found in his private apartments after his defeat at the battle of Seringapatam in May 1799, it was previously owned by Vijay Mallya
Explainers
Bernand Arnault, who owns LVMH – which includes luxury brands such as Louis Vuitton, Moet & Chandon, and Christian Dior – saw a considerable drop in his fortune after shares of the conglomerate declined five per cent on Tuesday. Arnault's net worth is currently at $192 billion