Will a US nudge encourage Pakistan to grant India MFN status?
US Assistant Secretary of State for South and Central Asia Robert Blake caught everyone's attention this week by saying that Pakistan's new prime minister Nawaz Sharif, is committed to granting MFN trading status to India.
New York: Two years ago Pakistan's cabinet had cleared a proposal for normalisation of bilateral trade relations. Islamabad was supposed to give India most-favored-nation (MFN) trading status by the end of 2012, but failed to do so.
US Assistant Secretary of State for South and Central Asia Robert Blake caught everyone's attention this week by saying that Pakistan's new prime minister Nawaz Sharif, is committed to granting MFN trading status to India. The Obama administration is hoping that improved trade relations between the South Asian neighbours may help kick-start peace talks that have stalled since the 2008 Mumbai attacks.
President Obama now wants better relations between Delhi and Islamabad to manage a problem called Afghanistan. Pakistan's military has long resisted Indian involvement in Afghanistan, seeing it as a plan to encircle it, and any fresh wrangling between the South Asian rivals would add to Afghanistan's problems as the US-led military pullout draws near.
"Now that we have a new Prime Minister in Pakistan who is committed to moving ahead on the trade front with India and to moving ahead on MFN status, that's going to have quite a positive impact on trade between India and Pakistan," Blake said at the Woodrow Wilson Center in Washington.
India had granted Pakistan MFN status in 1996, in line with World Trade Organisation agreements. Pakistan, however, did not reciprocate, placing restrictions on the items that could be imported from India. This is partly why the volume of trade between the two countries currently stands at a meagre $2.7 billion a year. A normalised trade regime would see that soar to $40 billion, according to a report by the Woodrow Wilson International Center for Scholars.
The delay in granting India MFN trading status is partly due to concerns from Pakistan's agricultural sector. The agricultural lobby contends Pakistan cannot grant MFN status to India unless Pakistani farmers receive the same subsidies that Indian farmers enjoy.
Some trade experts say that even if the new government led by two-time prime minister Nawaz Sharif grants India MFN status, Pakistan will continue to run a long "negative list" of products that India cannot export. The list includes 1,200 products made by key industries for employment and national security but is supposed to be phased out over time. India has a similar, but shorter, list. Last year, Pakistan's government pledged to pare down the list by the end of 2012, but ignored the deadline.
Daniel Markey, a senior fellow at the Council on Foreign Relations and author of the forthcoming book No Exit From Pakistan: America's Tortured Relationship With Islamabad says that if Sharif's government can stabilise Pakistan's economy and normalise relations with neighbouring India and Afghanistan, there will be reason for hope that Pakistan can, in time, remove itself from lists of "failing states."
He argued in an opinion piece in The Washington Post that the Obama administration should launch a phased reduction of US tariffs on textiles and apparel for Pakistan and India, conditioned on improvements in Indian-Pakistani trade.
This could be a huge incentive for Pakistan to push ahead with an agreement to liberalise trade with India. In exchange for its cooperation with US efforts after the September 11, 2001 attacks, Pakistan actually sought reductions in textile tariffs but resistance on Capitol Hill from US cotton-producing states, stymied such an initiative.
"Unlike Pakistan, India is quite popular among US members of Congress. A trade deal backed by pro-India, pro-Pakistan and pro-Indo-Pakistani peace groups would have a far better chance of overcoming legislative hurdles in Washington," wrote Markey.
"A deal of this sort would have positive repercussions for US, Pakistani and Indian interests. It would show that Washington has learned from the past, and it would improve the chances that Sharif can make the most of his third time at bat," he added.
The US State Department is still promoting former secretary of state Hillary Clinton's idea of a "New Silk Road" through Central and South Asia to boost economic connectivity across India, Pakistan and Afghanistan. The US had discussed the need for the Silk Road strategy with Pakistan on the sidelines of the last UN General Assembly saying South Asia should have a network where a "Pakistani businessman can set up shop in Bangalore."
"I'm very hopeful that will happen, but it's going to take a little bit more time. Once that does happen, then there will be automatically incentive to develop those rail links, the road links and all the other things," said Blake.
Blake said that the proposed Turkmenistan-Afghanistan-Pakistan-India Pipeline (TAPI) would connect the vast gas reserves of Turkmenistan with the hungry energy markets of South Asia, while providing much-needed transit revenue to Pakistan and Afghanistan. "While we have a long way to go, TAPI is closer to reality today than many would have thought possible even two years ago," said Blake.
Find latest and upcoming tech gadgets online on Tech2 Gadgets. Get technology news, gadgets reviews & ratings. Popular gadgets including laptop, tablet and mobile specifications, features, prices, comparison.
World
Video posted on social media appeared to show a man opening fire into the park in Louisville, Kentucky as people scrambled for cover. The footage later showed at least one person bleeding profusely on the ground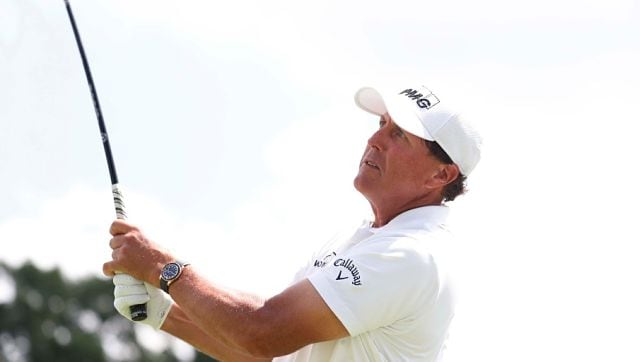 Sports
A US Open win would put Mickelson's name alongside Gene Sarazen, Ben Hogan, Gary Player, Jack Nicklaus and Tiger Woods on the career Grand Slam list.
World
US President Donald Trump suspended the entry of certain foreign workers on Monday until the end of the year, a move the White House said would help the coronavirus-battered economy, but which business groups strongly oppose