Wider Image: A crime or a right? Some Danish Muslims to defy face veil ban
By Emil Nielson COPENHAGEN (Reuters) - On Aug. 1, when face veils are banned in Denmark, Sabina will not be leaving her niqab at home.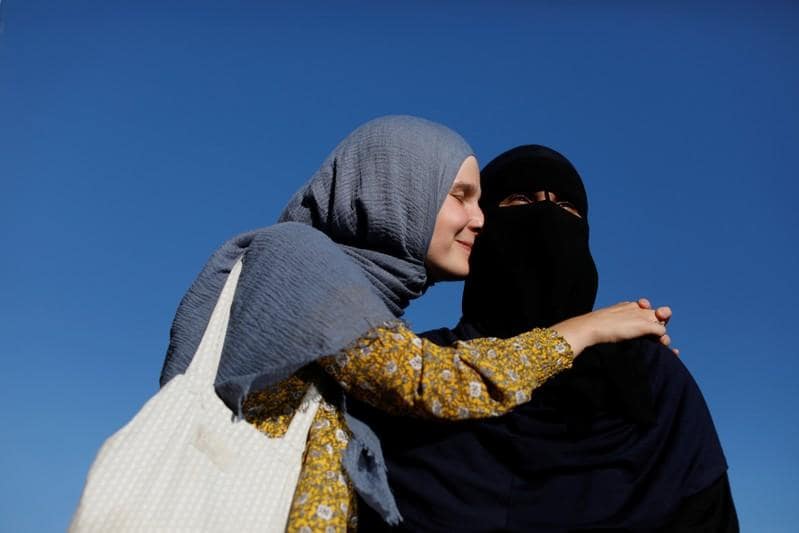 By Emil Nielson
COPENHAGEN (Reuters) - On Aug. 1, when face veils are banned in Denmark, Sabina will not be leaving her niqab at home. Instead, she will be defying the law and taking to the street in protest.
In May, the Danish parliament banned the wearing of face veils in public, joining France and some other European countries to uphold what some politicians say are secular and democratic values.
But Sabina, 21, who is studying to be a teacher, has joined forces with other Muslim women who wear the veil to form Kvinder I Dialog (Women In Dialogue) to protest and raise awareness about why women should be allowed to express their identity in that way
"I won't take my niqab off. If I must take it off I want to do it because it is a reflection of my own choice," she said.
Like the other women interviewed for this article, Sabina did not wish to have her surname published for fear of harassment.
The niqab wearers who plan to protest on Aug. 1 will be joined by non niqab wearing Muslim women and also non-Muslim Danes, most of whom plan to wear face coverings at the rally.
"Everybody wants to define what Danish values are," said Meryem, 20, who was born in Denmark to Turkish parents and has been wearing the niqab since before meeting her husband, who supports her right to wear it but feels life could be easier without.
"I believe that you have to integrate yourself in society, that you should get an education and so forth. But I don't think wearing a niqab means you can't engage yourself in Danish values," Meryem, who has a place to study molecular medicine at Aarhus University, said.
Like Sabina, Meryem plans to defy the law, keep her niqab on and protest against the ban.
Under the law, police will be able to instruct women to remove their veils or order them to leave public areas. Justice Minister Soren Pape Poulsen said officers would fine them and tell them to go home.
Fines will range from 1,000 Danish crowns ($160) for a first offence to 10,000 crowns for a fourth violation.
"I feel this law legitimises acts of hatred but, on the other hand, I feel people have become more aware of what is going on. I get more smiles on the street and people are asking me more questions," said Ayah, 37.
Mathias Vidas Olsen, who makes reproductions of Viking age jewellery, is supporting the campaign by making special bracelets and giving the proceeds to Kvinder I Dialog.
"I'm not for or against the niqab," the 29-year-old Copenhagen man said.
"I'm for the right of the people to wear whatever they want whether they be a Muslim or a punk.
"I see this as the government reaching in to places they don't belong and as a cheap hit on an already stigmatized group to score cheap political points."
For a photo essay, click on https://reut.rs/2v1ZkR1
(Reporting by Emil Gjerding Nielson; additional reporting by Jacob Grønholt-Pedersen and Stine Jacobsen; editing by Stine Jacobsen and Robin Pomeroy)
This story has not been edited by Firstpost staff and is generated by auto-feed.
Find latest and upcoming tech gadgets online on Tech2 Gadgets. Get technology news, gadgets reviews & ratings. Popular gadgets including laptop, tablet and mobile specifications, features, prices, comparison.
Business
By Jessica Resnick-Ault NEW YORK (Reuters) - Oil prices strengthened on Wednesday, as OPEC and its allies were seen complying with a pact to cut oil supply in September, even as concerns loomed that recovery in fuel demand will be stalled by soaring global coronavirus cases. Early in the day crude was boosted by a bullish stock market. Even as equities whipsawed on pandemic worries, oil stayed higher, buoyed by expectations that OPEC could staunch a supply glut
Business
By Tina Bellon and C Nivedita (Reuters) - Tesla Inc will further cut the price of its Model S "Long Range" sedan in the United States to $69,420, the electric carmaker's chief executive, Elon Musk, announced in a tweet https://bit.ly/2H0JCP0 on Wednesday. The anticipated drop marks the second time this week Tesla has cut the price for the high-end sedan, following a 4% cut of the Model S's price in the United States on Tuesday to $71,990.
World
By Jeff Mason DES MOINES, Iowa (Reuters) - Under siege over his handling of the novel coronavirus pandemic, President Donald Trump on Wednesday cited what he said was his son's mild bout of the virus as a reason why American schools should reopen as soon as possible. Trump made the comment about his son, Barron, as the president swept into Iowa on a mission to shore up support in battleground states that he won in 2016 but is in danger of losing to Democrat Joe Biden barely three weeks before the election. First lady Melania Trump announced in a statement earlier in the day that the virus that struck both her and her husband had also infected their 14-year-old son