Why the rise of 'good Taliban' in Afghanistan worries India and Iran
Iran is a vital cog in the wheel of Indian scheme of things for reaching out to Afghanistan. But the question is: whether both India and Iran are about to lose their leverage on Afghanistan?
By Rajeev Sharma
The importance of Iran for India cannot be over stated. Iran is a vital cog in the wheel of the Indian scheme of things for reaching out to Afghanistan. But the question is: whether both India and Iran are about to lose their leverage on Afghanistan?
The good news is that Iran is as uncomfortable as India on the back-room developments with regard to Afghanistan as the United States-led international community seems hell bent on "good" Taliban taking over the land-locked country in the post-2014 scenario of withdrawing American forces from Afghanistan.
The bad news is that India may have to, after all, live with a regime in Kabul in 2014 that is friendly to Pakistan. This may well be a nightmarish scenario for India that has seen for itself how anti-India jihadist forces based in Afghanistan aided terrorism in India during the Taliban regime of 1996-2001. The hijacking of the Indian Airlines Kathmandu-New Delhi flight IC 814 to Kandahar on December 24, 1999 is just a chilly reminder of what a pro-Pakistan Taliban regime in Kabul can do to India.
These nuggets of valuable information were thrown up on 2 January, 2012 when Iran's National Security Advisor Saeed Jalili came face-to-face with Indian media during a 80-minute interaction at Indian think tank Observer Research Foundation (ORF) premises which was kept confined to select Indian media only.
Jalili used this opportunity to breathe fire, as usual, at the Americans. His barbs were directed at the Americans over the two tenets the country publicly swears by: fight against terrorism and preservation of democracy. On the former, Jalili took a dig at the Americans citing what they were doing in Afghanistan today through back-channel efforts. The US-led international community, solidly backed by the British, is trying to cobble up a peace process roadmap in Afghanistan that would bring "good" Taliban into power there after the American troops leave in 2014.
India has been balking at the Americans' behind-the-scenes effort and telling the world that there is nothing like "good" Taliban in the first place. The Indians have tried hard to convince the international community that all terrorists are necessarily 'bad' and there is nothing like a 'good' terrorist. It is another thing that the Indian strategic establishment is burning the midnight oil to keep back channels alive with some shades of the Taliban leadership. The idea is that India should not repeat its mistake of the 90's when it kept all its eggs in the basket of Northern Alliance led by the late Ahmed Shah Masood, which was blatantly anti-Taliban.
Jalili made his discomfiture known when he voiced his concern on Wednesday that Afghanistan continued to be plagued by the scourge of terrorism despite over a decade of foreign military presence there. He even pointed out that there was no unanimously agreed definition of terrorism among the principal international actors and said the current happenings in Afghanistan were only a consequence of "opportunistic" definitions of terrorism. In this context he quoted a former Pakistani Prime Minister as having said that terrorism in Afghanistan was conceived and conceptualized by the Americans, implemented by the Pakistanis, supported by the Arab world and funded by the Saudis. Though Jalili did not name the former Pakistani PM it is public knowledge that this comment was made by Nawaz Sharif.
Actually, India would not agree less on this point. This has been the chief cause of the failure of Indian efforts to get a draft of the Convention on Terrorism passed at the United Nations. It is indeed ironical that the Indian efforts at getting this convention carried in the UN are stymied by a fundamental fact: that there is no agreed definition of terrorism. A nation's 'terrorist' is perceived as a "freedom fighter" by another nation state!
Jalili also attacked the Americans on their second favourite concept of democracy. He cited the example of Syria in this context and virtually implied that the Americans were hell bent upon subverting the political system in Syria through terrorism in the name of democracy. He minced no words when he described the ongoing Syrian crisis as a repeat of whatever is happening in the Afghan theatre.
"This is a new plot taking place in another part of the world," he said while speaking about how terrorism was being used to subvert to the democratic process in Syria.
Jalili's remarks at the ORF interaction with the Indian media provide a sneak peek into Iran's thinking and also of what he may be confabulating with his Indian counterpart Shiv Shankar Menon, apart from External Affairs Minister Salman Khurshid and Foreign Secretary Ranjan Mathai whom he is scheduled to meet on Thursday. What he is driving at essentially is that Afghanistan awaits the fate of Libya in terms of regime change, though he never mentioned the African country during his interaction.
Another message that rings out of the Jalili-speak at the ORF is that on the issue of a probable change-over of the Afghan political set-up and the strong possibility of a section of Taliban taking over the reins of power in Kabul, Iran's stand is very similar to India's. It is another matter that both Iran and India are slowly getting marginalized in the Afghanistan scheme of things as the Anglo-American push for the Taliban continues.
Even worse for India is the fact that the Afghan President Hamid Karzai has given indications that he is with the Anglo-American scheme of things, though it is another matter how Karzai himself will play out his role as the Afghan conundrum goes down the wire. For the Indians, it is virtually an existential question. Karzais may come and go. The only point of interest for the Indians is how the Afghan imbroglio pans out.
Jalili's interaction with his Indian interlocutors will inevitably be significant from other perspectives as well. For example, Iran is set to re-open its dialogue with the International Atomic Energy Agency (IAEA) in less than a fortnight from now. The Iran-IAEA talks in December 2012 had remained barren, thought the IAEA chief had said that there was some progress as both sides seemed willing to have an agreement.
India is an important stake-holder in the Iranian play-out with the IAEA. India has repeatedly favoured a solution using the politico-diplomatic route and opposed the imposition of sanctions on Tehran. But a combative Jalili gave a sneak peek into Iran's political mindset about the Western sanctions as he described these as "opportunities" rather than "threats".
(The writer is a New Delhi-based journalist-author and strategic analyst who can be reached at bhootnath004@yahoo.com )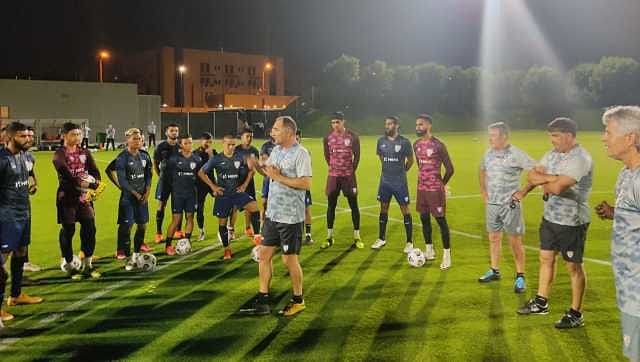 Sports
Former India captain Renedy Singh and ex-Bengaluru FC midfielder Darren Caldeira also shared their expectations from India's upcoming World Cup qualifiers.
World
A mixture of scepticism and misinformation perpetuated on social media has slowed an already under-resourced vaccination campaign in Afghanistan.
First Cricket News
With the T20 World Cup around the corner, Rashid feels he is better off focussing on what he does best.