Swaraj confirmed what we know: Sharif's Kashmir dream will be a dream
'Waiting for the day Kashmir becomes part of Pakistan,' Sharif said while celebrating his party's victory in elections in Pakistan-occupied Jammu and Kashmir.
On 26 October, 1947, VP Menon was joined at his Delhi residence by the then British deputy High Commissioner for a drink. Menon, who had just returned from Srinagar, poured out a stiff drink, smiled and exulted: "We have Kashmir. The bas...d signed the Act of Accession. And now that we have got it, we will never let it go."
This incident, narrated by authors Larry Collins and Dominique Lapierre in Freedom at Night should be enough to remind Pakistan Prime Minister Nawaz Sharif of the futility of his dream of seeing Kashmir become part of Pakistan some day. "Waiting for the day Kashmir becomes part of Pakistan," Sharif said while celebrating his party's victory in elections in Pakistan-occupied Jammu and Kashmir.
Menon, the brilliant ICS officer who helped Sardar Patel put hundreds of princely states in India's basket, had prophesied on that fateful October day that India will never let Kashmir go. Six decades of futile Pakistani efforts, including three wars, suggest Sharif's dream is inspired by a famous Indian TV serial starring Raguvir Yadav.
Sharif has a long list of people to blame for his unrequited love for the Vale. He can, for instance, blame Mohammad Ali Jinnah, who, in a fit of madness, decided to send tribals from the frontiers to invade Kashmir after the Maharaja denied his request for a vacation in the Valley. He can blame the atavistic Pathans, who, in spite of having the option of invading Srinagar without firing a shot, decided to loot Muzzafarabad and rape the nuns of Baramulla, giving Indian Army precious time to secure the airport at Srinagar. Sharif can blame Cyril Radcliffe too, who, decided to award Gurdaspur, a Muslim majority town to India, and thus the only road link to Kashmir. Or, Sharif can curse the turn of events that allowed Menon to return to Delhi on 26 October with the Instrument of Accession in his pocket.
But, Kashmir, Sharif should be convinced by now, would remain where Menon promised while pouring out a celebratory drink on the night Pakistan lost it forever.
Till Jinnah ordered the tribal invasion of Kashmir, misled perhaps by events that led to Junagadh's integration with India, there was a theoretical possibility of the Valley going to Pakistan. This was evident from the stance Patel had reportedly taken on the disputes that rose from the decision of Kashmir, Junagadh and Hyderabad to not accede to either of the two countries even after 15 August. Several scholars have suggested that Patel was willing to consider Pakistan's claim if it gave up Junagarh and Hyderabad.
In his book, Patel, A Life, scholar Rajmohan Gandhi reports Patel's speech at the Bahauddin College in Junagadh, where the home minister said:
"If Hyderabad does not see the writing on the wall, it goes the way Junagadh has gone. Pakistan attempted to set off Kashmir against Junagadh. When we raised the question of settlement in a democratic way, they (Pakistan) at once told us that they would consider it if we applied that policy to Kashmir. Our reply was that we would agree to Kashmir if they agreed to Hyderabad."
But, the moment Jinnah decided to send tribals under the leadership of Major Khurshid Anwar to invade Kashmir, and then dispatched his soldiers guised as Pathans to fight the Indian army, Pakistan lost the argument and the Valley. As Patel used to say, possession is 90 per cent of the law.
Pakistan failed to get anything out of the 1965 war it fought with India. In 1972, it signed the Simla accord and agreed to a status-quo and bilateral resolution of the dispute. Since then, nothing has changed that entitles Sharif to a walk through Srinagar's Nishat Bagh or drink from the founts of Chashm-e-Shahi.
Pakistan doesn't have the military might to split India. Its proxy war, as history proves, lacks the firepower to melt India's resolve. And there is no way India will surrender its rights over Kashmir, especially in a global scenario dominated by huge security concerns, Islamic terror and China's rising ambitions of China in the region.
Allowing a Muslim-majority territory on the northern border to become a hotbed of Chinese, Pakistani, Afghan and Islamic State interference would be a political disaster. The fate of Bangladesh and Pakistan, both home to terror, has forever ruled out the possibility of another Islamic country in the region. Though pro-Pakistan sloganeering and flag-waving is common in Kashmir, it is doubtful if Kashmiris actually want to become part of Pakistan, especially in its current avatar. In 2014, while on his first visit to the Valley, BBC's Owen Bennett Jones wrote: "If a foreign journalist asks you how many people in the Kashmir Valley support union with Pakistan, off the record you say 25% but on the record you adjust the number down to 10%."
It is true Kashmiris dream of azaadi, a future that was promised to them by Dogra ruler Hari Singh before Jinnah forced his hand. But their loyalty towards Pakistan is grossly exaggerated, more propaganda than reality.

For all practical purposes, a workable solution to the Kashmir problem will have to be worked out between the people of Kashmir and the Indian government. Pakistan would, of course, never agree to anything that shatters its dream of possessing Kashmir, and that would ensure longevity of the dispute.
Pakistan's unrealistic dream that is destined to remain unfulfilled, and thus remain a source of trouble, makes it imperative for India to win over Kashmiris through dialogue and peace initiatives. Though armchair hardliners in India argue that Kashmiris will never accept India's presence in the Valley, deride them as jihadis, they forget that for several years after Independence, Kashmir remained calm and quiet', even if the desire for azaadi simmered below the surface. Even the first decade of this millennium was comparatively quiet and calm, suggesting a return to normalcy.
In 1947, when Jinnah dispatched his tribals to Srinagar, he assumed their presence would trigger a revolt within Kashmir. Muslims of the Valley, he erroneously believed, would support the Pakistani invasion and drive out the Indian army.
India's challenge now is to ensure that its own follies in Kashmir do not alienate Kashmiris enough to inspire someone in Pakistan to embark on another misadventure. Only rank stupidity, rigidity, continued oppression, suppression of rights and over-reliance on guns by the Indian state has the potential to fulfil Sharif's dream. And negate Menon's prophesy.
Find latest and upcoming tech gadgets online on Tech2 Gadgets. Get technology news, gadgets reviews & ratings. Popular gadgets including laptop, tablet and mobile specifications, features, prices, comparison.
India
According to the rules, a Summary of Evidence will now be initiated against the erring Army personnel after which Court Martial proceedings will begin
India
The advocate, who used to appear on TV debates and write opinion pages for local newspapers, was rushed to the SKIMS Hospital where he was declared dead on arrival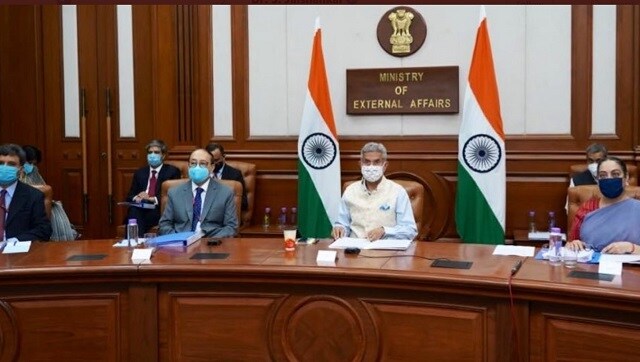 India
Issuing India's reply to remarks made by Pakistan foreign minister Shah Mahmood Qureshi at the virtual CICA Special Ministerial Meeting, the MEA that his comments "constitute gross interference in India's internal affairs, sovereignty and territorial integrity".