Why Modi-Jinping talks must also focus on CoK - China-occupied Kashmir
Some 19 percent of the territory of Jammu and Kashmir is under Chinese occupation. Modi will have to bring these into the broader discussions when Xi Jinping comes.
By Sanjeev Nayar
The common perception in India is that we have a problem with Pakistan over Kashmir, with our western neighbour not only sitting on large chunks of our territory (Pakistan-occupied Kashmir, or PoK) but also sending jihadis over to create mayhem on this side of the line-of-control (LoC).
What Indians do not so readily acknowledge is that we also have a CoK problem in addition to the PoK one. CoK is China-occupied Kashmir, and this part of real estate grabbed un China accounts for nearly a fifth of the original Jammu & Kashmir state that joined the Indian Union in 1948 after its Maharaja Hari Singh signing the instrument of accession.
So when Chinese President Xi Jinping visits India from 17-19 September, the Indian side will not only have to focus on trade, investments and the broader issues that strain the relationship (the unsettled border row over which we fought a war in 1962), but also on CoK. Narendra Modi will have to bring CoK also in his discussions with Jinping - even though the border problem is not going to be solved in a hurry.
The problem with Indians is that we tend to forget what the Kashmir issue is really about as the decades pass. This writer will thus like to refresh memories on what the issue is really about, and on what China is up to (the full monograph on Kashmir will soon be published by Firstpost in a downloadable ebook shortly).
Let's start with a brief chronology of key events in Jammu and Kashmir. The problem became a formal India-Pakistan flashpoint when Pakistan, in a bid to force the ruler to join Pakistan, sent in around 5,000 Pathan tribesmen to invade J&K starting on 21 October 1947. That set off a chain of events of which the highlights are the following:
*Instrument of Accession (hereafter referred to as IoA) signed on 26 October 1047
*IOA unconditionally accepted by Lord Mountbatten that same day
*Jawaharlal Nehru sent the Indian army to defeat the Pathan invasion, but chose to go to the UN on 1 January 1948 on the aggression
*Resolutions adopted by the UN Commission for India and Pakistan on 13 August 1948 and 5 January 1949 provided for a plebiscite in J&K after the withdrawal of troops by Pakistan from PoK
*The regent of J&K, Karan Singh, issued a proclamation on 25 November 1949 that legally declared total oneness of the state with the Constitution of India
*Article 370, which the BJP now wants to scrap, became a part of Indian Constitution in 1950
*Elections to the State Constituent Assembly were held in 1951 and Sheikh Abdullah became PM of J&K
*Sheikh Abdullah was arrested in 1953 when Nehru felt he was developing his own agenda
*The Kashmir Constituent Assembly confirmed the legality of the state's accession to India in 1954
*The J&K constitution came into force on 26 January 1957.
India entered the Kashmir chakravyuh – a battle formation adopted by the Kauravas in their war with the Pandavas which Abhimanyu, Arjuna's son, knew how to enter but not exit safely – with Nehru's decisions of 1948, but no one has been able to exit this chakravyuh.
If we have to exit the chakravyuh, both ordinary Indians and policy-makers have to understand what is at stake. So let's begin with some basic facts about Kashmir, its geography, and how much of Kashmir Pakistan and China are sitting on right now.
The state of J&K had a total area of 2,22,236 sq km in 1947 before it joined India. Of this only 46 percent is in India's possession today; the balance is under forceful occupation of Pakistan and China. Muhammed Ali Jinnah is said to have complained about a moth-eaten Pakistan heinherited after partition, but in Kashmir India actually has less than half the state – a moth-eaten Kashmir, so to speak.
This 2.22 lakh sq km of Jammu and Kashmir was ruled till 1948 by Maharaja Hari Singh, whose full title at that time was quite a mouthful: Shriman Indar Mahander Rajrajeshwar Maharajadhiraj Shri Hari Singh Ji Jammu and Kashmir Naresh Tatha Tibet adi Deshadhipathi.
Which brings us to the bigger questions. What are Pakistan's and China's interests in owning large areas of Jammu & Kashmir.
Q1: Why was (or is) J&K important to Pakistan?
A: Lt Gen NS Malik wrote: "J&K forms the head of the Indian sub-continent, and has been the traditional trade route of Central and South Asia to the East and Tibet, generally called the 'Silk Route'. It is bounded by more countries than any other state of India; in the North East with Tibet, and further North with Xinjiang province of China, in the North West with the Wakhan corridor of Afghanistan, in the West with the Khyber Pakhtunkhwa province and further South with Punjab of Pakistan. This geographic layout is strategically so important that no power of the world wants to remain away from the area, as it gives them access to the sensitive areas of the neighbouring countries".
Q2: What is the importance of Aksai Chin (a part of undivided J&K) to China?
A: The Sinkiang (Xinjiang) and Tibetan plateaus constitute a wedge into the Himalayas and were considered by China to be very strategic. They wanted to grab those areas that allowed them to establish roads between Sinkiang and Tibet. With the undetermined border between Soviet Turkestan and Sinkiang a source of friction and tension with Russia, China needed an effective line of communication with Sinkiang through Akshai Chin.
Lt Gen N S Malik wrote: "China is spending huge sums to build infrastructure through highways connecting Tibet to Xinjiang through the Chinese-occupied Aksai Chin plateau, and Xinjiang to Pakistan via the Karakorum highway through the Kunzreb pass. This highway then connects Gwadar port on the Arabian Sea, giving a warm water port and access to the Indian Ocean to China. Its importance can be visualised in that China trade can avoid the bottleneck of the Malacca straits as also cuts down turnaround to the interior provinces of China."
Clearly, it is not going to be easy for India to reclaim the parts of Kashmir it has lost to Pakistan and China. But that does not mean it should not be brought on to the table for discussion.
(Click here for the map of Kashmir; the areas in grey to the top-left are PoK; the areas on top-right in light green are China-occupied Kashmir).
Subscribe to Moneycontrol Pro at ₹499 for the first year. Use code PRO499. Limited period offer. *T&C apply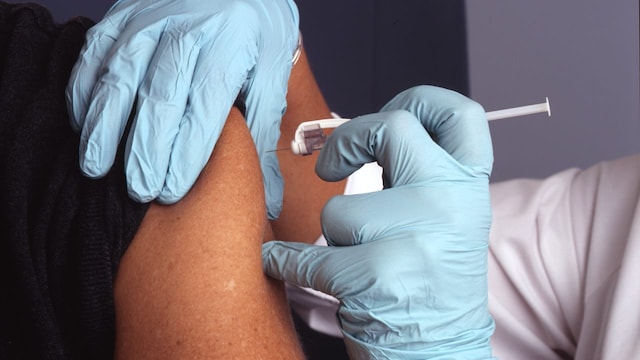 World
The vaccines have been a battle for global influence between China and Russia, with Russia being held back due to its limited production capacity.
science
Both countries have a lot to gain from climate cooperation, as they face similar challenges like curbing pollution and safeguarding the glaciers that feed their rivers.
World
US State Department spokesman Ned Price said the country condemns China's 'continuing assault on democratic institutions in Hong Kong'