Red tape makes India a hell of a place for SMEs to do business
The latest report on the ease of doing business establishes the subjective perception that Indian entrepreneurship is bound up in red tape that inhibits it from realising its potential.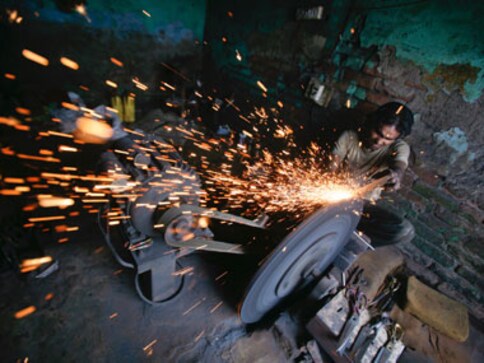 Governments that love red tape make it sheer hell for businesses, particularly small businesses, to operate. And governments in India, at every level from the Central to the States, appear to love weaving reams of red tape that constrain small businesses from realising their potential.
We've always known in a general sort of way that it takes sheer audacity to start a business in India. And given the maze of red tape that a SME businessman, in particular, needs to navigate, it's a wonder that private enterprise thrives in any shape or form at all.
The latest report on Doing Business 2013, from the World Bank and the IFC, establishes with quantitative data the subjective perception that India is a hell of a place for SMEs to do business. (Full report and rankings can be accessed here.)
Consider this: out of 185 economies around the world that were analysed for ease of doing business - measured across 10 indices (from starting a business to registering property to securing credit to enforcing contract to protecting investors, among others)- India ranks a lowly 132rd place!
That makes it a more business-unfriendly place than every other country in the subcontinent barring Bhutan (which ranks 148th). Pakistan (107), Bangladesh (129), Nepal (108) and Sri Lanka (81) fare higher up the ladder than India.
At the top of the rankings is Singapore, followed by Hong Kong. China comes in at 91st rank overall; at the bottom of the heap are Congo (rank183), Chad (184) and Central African Republic (185).
India fares particularly poorly on some of the subindices that go to define its overall ranking. For instance, in the matter of enforcing contracts it ranks 184th and in dealing with construction permits, it ranks 182nd, putting it at the bottom of the table of notoriety.
Only on two counts - getting credit (23rd rank) and protecting investors (49th rank) does India fare in the top 50.
On the other counts, India's ranking varies between middling (Ranked 94th on ease of registering property) and abysmal (ranked 105th in getting electricity; 116th in resolving insolvency; 127th in trading across borders; 152nd in paying taxes; and 173rd in ease of starting business).
The factors that trip up the Indian SME business environment are the extensive number of procedures that need to be complied with, which delay the start of business operations and push up costs for securing the approvals.
Indicatively, to start a business in New Zealand, SMEs need comply with only one procedure, which takes only one day. Indicatively, in India, SMEs need to comply with 12 procedures that take, on average 27 days.
When it comes to dealing with construction permits, it gets worse for India. In Hong Kong, which tops the ranking on this subindex, SMEs need to comply with only six procedures, but in India, the corresponding number is 34 procdrues, which take 196 days!
But these anodyne narration of facts and figures do little justice to the enormity of the hell world that businesses and project executioners face on the ground in India
Illustratively, in his book Governance and the Scleroris that has set in, Arun Shourie, who served as disinvestment minister in the NDA government, recounts the experience of a Singapore Minister who had directed the execution of projects in both India and China. The difference in his experience, the Minister recalled, was 'focus': Chinese officials had it, and the Indians didn't.
"In China, I was met by two officials," the minister explained. "They had all the answers they took all the decisions. And what they decided got done." In India, on the other hand, he was directed to the land department, where he met three officers, each of who had his own version of the regulations. "And then for a year and a half, the whole thing got stopped because a gentleman who had a small plot behind the proposed site went to court: he was rearing bees for honey and argued that his activities would be impeded, and that the land should have been acquired under one Act rather than the other."
The whole thing would be funny if it were not so tragic.
Read the India report hereand compare rankings - overall and across parameters - here.
Economy
Besides, the multilateral funding agency will provide around $30 million for technical assistance grants, especially for building institutions and capacity at the state as well as the local levels
India
Upright officers in the Indian civil service actually enjoy an enormous degree of 'protection' within the service rules. The pity is that not too many of them want to test the limits in the public interest, given the incentives for looking the other way.
Business
Industrial sectors that depend on governmental policy are withering; those that have managed to stay reasonably out of reach of red tape are doing relatively better.