WHO says progress against Ebola in Congo will be lost if violence goes on
GENEVA (Reuters) - Progress in fighting Democratic Republic of Congo's Ebola outbreak, the second worst ever, will be reversed if fighting continues around the disease hotspots of Beni and Butembo, the head of the World Health Organisation (WHO) said on Friday. 'We have reached a critical point in the Ebola response,' WHO director general Tedros Adhanom Ghebreyesus said in a statement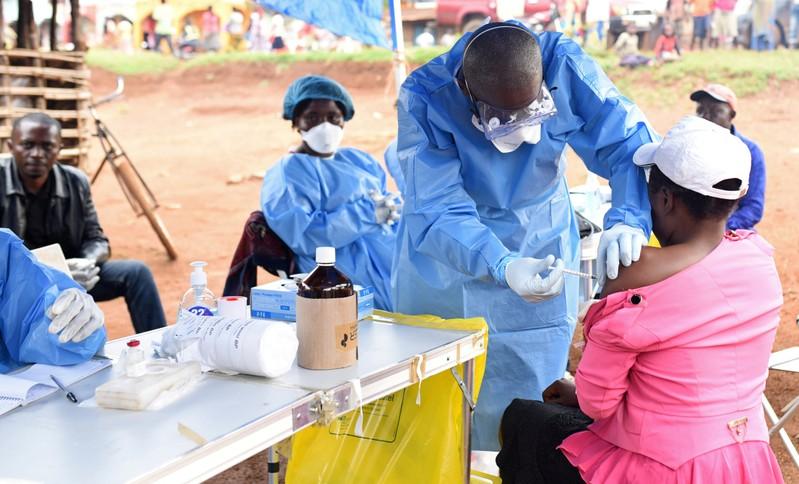 GENEVA (Reuters) - Progress in fighting Democratic Republic of Congo's Ebola outbreak, the second worst ever, will be reversed if fighting continues around the disease hotspots of Beni and Butembo, the head of the World Health Organisation (WHO) said on Friday.
"We have reached a critical point in the Ebola response," WHO director general Tedros Adhanom Ghebreyesus said in a statement. "After an intensification of field activities, we were seeing hopeful signs in many areas, including a recent decrease in cases in Beni.
"These gains could be lost if we suffer a period of prolonged insecurity, resulting in increased transmission. That would be a tragedy for the local population, who have already suffered too much."
The disease has killed 356 of the 585 people infected during the almost six-month outbreak, and one-fifth of the cases have occurred within the past three weeks, according to a weekly update from WHO.
The epidemic in a volatile part of Democratic Republic of Congo is now only surpassed by the 2013-2016 outbreak in West Africa, where more than 28,000 cases were confirmed.
Congo has suffered 10 Ebola outbreaks since the virus was discovered there in 1976. It spreads through contact with bodily fluids and causes haemorrhagic fever with severe vomiting, diarrhoea and bleeding.
On Thursday, Congo's Health Ministry said 24 patients fled an Ebola treatment centre in Beni when it came under attack by people protesting the cancellation of voting in the eastern city in Sunday's presidential election.
"Protests at government buildings in Beni spilled over to an Ebola transit centre, frightening people waiting for Ebola test results and the staff who were caring for them. Staff at the centre temporarily withdrew and most suspected cases were transferred to a nearby treatment centre," Tedros said.
Health teams in Beni were prevented from carrying out critical field work, including vaccinations, tracing of potential Ebola carriers, and following up on alerts of potential new cases.
In Butembo, healthworkers had been unable to do vaccinations or trace people who may have come into contact with the disease - a critical part of preventing its spread.
In other areas, the fight against Ebola had continued, and local communities were generally supportive of the health teams, Tedros said.
(Reporting by Tom Miles; Editing by Hugh Lawson)
This story has not been edited by Firstpost staff and is generated by auto-feed.
Find latest and upcoming tech gadgets online on Tech2 Gadgets. Get technology news, gadgets reviews & ratings. Popular gadgets including laptop, tablet and mobile specifications, features, prices, comparison.
Business
By Jessica Resnick-Ault NEW YORK (Reuters) - Oil prices strengthened on Wednesday, as OPEC and its allies were seen complying with a pact to cut oil supply in September, even as concerns loomed that recovery in fuel demand will be stalled by soaring global coronavirus cases. Early in the day crude was boosted by a bullish stock market. Even as equities whipsawed on pandemic worries, oil stayed higher, buoyed by expectations that OPEC could staunch a supply glut
Business
By Tina Bellon and C Nivedita (Reuters) - Tesla Inc will further cut the price of its Model S "Long Range" sedan in the United States to $69,420, the electric carmaker's chief executive, Elon Musk, announced in a tweet https://bit.ly/2H0JCP0 on Wednesday. The anticipated drop marks the second time this week Tesla has cut the price for the high-end sedan, following a 4% cut of the Model S's price in the United States on Tuesday to $71,990.
World
By Jeff Mason DES MOINES, Iowa (Reuters) - Under siege over his handling of the novel coronavirus pandemic, President Donald Trump on Wednesday cited what he said was his son's mild bout of the virus as a reason why American schools should reopen as soon as possible. Trump made the comment about his son, Barron, as the president swept into Iowa on a mission to shore up support in battleground states that he won in 2016 but is in danger of losing to Democrat Joe Biden barely three weeks before the election. First lady Melania Trump announced in a statement earlier in the day that the virus that struck both her and her husband had also infected their 14-year-old son