White House says it retains right to self-defence in Syria; Moscow warns Washington | Reuters
By Steve Holland, Phil Stewart and Andrew Osborn | WASHINGTON/MOSCOW WASHINGTON/MOSCOW The White House said on Monday that coalition forces fighting Islamic State militants in Syria retained the right to self-defence as Russia warned it viewed any planes flying in its area of operations as potential targets.Tensions escalated on Sunday as the U.S. military brought down a Syrian military jet near Raqqa for bombing near U.S.-allied forces on the ground, the first time Washington had carried out such an action in the multi-pronged civil war.It was also the first time the U.S. Air Force had shot down a manned aircraft since May 1999
By Steve Holland, Phil Stewart and Andrew Osborn
| WASHINGTON/MOSCOW
WASHINGTON/MOSCOW The White House said on Monday that coalition forces fighting Islamic State militants in Syria retained the right to self-defence as Russia warned it viewed any planes flying in its area of operations as potential targets.Tensions escalated on Sunday as the U.S. military brought down a Syrian military jet near Raqqa for bombing near U.S.-allied forces on the ground, the first time Washington had carried out such an action in the multi-pronged civil war.It was also the first time the U.S. Air Force had shot down a manned aircraft since May 1999. In a move that will fan tensions between Washington and Moscow, Russia made clear it was changing its military posture in response to the U.S. downing of the jet.Russia, a staunch ally of Syrian President Bashar al-Assad, said it would treat U.S.-led coalition aircraft flying west of the Euphrates River in Syria as potential targets and track them with missile systems and military aircraft. It stopped short of saying it would shoot them down.The Russian Defence Ministry said it was also immediately scrapping a Syrian air safety agreement with Washington designed to avoid collisions and dangerous incidents.
Moscow accused Washington of failing to honour the pact by not informing it of the decision to shoot down the Syrian plane despite Russian aircraft being airborne at the same time.Washington hit back, saying it would "do what we can to protect our interests.""The escalation of hostilities among the many factions that are operating in this region doesn't help anybody. And the Syrian regime and others in the regime need to understand that we will retain the right of self-defence, of coalition forces aligned against ISIS," White House spokesman Sean Spicer said.
The U.S. military said it was repositioning its aircraft over Syria to ensure the safety of American air crews targeting Islamic State.The White House also said it would work to keep lines of communication open with Russia amid the new tensions. The chairman of the Joint Chiefs of Staff said the United States was working to restore a "deconfliction" communications line with Russia meant to avoid an accidental clash over Syria.Marine General Joseph Dunford said there were still communications between a U.S. air operations centre in Qatar and Russian forces on the ground in Syria, adding: "We'll work diplomatically and military in the coming hours to re-establish deconfliction."
The U.S. Central Command had issued a statement saying the downed Syrian military jet had been dropping bombs near U.S.-backed SDF forces, which are seeking to oust Islamic State from the city of Raqqa.It said the shooting down of the plane was "collective self-defence" and the coalition had contacted Russian counterparts by telephone via an established "de-confliction line to de-escalate the situation and stop the firing.Russia is supporting Assad militarily with air power, advisers and special forces as he tries to roll back Islamic State and other militant groups. Unlike the United States, it says its presence is sanctioned by the Syrian government.Adding to the tension, Iran launched missiles at Islamic State targets in eastern Syria on Sunday, a strike seen as a projection of military power into part of Syria identified as a top priority by Damascus and its allies. (Writing by Yara Bayoumy; Editing by Peter Cooney)
This story has not been edited by Firstpost staff and is generated by auto-feed.
Find latest and upcoming tech gadgets online on Tech2 Gadgets. Get technology news, gadgets reviews & ratings. Popular gadgets including laptop, tablet and mobile specifications, features, prices, comparison.
Business
SHANGHAI (Reuters) - Tesla is planning to export Model 3 vehicles made in China to Asian and European markets, two sources familiar with the matter told Reuters on Friday. The U.S.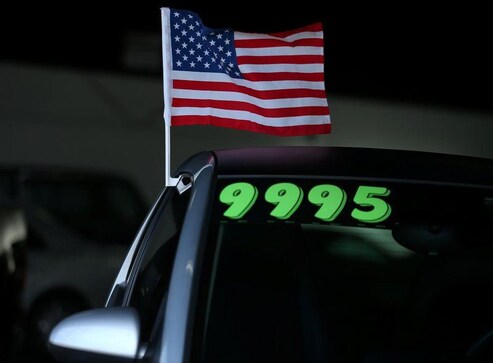 Business
By Lucia Mutikani WASHINGTON (Reuters) - U.S. consumer prices rose solidly in August, with the cost of used cars and trucks accelerating by the most in more than 51 years likely as Americans shunned public transportation because of fears of contracting COVID-19
Business
By Tanishaa Nadkar and Pushkala Aripaka (Reuters) - Life and general insurer Aviva is offloading its Singapore business to a consortium led by Singapore Life, for S$2.7 billion ($1.98 billion), as the London-listed firm sharpens its focus on Britain, Ireland and Canada.