White House presses forward with Trump's Space Command
By David Shepardson WASHINGTON (Reuters) - U.S. President Donald Trump's planned U.S. Space Command should seek to develop ways for the country's military to operate in outer space, White House advisers recommended on Tuesday, with the government hoping to secure approval for it by 2020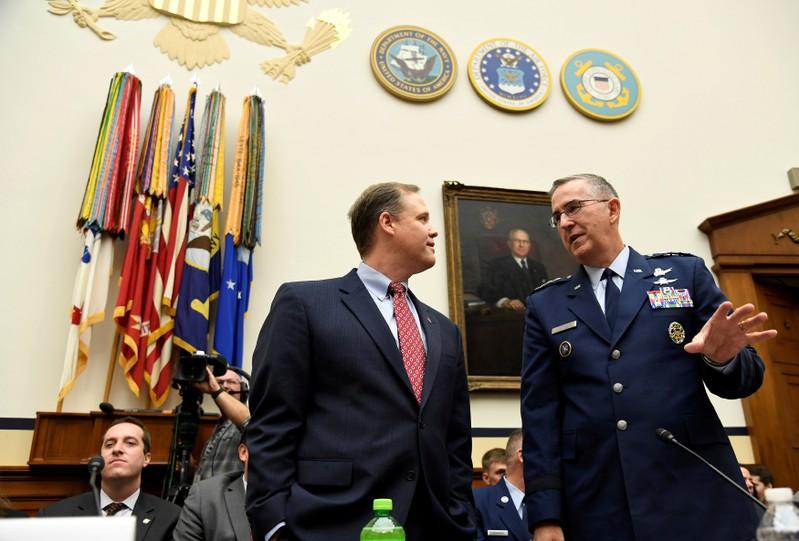 By David Shepardson
WASHINGTON (Reuters) - U.S. President Donald Trump's planned U.S. Space Command should seek to develop ways for the country's military to operate in outer space, White House advisers recommended on Tuesday, with the government hoping to secure approval for it by 2020.
The National Space Council, a White House advisory panel, recommended a review of existing legal issues for military space operations and unveiled proposed legislation for Congress to create and fund a separate space agency to oversee commercial activities.
The council's recommendations were made at a meeting on Tuesday at the National Defense University in Washington.
Speaking at the meeting, Vice President Mike Pence said the White House will include funding for the Space Command in the budget proposal next year, with the goal of getting approval from Congress so it can be in place by 2020.
Pence said the National Space Council and National Security Council will review space operational authorities "to ensure that our warfighters have the freedom and flexibility they need to deter and defeat any threat to our security in the rapidly evolving battlefield of space."
A lack of centralized leadership and accountability threatened U.S. ability to "advance our national security in space," Pence said. "The time has come to stop studying the problem and start fixing it."
The Trump administration in August announced an ambitious plan to usher in a new "Space Force" as the sixth branch of the military by 2020. Such a change, which the Defense Department has estimated would cost $13 billon in the first five years, must first be approved by Congress.
Pence said at an earlier Washington Post forum that China and Russia have established similar space forces. "This is what our competitors are already doing. And the president is determined to make sure that America leads in space, as well, from a military standpoint," he said.
Critics, including some Democratic lawmakers, have said the creation of Space Command is an unnecessary and expensive bureaucratic endeavour that would simply shift work already being done well by other services like the Air Force.
The proposed bill would also create the Bureau of Space Commerce under the U.S. Department of Commerce to liaise with industry representatives and organizations, according to a copy provided to Reuters. It also calls for $10 million per year for five years starting in 2020 to fund the commerce arm.
(Reporting by David Shepardson; writing by Susan Heavey; editing by Jonathan Oatis and Rosalba O'Brien)
This story has not been edited by Firstpost staff and is generated by auto-feed.
Business
By Stephen Nellis (Reuters) -Apple Inc on Monday said it will offer the ability to store state-issued identification cards digitally on iPhones and that it is working with the U.S. Transportation Security Administration to accept the digital IDs at airports, one of several updates to the software that runs on its devices. It also showed updates to its FaceTime video chat app, adding the ability to schedule calls with multiple attendees and making the software compatible with Android and Windows devices.
Business
LONDON (Reuters) - The bosses of all airlines flying passenger services between Britain and the United States called on Monday for the countries' governments to relax COVID-19 restrictions to reopen travel routes between the two countries. After more than a year of restrictions, the CEOs of American Airlines, IAG unit British Airways, Delta Air Lines, United Airlines and JetBlue Airways Corp said high vaccination rates in both countries meant travel could restart safely. The push for reopening trans-Atlantic routes on Monday comes ahead of meetings between U.S.
Business
BRUSSELS (Reuters) - The European Union's patience towards Britain over Brexit arrangements in Northern Ireland is wearing thin and the bloc will consider its options should Britain continue its "confrontational path", an EU official said on Monday.