White House Correspondents' Dinner won't feature entertainer for first time in 16 yrs; Ron Chernow to speak instead
Chernow won a Pulitzer Prize for his 2010 biography of George Washington.
Washington: The White House Correspondents' Association announced on Monday that Pulitzer Prize-winning author Ron Chernow will address its annual dinner next year, breaking from its tradition of featuring an entertainer following the pushback over comedian Michelle Wolf's sharply anti-Trump performance last time.
Chernow won a Pulitzer Prize for his 2010 biography of George Washington. He is also the author of a widely acclaimed biography of Alexander Hamilton, which inspired the hit Broadway musical Hamilton. Chernow has also penned biographies of John D Rockefeller, George Washington and JP Morgan, Ulysses S Grant (named one of the best books of the year by The New York Times). 
By choosing Chernow, the association has broken with a decades-long tradition: comedians have been headlining the event since the early 1980s — the gala itself dates back to 1921 — taking shots at both the Commander-in-Chief and the news media, followed by a 'rebuttal' from the president. Till 2017, every president from both parties attended the event, except for Ronald Reagan in 1981, when he was recovering from being shot. Presidents traditionally attend the dinner. But Trump, who has a contentious relationship with journalists, skipped this year's event for the second straight year. The White House has not said whether Trump will attend next year.
The last time a non-comedian was hired to headline the event was in 2003, when singer Ray Charles provided entertainment. And before that, Aretha Franklin was enlisted to perform by the association in 1999.
The shift away from a comic comes around six months after Wolf's nationally televised performance at the last dinner attracted attention for the negative barbs she directed at Trump, his daughter Ivanka, press secretary Sarah Huckabee Sanders and counselor Kellyanne Conway. Reaction to the selection of Chernow, who in the past has criticised Trump, appeared largely positive on Twitter, but Wolf was an exception. "The @whca are cowards," she tweeted. "The media is complicit. And I couldn't be prouder."
Chernow, in a statement, said "freedom of the press is always a timely subject and this seems like the perfect moment to go back to basics." "My major worry these days is that we Americans will forget who we are as a people, and historians should serve as our chief custodians in preserving that rich storehouse of memory," he said. "While I have never been mistaken for a stand-up comedian, I promise that my history lesson won't be dry."
At a time of increasingly tense relations between Trump and the White House press corps, Chernow said the association asked him to "make the case for the First Amendment and I am happy to oblige." He'll also share his perspective on American politics and history at the 27 April event in Washington, said Olivier Knox, the association's president. "As we celebrate the importance of a free and independent news media to the health of the republic, I look forward to hearing Ron place this unusual moment in the context of American history," said Knox, chief Washington correspondent for SiriusXM.
Like many of his fellow historians, Chernow strongly opposed Trump's election in 2016. In a video message from that year, he spoke of being "disturbed" by the Trump campaign's "absence of anything that is not a glorification of money and power and might," adding that: "This emphasis has disturbing historical parallels." Chernow said he was especially concerned by Trump's disregard for American history. When the past becomes a "blank slate", he said, "Donald Trump and any other demagogue can come along and write upon it whatever the hell he wants."
The White House Correspondents' Association was founded in 1914 to represent the White House press corps. Dinner proceeds support scholarships for aspiring journalists, along with awards recognising excellence in news coverage of the White House.
With inputs from agencies
World
Trump and his allies hope the events will offer a show of force behind the former president after a sluggish start to his campaign that left many questioning his commitment to running again
World
Even if nothing comes of the new special counsel investigation into President Joe Biden's team's mishandling of classified documents, politically it has effectively let former Donald Trump off the hook for hoarding secret papers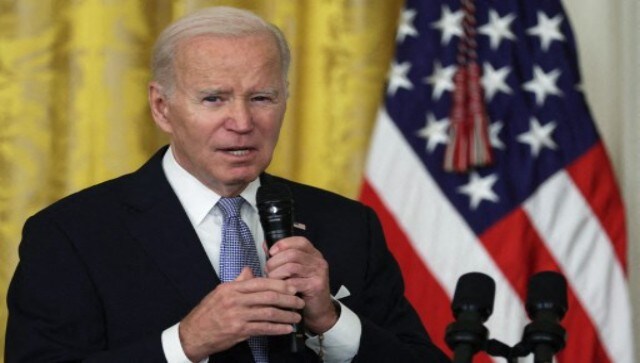 Explainers
The goal for the Joe Biden team was to win the trust of Justice Department investigators and demonstrate that the US president and his team were cooperating fully