White House cites "options" for funding U.S. border wall
By Richard Cowan WASHINGTON (Reuters) - The White House said on Tuesday it has found a way to build President Donald Trump's promised border wall without new funding from Congress, stepping away from the president's threat to shut down the U.S. government over border security disputes. 'We have other ways that we can get to that $5 billion,' White House spokeswoman Sarah Sanders said on Fox News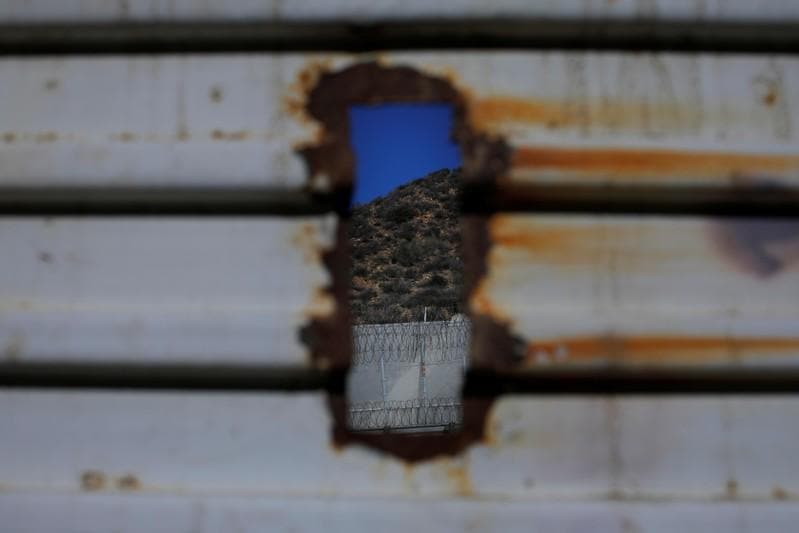 By Richard Cowan
WASHINGTON (Reuters) - The White House said on Tuesday it has found a way to build President Donald Trump's promised border wall without new funding from Congress, stepping away from the president's threat to shut down the U.S. government over border security disputes.
"We have other ways that we can get to that $5 billion," White House spokeswoman Sarah Sanders said on Fox News. "At the end of the day, we don't want to shut down the government, we want to shut down the border."
Trump and Congress, embroiled in a feud over his proposed U.S.-Mexico border wall, have four days to reach a deal before a partial government shutdown could leave about a quarter of the federal workforce without paychecks.
Last week, in a heated exchange at the White House with Democratic leaders in Congress, Trump declared he would be "proud to shut down the government" if he did not get his demand for $5 billion to build a wall along the U.S.-Mexico border.
Since then, after days with no apparent progress, the senior Republican and Democrat on the Senate Appropriations Committee huddled with Senate Majority Leader Mitch McConnell just steps from the Senate chamber.
Following that meeting, Senate Appropriations Committee Chairman Richard Shelby told reporters, "We're talking seriously about how to reach our goal" of keeping the government funded beyond Friday. He said they were "working with the president, working with the Democrats. There are a lot of variables here."
A senior Democratic aide, who asked not to be identified, said Trump and Republicans in Congress have floated the idea of lawmakers providing the president $1 billion in new funds to be used for any of his immigration priorities - an idea that Democrats will not accept.
Trump has demanded $5 billion as a down payment on construction of a wall that he argues is needed to keep illegal immigrants and drugs from entering the United States. Building the wall was a key pledge of his 2016 presidential campaign. Trump had originally said Mexico would pay for the wall, but leaders of the United States' southern neighbor have repeatedly said it would not.
Democrats and some Republicans argue there are less costly, more effective border controls than a wall.
Sanders indicated the White House was backing down from Trump's threat to shut down the federal government if Congress refused to provide money for his wall.
"There's certainly a number of different funding sources that we've identified that we can use, that we can couple with the money that would be given through congressional appropriations, that would help us get to that $5 billion that the president needs in order to protect our borders," Sanders said on Fox.
Asked whether the White House was exploring the use of funds, including from the Defense Department, for building the wall and whether that would be legal, Sanders said, "Absolutely."
But Shelby was less certain.
In response to a reporter's question on whether Trump could order the Pentagon to shift some of its funds to wall construction, Shelby said: "I don't know about that." He added, however, that Trump "does have the power to defend the country" and "the power to protect the border."
The money Trump wants is a fraction of the roughly $450 billion Congress was poised to approve - before the latest battle over the proposed wall - to fund several agencies which will otherwise run out of money at midnight on Friday.
(Reporting by Doina Chiacu and Richard Cowan; editing by Jonathan Oatis)
This story has not been edited by Firstpost staff and is generated by auto-feed.
Find latest and upcoming tech gadgets online on Tech2 Gadgets. Get technology news, gadgets reviews & ratings. Popular gadgets including laptop, tablet and mobile specifications, features, prices, comparison.
Business
By John McCrank and Anirban Sen (Reuters) -The New York Stock Exchange said on Wednesday it will delist three Chinese telecom companies, confirming its latest reversal on the matter a day after U.S. Treasury Secretary Steve Mnuchin told the NYSE chief he disagreed with an earlier decision to reverse the delistings
Business
(Reuters) - Deal making among oil and gas producers was at its highest for the year in the fourth quarter of 2020 as the pandemic-driven fallout in commodity prices spurred a wave of consolidation between explorers looking to scale up and drive down costs, a report from analytics firm Enverus said. Oil and gas producers made deals worth $27.1 billion in the quarter, up from $21 billion in the third, helped by three multi-billion dollar acquisitions in the prolific Permian basin of West Texas and New Mexico. ConocoPhillips acquired Concho Resources for $13.3 billion, the biggest pure shale acquisition by any company since 2011, topping the list.
Business
By Ritvik Carvalho, Wayne Cole and David Randall NEW YORK/LONDON/SYDNEY (Reuters) - The growing chances of Democratic wins in two pivotal U.S. Senate contests triggered financial market moves Wednesday that mirror hopes of more COVID-19-related stimulus and increased regulatory scrutiny of tech companies