White House bars CNN reporter: Donald Trump's dislike for US media began even before assuming office
US President Donald Trump has always had a very turbulent relation with the media and press associates but the recent expulsion of a CNN reporter from a White House event has left the American media furious over the repeated attacks on press freedom in the country.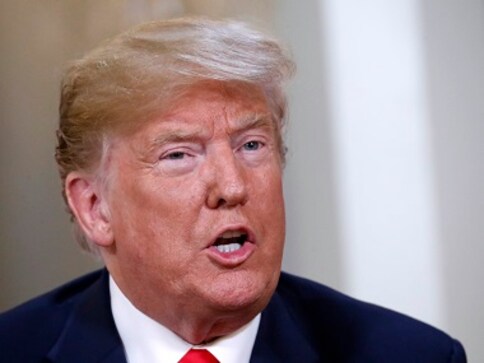 US President Donald Trump has always had a turbulent relationship with the media and press associates but the recent expulsion of a CNN reporter from a White House event has left the American media furious over the repeated attacks on press freedom in the country.
CNN's Kaitlan Collins was barred from attending a Rose Garden event, which was open to the press, after she shouted a question at the US President during an Oval Office media availability.
This after Trump didn't answer my questions on why Putin hadn't accepted his invitation to visit this fall yet. https://t.co/bpQpuWMV93

— Kaitlan Collins (@kaitlancollins) July 25, 2018
The White House Correspondents Association (WHCA) condemned the act in a statement and said that "this type of retaliation is wholly inappropriate, wrong-headed, and weak", adding, "In our republic, the WHCA supports the prerogative of all reporters to do their jobs without fear of reprisal from the government."
However, this is not the first time Trump has had an ugly brush-in with the media. Since assuming charge as the President of the United States of America, Trump has been warning the media to not spread "fake news" and be "biased" in its coverage of US politics. On his first full day in office, the president berated the media for underestimating the crowd at his inauguration and accused the media of making up stories of a feud between him and the intelligence community, calling journalists "among the most dishonest beings", the Vox News had reported.
Trump has been especially harsh about the media coverage relating to special counsel Robert Mueller's investigation over Russia's meddling in the US election terming it "hoax" and other scandals plaguing his administration and CNN has been a frequent target of his ire. According to The Telegraph, during a press conference with British Prime Minister Theresa May in June, Trump refused to take a question from CNN's Jim Acosta, calling the network "fake news" and instead took a question from Fox News journalist John Roberts, which Trump referred to as a "real network". Interestingly, a recent poll by Fox News had reported that voters trust the Trump administration (45 percent) more than actual reporters (42 percent) who cover the White House.
Apart from giving the infamous 'fake news award' to CNN, Trump had also singled out The New York Times and the ABC on multiple occasions. He had once accused the American news media of ignoring attacks by Islamist militants in Europe, without giving specific examples. However, journalists had dismissed his accusations by saying that "to suggest that journalists have some reason not to report Islamic State attacks is just outlandish", Global News reported.
Trump even asked his supporters to fill out a survey called 'The Mainstream Media Accountability Survey' after winning the US presidential election. The result of the survey showed up online hours after a freewheeling press conference by Trump in which he lambasted journalists for "dishonest" and "biased reporting" and repeatedly accused them of spreading "fake news".
The FAKE NEWS media (failing @nytimes, @NBCNews, @ABC, @CBS, @CNN) is not my enemy, it is the enemy of the American People! — Donald J. Trump (@realDonaldTrump) February 17, 2017
Trump has also previously accused the media of lying about the size of the crowd at his presidential inauguration. He had even gone on to suggest that a story that used 'unnamed sources' would be, in his view, "bogus". "Let there be no more sources," he proclaimed, suggesting when reporters use sources, "they just make them up", Global News quoted him as saying.
However, Trump, in his defence, had said that he was not "against the media or press", explaining that "in covering his comments the 'dishonest media' didn't explain that he called fake news as the enemy of the people".
Arts & Culture
A new series by CNN's titled As Equals aims to reveal the scale of the use of harmful skin whitening products worldwide; raise awareness of colourism which often underpins their use; and hold to account corporations and government agencies who manufacture, sell, or inadequately regulate these products.
World
The news channel said in a statement the suspension of the primetime anchor followed the release of new court documents on Monday revealing how he helped his brother and former governor of New York combat allegations of sexual misconduct
World
He already warned his supporters that they will likely be called racists for backing his anti-immigration and anti-Islam views that have already shaken up the election campaign.