When protectors turn tormentors: UN finds war crimes, breaches of humanitarian law in Syria and Yemen
The International Syria Support Group is a misnomer with most members being active participants to the humanitarian catastrophe being unleashed in Syria.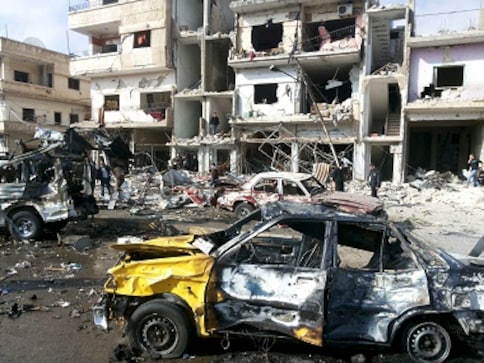 By Shreerupa Mitra-Jha
The UN Commission of Inquiry (CoI) for Syria presented its latest report themed 'Destruction of a country and devastation of a nation' to the UN General Assembly on 22 February.
The countries ostensibly pushing for a peaceful solution are also feeding the military escalation, says the report.
"Since the first report at this level we have been repeating: not a single warring party respects international humanitarian law, the Geneva conventions or the conventions of human rights—there is an encompassing disrespect for the rules of engagement in this war," Paulo Sérgio Pinheiro, the Chair of the CoI for Syria, told journalists while releasing the report.
The US Secretary of State, John Kerry, announced on 21 February, that a ceasefire in Syria was imminent, if only "provisional" and partial, and should take effect starting 27 February. This was just hours before multiple suicide bombs ripped through Homs and southern Damascus killing, at least, a 100 people and injuring scores of other civilians.
The US announcement comes after a 12 February declaration in Munich of a "cessation of hostilities" that failed to implement. The Munich process, in turn, followed the failure of talks in Geneva, which collapsed within two days of their beginning on 1 February.
The Syrian peace talks to thrash out a final political solution to Syria remains elusive as the UN special envoy for Syria, Staffan de Mistura, told a colleague that the talks will not resume on 25 February as scheduled. "Now the Americans and Russians must sit down and agree on a concrete plan on the cessation of hostilities," de Mistura said in an exclusive interview with Svenska Dagbladet.
De Mistura has the unenviable task of cajoling the International Syria Support Group — comprising an unwieldy 17 participants, that includes China, the UK, the US, France, Russia, Saudi Arabia and Turkey — apart from the recalcitrant Assad regime for negotiators to gather in the same city if not the same room to attempt stanching the bloodshed from the devastating ongoing six-year-old Syrian war. Last year, another plan of the UN mediator had failed — activating local ceasefires across Syria barring, of course, in territories held by the deadly terrorist group of ISIS who are not a party to the talks.
The International Syria Support Group (ISSG) is a truly bitter misnomer with most of the members in the group being active participants to the humanitarian catastrophe that has been unleashed on the Syrians. The Syrian government with the help of Russian military forces are reclaiming territories held by opposition groups some of whom are actively supported by the West, thus, strengthening the position of Syrian president Bashar al-Assad. This has not gone down well with countries like the US, Saudi Arabia and Turkey who have long wanted to do away with the Assad government. Governments have put forth their respective conditions for coming to the negotiating table while the UN has said that talks must begin without any pre-conditions.
In the meanwhile, impunity thrives, in all currently active war zones, including Syria and Yemen, with grave breaches of all known and accepted rules of war — the perpetrators not only include outlawed terrorist organisations, like Al-Nusra and Islamic State, and rebel groups but also legitimate state governments. For one, humanitarian sieges, including the intentional starving of people, as well as the targeted bombing of civilian spaces have become the new normal in the present wars that has seen active international participation. Such targeting by warring parties could amount to war crimes, or even crimes against humanity, under international humanitarian law (IHL).
"Today in Syria, the abnormal is now the normal, the unacceptable is accepted. Relentless, brutal and targeted attacks on civilians are the dominant features of this war," said the Médecins Sans Frontières' (MSF)'s world chief, Joanne Liu, about Syria. MSF is one of the few international organisations still active in warring zones .
"Health care in Syria is in the cross hairs of bombs and missiles — it has collapsed," she added.
In a "double-tap" attack, a MSF - supported hospital in Maaret al-Numan in Idlib province was bombed on 15 February, once, and a second time when rescue volunteers gathered to help the injured, killing nine health personnel and 16 civilians. The same day five other hospitals, including one supported by the UN, one primary health facility and two schools in northern Syria were targeted.
The "double-tap" is the use of a military strategy that seeks to maximise the number of casualties by targeting rescue services, including medical responders, and as such constitutes a violation of international humanitarian law. The second 'tap' usually occurs between 20 and 60 minutes after the initial attack.
"They [staff and volunteers at MSF who are witnesses] are convinced of the intentionality because there was a double and triple tap," said MSF operations director in Paris, Dr Isabelle Defourny.
A nearby hospital, which was receiving the wounded from the first hospital attack, was itself bombed an hour later.
These attacks can only be considered "deliberate", Liu said.
"We say loud and clear, the doctor of your enemy is not your enemy," she added.
Syria's ambassador to Moscow, Riad Haddad, told Russian state channel Rossiya 24 that a US raid had targeted the hospital. However, the organisation Doctors Without Borders known by its French acronym MSF, said that the strikes were "probably" by Syrian or Russian forces who are active in the area.
The facilities that were bombed on an average provided 23,000 consultations, 1,045 surgeries and 550 deliveries per month and were the lifelines for health care of acutely vulnerable communities.
In 2015, 63 MSF-supported health facilities, that treated 1,54,000 wounded, were bombed in 94 instances of targeting by aerial attacks and shelling resulting in 84 casualties among health workers. In 2016, between 17 and 20 civilian infrastructures have already been bombed in Syria — of these, women and children represented 30 and 40 percent of the victims of this violence.
International organisations like World Health Organisation (WHO), United Nations Children's Emergency Fund (UNICEF), International Committee of the Red Cross (ICRC) and MSF, routinely provide GPS coordinates of important civilian infrastructures like schools and hospitals to warring parties so the areas could be avoided. However, in Syria, Afghanistan and Yemen the same GPS coordinates have been ironically used to target these civilian objects.
There is an ongoing active debate within the MSF whether to provide these GPS coordinates to the warring parties concerned. The MSF had given the coordinates for three hospitals in Syria to the Russian ambassadors in Geneva and Paris but not of the al-Numan hospital that was targeted.
"Everybody knew — those are not clandestine or underground hospitals," Defourny said arguing that all intelligence agencies knew of the hospital even though MSF had not given the Syrian or the Russian governments its coordinates.
"In five years, 58 Syrian Red Crescent volunteers have been killed while carrying out humanitarian work," Sitara Jabeen, Middle East spokesperson for ICRC told FirstPost.
MSF and ICRC workers in these areas are usually local volunteers and are often the last bastions of hope in such stressed-out circumstances.
Liu elaborating on the condition of these volunteers said, "My staff just said, 'you know what, Joanne, we have been in Syria for the last five years living under the bomb, we are the toughest because we stayed there. We believed we could pull through. We believe a solution will come…You know what? Today the only thing we want to do is flee'".
The Syrian airspace is divided into bombing hot spots for coalitions active in air strikes, including by governments of Syria, Russia, Turkey, Saudi Arabia, the US, the UK, Jordan, Qatar, Australia, UAE and France, depending on whose interests lie where.
"Unfortunately, there are too many cooks that are mixing in. The role played by Saudi Arabia, by Turkey is particularly damaging. And it complicates the solution significantly," Dr Alfred de Zayas, UN special rapporteur for democratic and equitable international order, and a leading expert on human rights and international law told FirstPost.
"Increases in the data recording death and injury from the MSF-supported clinics correlate with major military offensives and Russian, French and British air forces joining the bombing campaigns over Syria," states the MSF findings.
"We are going to lead a war which will be pitiless," the French government had declared after the Paris bombing.
Apart from the Russian and Syrian governments stepping up airstrikes since October 2015, and the French airstrikes, the US continues it bombings on Islamic State territories while Turkey is trying to push back the Kurdish army which in turn is fighting the Islamic State. In Deir ez-Zor, the IS has reportedly executed 300 people in a single day, according to local media, to counter airstrikes by the US and Russia. Raqqa, the self-declared capital of IS, has also come under frequent airstrikes by the US-led coalition, the Syrian air force and Russian warplanes, killing civilians as war collateral.
The west Asian nation has recorded the deaths of at least 2,50,000 people in the last six years and another 11 million fleeing the killings by the government forces, rebel fighters and IS.
Apart from direct air strikes on civilian spaces, deliberate starving of civilians — a serious breach of international humanitarian law — has emerged as an efficient war strategy in these countries ravaged by war.
At least 20 towns have been besieged by the government forces and opposition groups that have encircled populated areas, preventing civilians from leaving and blocking humanitarian access, thus, forcing residents to survive on grass for more than six months. Up to 4.5 million people in Syria live in such hard-to-reach areas including 400,000 people in towns besieged by the parties to the conflict in locations such as in Deir ez -Zor, Madaya, Foah, Kafraya, as well as besieged areas of East Ghouta.
Humanitarian aid, like medical supplies and food, is crucial, not least because 88 percent of households in southern Syria are living in extreme poverty, compared to pre-crisis levels of only 5 percent, according to a new report from aid agencies CARE, Norwegian Refugee Council, and FAO.
In 2015, however, only 10 percent of requests to the government and rebel groups for UN inter-agency convoys to reach besieged and hard-to-reach areas had been approved. Aid workers have described horrific scenes of starvation and dying people in such besieged locations. Such scenes should not be seen in the 21st century, said Yacoub El Hillo, UN humanitarian coordinator in Syria, who entered Madaya with a UN aid convoy after a long spell of besiegement.
International humanitarian law prohibits using starvation as a tactic of war.
"That [intentional starving] is a war crime [and] depending on the magnitude it can be a crime against humanity," Dr Zayas said.
Pinheiro had told this reporter earlier this month that the CoI is putting together the names of all the parties that have been involved in cutting off humanitarian access to civilians and will present this list as part of a report to the UN Human Rights Council in its 31st session that begins end of this month.
There is no safe sanctuary in Syria anymore. Civilians are trying to escape aerial bombing and ground fighting only to find closed borders. About 100,000 people are stranded in northern Syria between the frontlines and the Turkish border while a similar event is unfolding in the southern areas with a closed Jordanian border. There are others in besieged areas who cannot even attempt escaping the random and devastating aerial bombings.
"Millions have run, others cannot. They are caged inside closed borders. Today, Syria is a kill box," Liu said.
Situation in Yemen
Yemen, another active conflict zone, faces a similar egregious fate as Syria with similar breaches of the IHL by governments and rebel groups of the Houthis. Air strikes by the Saudi-led coalition which includes the UAE, Qatar, Egypt, Jordan, Kuwait and supported by the US, have killed at least 6,000 people and ambushed more than 600 health facilities and 1,170 schools, since the conflict began in March 2015.
A leaked UN report by the BBC in January revealed that the Saudi-led coalition is targeting civilians with airstrikes in a "widespread and systematic" manner. The UN panel of experts has also opined that civilians have been deliberately starved over the last nine months as a war strategy. The experts have recorded 119 coalition sorties that have violated IHL including by multiple strikes on civilian objects. Human Rights Watch (HRW) has said that cluster munitions sold to Saudi Arabia by the US were used in attacks on residential neighborhoods in Yemen's capital of Sanaa and has called for an international inquiry into the alleged war crime.
"You have Saudi Arabia massacring the Yemenis. It is amazing how little attention is devoted to the targeting of hospitals and civilians in Yemen," de Zayas told FirstPost.
Not a single humanitarian pause has been respected by any of the Yemeni warring parties or by the coalition.
"IHL requires that you take special measures to prevent hitting hospitals… there is an obligation to assure yourself and to take special measures to limit any collateral damage and there's where you might say that not that they deliberately tried to destroy the hospitals but that they did not take the necessary measures to prevent that. That's where the war crime lies," de Zayas said.
The UN humanitarian chief, Stephen O'Brien, in a briefing to the UN Security Council on 16 February, warned of a "humanitarian catastrophe" in Yemen with 7.6 million people "severely food insecure" and more than 3.5 million children out of school.
Yemen was already one of the poorest countries in the world located in a rich neighborhood even before the civil war began in 2015.
The same pattern of besiegement of cities is seen in Yemen as in Syria.
The Houthi rebels and their allies, stated O'Brien in his briefing, are inconsistent in allowing access to areas they control, with UN missions for delivering aid denied permission to enter Ibb, Taiz and Saada. In the northern governorates where the needs are the severest and where Al Qaida in the Arabian Peninsula is present, violent coalition strikes have made aid movement "extremely challenging and dangerous."
"Getting aid to besieged areas is one of the hardest challenges for aid workers. It takes an enormous effort to obtain the consent of all the parties," Jabeen told FirstPost.
Saudi Arabia has already blocked humanitarian supplies from reaching Yemen several times since the beginning of the conflict. The Associated Press (AP) obtained a Saudi note on 5 February that advised international organisations and aid agencies "to move any offices and staff they may have in regions where the Houthi militia and their supporters are active and in areas where there are military operations." Philippe Bolopion, deputy director for global advocacy at HRW, told AP that the Saudi warning, "given the coalition's track record of violations of the laws of war," could be constructed as a threat to humanitarian workers in Houthi areas.
In the quest for peace, accountability and justice often take a beating in such conflicts. Accountability becomes even more far-fetched when the parties implicated are legitimate and powerful governments.
MSF has appealed to the International Humanitarian Fact-Finding Commission (IHFFC) — an independent body established in 1977 as a First Additional Protocol to the Geneva Conventions — in October 2015 to investigate the bombing of a MSF-supported hospital in Kunduz in Afghanistan by US airstrikes inspite of the fact that the US military commanders had the GPS coordinates of the hospital. It was one of the worst civilian casualties in the country's 14-year old war. MSF has made a similar appeal to investigate war crimes in Yemen. The IHFFC has also announced that it stands ready to investigate the bombings of schools and hospitals in Syria on 15 February.
However, the IHFFC can jump into action only after procuring the consent of the concerned warring States — this makes the mechanism self-defeating.
"We haven't succeeded in getting the consent of the two countries [Afghanistan and the US] being involved. So this is where we are right now, for the time being," Liu said of the status of their appeal to IHFFC.
"That would be first, would be clear that [it] would be a nation [the US] that would reaffirm the protection of what we call the medical mission in war zones which is anchored in the Geneva convention, which is a sub set of it. For me, that would be leading by example. And this is something that we shared over and over again with the US administration. I have done it on so many occasions last few months," Liu said of her attempts to convince the US for an IHFFC investigation.
The International Criminal Court (ICC or Court) that investigates crimes of genocide, crimes against humanity and war crimes, also, can do scant little at the moment. Syria and Iraq are not parties to the Rome Statute, the founding treaty of the Court. The prosecutor of the ICC, Fatou Bensouda, issued a statement in March 2015: "A renewed commitment and a sense of urgency on the part of the concerned states may help identify viable avenues. The decision of non-Party States and the United Nations Security Council (UNSC) to confer jurisdiction on the ICC is, however, wholly independent of the Court."
"The prosecutor of the ICC does not have the capacity. The only body — we have told five times to the 15 members of the Security Council — [is]the Security Council. The Security Council has the key for this accountability and that is the message we are saying to the General Assembly this afternoon," Pinheiro told reporters in New York on 22 February.
Though the CoI as well as many members of the UN General Assembly have repeatedly asked for a UNSC referral of Syria to the ICC the fact that most permanent members of the UNSC are themselves implicated in the conflicts has complicated matters considerably in terms of accountability and justice.
"Four of the five permanent members of the UNSC are involved in military operations in Syria. They are failing to abide by their own resolutions for protecting civilians, health care and provision of humanitarian assistance," Liu said.
The UNSC has passed many important resolutions on Syria, the most recent one being resolution 2258, which asks for unimpeded flow of humanitarian aid to Syria, but the weakness of such resolutions lies in their implementation.
"But the degree of implementation [of the UNSC resolutions], to use an understatement, is very limited," Pinheiro said.
The CoI has already prepared a list of names of potential war criminals from interviews with about 5,000 victims and also, has evidence of war crimes as well as crimes against humanity perpetrated by governments, but doesn't have a formal platform to share this valuable information.
"[We are] ready to share with the Security Council if Security Council formally asks us to share those things," Pinheiro said.
The CoI in its report has also asked for an ad hoc tribunal in addition to a ICC referral or in case the ICC referral continues to be blocked by the UNSC permanent members.
"If that doesn't work [referral to ICC and/or an ad hoc tribunal] and to date that has not proceeded, then there are other entry points — the Commission is cooperating with some countries bilaterally in terms of sharing some information so as to facilitate national prosecution on the basis of fair trial guarantees," Vitit Muntarbhorn, one of the Commissioners in the CoI for Syria, said.
"We are cautiously optimistic," Pinheiro said of the Syrian peace process and for securing justice for the millions of civilians whose lives have been shattered.
Earlier this month, Saudi Arabia, Turkey and the UAE threatened to deploy ground troops in Syria. Russia, in turn, has warned that if foreign troops enter Syria then the battlefield could turn to a world war.
However, what we see today is a world already at war: where ​violent conflicts ​are fought ​with scant regard for any established rules of the game and war​s​ where impunity is likely to be ensured.
Shreerupa Mitra-Jha is a journalist with the United Nations Organisation
India
Yashoda Hospitals Group has acquired space on Decentraland — a metaverse platform where users can buy and sell property and engage in other life-like activities — to set up a virtual clinic it hopes will be operational for patients by next year
World
Lithuania is a member of NATO and is thus subject to its protections under Article 5 which states that an attack on one member is an attack on all members
India
Kalyani Singh – daughter of the Acting Chief Justice of Himachal Pradesh High Court Justice Sabina – was arrested after the CBI said it found evidence suggesting she and national-level shooter Sukhmanpreet Sidhu were in a romantic relationship that turned sour