When all else fails, use pizza: Cops in Los Angeles use food to lure robber hiding in lake
Police use pizza as bait to lure robbery suspect out of Hollenbeck Park Lake
The master criminal. The perfect crime. The ideal getaway. There was only one catch. Hunger.
A man in a Los Angeles suburb robbed a woman at a local store the other day — without really giving much thought to pesky details like what to do when the cops give chase. CBSLocal reports that the man stole a woman's purse and mobile phone before running out. As was inevitable, the police gave chase and almost caught up with him.
Realising that he was cornered and his options fairly limited, the man, still unwilling to let go of the phone and purse he was so deservedly in possession of, plunged headlong into the Hollenbeck Park lake. Presently it got quite late in the night and our man was showing absolutely no signs of losing patience. The lake — it gets quite nippy this time of the year, we're told — was getting quite cold and the cops were naturally afraid of losing their man to hypothermia or some such unspeakable disease.
They threw everything they had at him, but he refused to budge. The purse and the phone — we wonder how much of it might have survived considering what water does to phones — were possessions he wasn't about to part with.
And finally, the Eureka moment!
A particularly observant cop must have had some brainwave, because he realised that this the suspect was a man who wouldn't resist a bite. Out came a pizza!
The suspect, having resisted everything the police had to throw at him, finally emerged from his watery hideout.
And they all lived happily ever after.
We think.
Find latest and upcoming tech gadgets online on Tech2 Gadgets. Get technology news, gadgets reviews & ratings. Popular gadgets including laptop, tablet and mobile specifications, features, prices, comparison.
Sports
The board is targeting a 22 December start to what would be a season of 70 to 72 games, with the NBA Finals ending in June again as has been in the case for many years, according to a person with knowledge of the situation.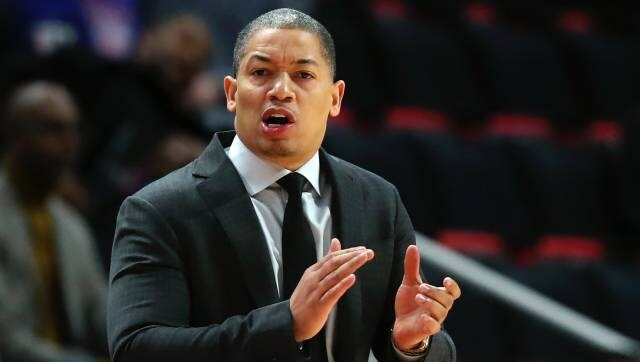 Sports
Tyronn Lue was the head coach of the Cleveland Cavaliers when they captured the NBA championship with LeBron James in 2016.