A call for unity, America first and a possible 2024 run: What we learnt from Joe Biden's State of the Union speech
Amid pessimism and a divided Congress, President Joe Biden delivered his second State of the Union address. The US president delivered a message of hope and unity in a speech that covered topics as far-ranging from the Chinese 'spy' balloon to the economy
America is not a happy country. A few days ago, a poll carried out revealed that 71 per cent of Americans believe the nation is on the wrong track. That's a whole lot of pessimism. However, President Joe Biden in his second State of the Union address stepped away from the cynicism, gloom and doom and delivered a message of unadulterated optimism – even in the face of open hostility.
US president Joe Biden in his one hour and 13 minute-long speech — longer than last year's address — presented a bullish picture of the achievements of his administration and Democrats in Congress since he entered the White House in 2021.
He stressed on bipartisanship even as he faced jeers from the Republicans during his address and laid the groundwork to run for a second term. "We've been sent here to finish the job," he said.
Addressing millions of Americans, Biden said, "Because the soul of this nation is strong, because the backbone of this nation is strong, because the people of this nation are strong, the state of the union is strong."
Here are the biggest takeaways from President Biden's address to Congress.
Pitching to come together
If there was one main takeaway from Biden's State of the Union address it was the US president's call for unity between the Republicans and the Democrats. At the beginning of his speech, he congratulated Speaker Kevin McCarthy on his new role, turning around to shake the hand of the smiling Californian. "I don't want to ruin your reputation, but I look forward to working with you," Biden joked.
But it appeared that working together wasn't on the Republicans' agenda. At various times during Biden's speech, Republicans made their dismay vocally obvious. The jeers were the loudest when Biden accused them of planning to cut Social Security and Medicare. Republican US Representative Marjorie Taylor Greene yelled "liar", while Byron Donalds, another House Republican shouted, "we never said that".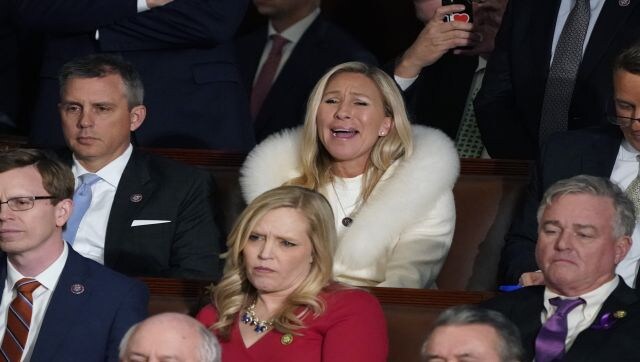 But Biden engaged Republicans instead of ignoring them. He said, "Let's all agree. Let's stand up for seniors."
Biden continued on his pitch for bipartisanship and said that in the first half of his term he had signed more than 300 bipartisan measures into law, including sending defence funding to Ukraine, spending on infrastructure, and codifying same-sex marriage.
"If we could work together in the last Congress, there is no reason we can't work together in this Congress as well," he said, adding that his "vision was to unite the country".
China and that balloon
Tensions between China and the US worsened after Washington accused it of using a balloon to spy on it. The balloon has been shot down over the weekend, but it seemed that the issue wasn't dying down any time soon.
At a time when the Republicans have criticised the US president for his handling of the issue, Joe Biden said, "Today, we're in the strongest position in decades to compete with China or anyone else in the world. I am committed to work with China where it can advance American interests and benefit the world. But make no mistake: as we made clear last week, if China threatens our sovereignty, we will act to protect our country. And we did."
Also read: State of the Union: The history of the presidential address
On the Ukraine war
As we come closer to the first anniversary of the Russian-Ukraine war (its Day 350 today), the pitched battle also found a mention in Biden's address. He welcomed Ukraine's ambassador to the US, seated in the gallery, and heralded allied support for the nation. However, he did not use the opportunity to call for new aid to the war-torn nation.
"Together," he said, "We did what America always does at our best. We led. We united NATO and built a global coalition. We stood against (Vladimir) Putin's aggression. We stood with the Ukrainian people."
Addressing the Ukrainian ambassador, Biden said: "We're going to stand with you as long as it takes."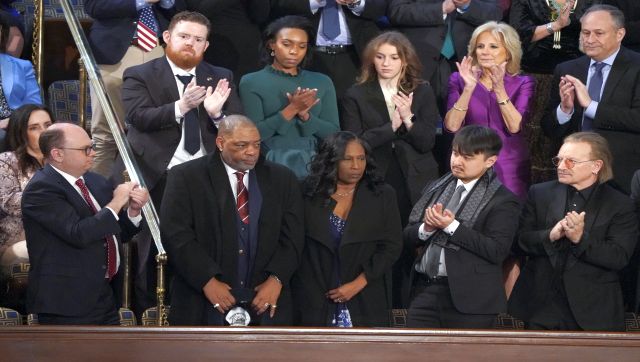 Call for police accountability
Biden used his State of the Union address to push for more police accountability in light of the recent police fatal beating of 29-year-old Tyre Nichols in Memphis, Tennessee.
Pointing to Nichols' mother and stepfather, RowVaughn and Rodney Wells, who were sitting in the First Lady's box, the US president said, "As many of you personally know, there are no words to describe the heartache of losing a child, but imagine, imagine if you lost that child at the hands of the law."
He spoke about the importance of community trust in law enforcement officers and said that "we have to do better". "What happened to Tyre in Memphis happens too often," said Biden, calling on police departments to hold officers accountable when they violate the public's trust.
He also called for supporting law enforcement with additional resources to increase training for officers.
"Let's commit ourselves to make the words of Tyre's mom true," Biden said. "Something good must come from this."
A call for 2024
In the State of the Union address, Biden repeatedly pledged that America needs to "finish the job". Analysts say that this was a veiled argument that voters should give him a second term to do just that.
Nearly a dozen times, he bragged about his administration's accomplishments — on keeping drug prices low, increasing taxes on the wealthy, making child care and housing affordable, and more — but said he had more to do.
The Washington Post also stated that Biden's mention of several relatively modest populist ideas focused on commonly relatable issues like credit card fees, airline fees, and overdraft fees is an indicator of his likely campaign in the race for re-election to the White House.
"Biden has touched on many of these issues before, but you begin to see the beginnings of a 2024 stump speech," The Washington Post analysis said.
With inputs from agencies
Read all the Latest News, Trending News, Cricket News, Bollywood News,
India News and Entertainment News here. Follow us on Facebook, Twitter and Instagram.
Politics
Biden spoke about the shooting by phone on Wednesday with U.S. Senator Marsha Blackburn of Tennessee, who has often been a harsh critic of his administration, according to the White House. It did not say whether they discussed policy responses
World
Biden tweeted that the bill would threaten 'retirement savings by making it illegal to consider risk factors.' Republicans say the so-called ESG factors amount to political interference
Politics
Trump's expected appearance before a judge in Manhattan on Tuesday as the Republican mounts a comeback bid for the presidency could further inflame divisions across the country