There was a certain degree of skepticism in Saudi Arabian administration when Prime Minister Narendra Modi expressed his desire to visit Tata Consultancy Service's facility's at Riyadh during his two day visit to the kingdom. "There is hardly anything to be seen," was the prevailing feeling among officials.
The facility exclusively run by the women from Saudi Arabia is largely out of bound for males. The interaction of women with men other than family members is forbidden by a religious decree which is strictly adhered to and enforced. After some vacillating, it was finally agreed that Modi would visit the facility and hold a conference with working women.
During his visit there, several women, clad in abayas, spoke about technology, human resource development and the modern world. "You have projected Saudi Arabia's new face to the world," a high-ranking Saudi official accompanying Modi said. The Prime Minister later said he was "equally impressed" by the manner in which his hosts conducted themselves.
Given the cultural sensibilities that hold sway in the kingdom, Modi was particularly mindful of the manner in which he addressed the women. He described them as "aan baan and shaan (pride and honour)" of Saudi Arabia, adding that what he witnessed at the facility "appears to be a harbinger of a positive force for the world". He then invited them to India and sought their remarks about India women, to be submitted using the Narendra Modi app.
Of all his foreign visits, the trip to Saudi Arabia could be regarded as the most significant for many reasons. It appears Modi has developed a rapport with the oil-rich kingdom that is independent of India's relationship with Pakistan.
There is a strategic and historical context in which bonhomie between Modi and Saudi King Salman bin Abdulaziz Al Saud has to be viewed. India was grateful to the Saudi regime for providing exemplary support in the operation conducted to rescue over 5,000 Indians trapped in Yemen. It is likely Saudi Arabia's role weighed heavily on Modi's mind when he visited the country.
At the same time, there is a palpable sign of estrangement between Saudi Arabia and Pakistan. For instance Pakistan's dalliance with Iran has not gone down well with the Saudi regime. Similarly Pakistan's decision to stay clear of the kingdom's battle against Islamic militants – particularly Shia forces – in the neigbourhood is seen as too-clever-by-half diplomacy. Pakistan has used the pretext of its own large Shia population for not joining the battle. This has certainly rattled the Saudi regime.
Apart from strategic and diplomatic ramifications, Modi's visit to Saudi Arabia was personally significant. In the post-2002 communal violence in Gujarat, Modi's projection as villain of the piece by a section of media found international resonance. while the United States of America denied him a visa, the UK politely dissuaded him from visiting Great Britain. His acceptance in the Islamic world was considered to be an impossibility.
Contrary to his image, Modi's acceptability among leaders like the ruler of Saudi Arabia seems to have soared in the two years that he has served as Prime Minister. This was indicated by conferment of the highest civilian award by the Saudi regime during his just-concluded visit. Similarly his visit to the United Arab Emirates (UAE) proved to be productive in terms of trust building.
Given the fact that Modi shares a special relationship with Israel, he is adept enough not to allow this proximity to limit his relationship with the Islamic world. Conscious of Indian imperatives that call for maintaining a strong relationship with Saudi Arabia and the UAE, Modi makes it a point to visit Indians settled in those countries.
This is the precise reason why selfies clicked by women techies in Riyadh is not an ordinary event. It is to Modi's credit that the response he received was contrary even to what the Saudi administration believed would result from his visit to the TCS facility.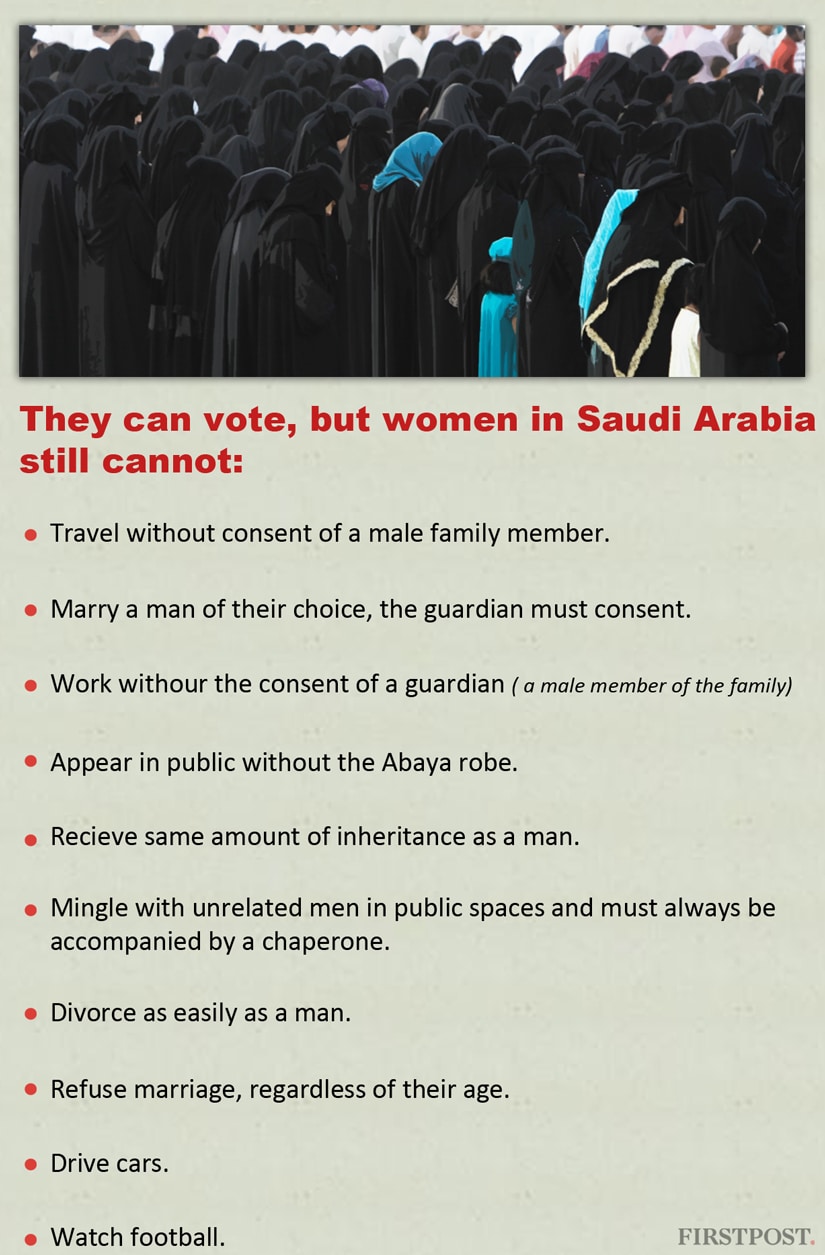 Updated Date: Apr 06, 2016 14:58 PM