What is the dispute in Nepal government over giving home ministry to Swatantra Party?
Prime Minister Pushpa Kamal Dahal also met UML Chief KP Sharma Oli to discuss the matter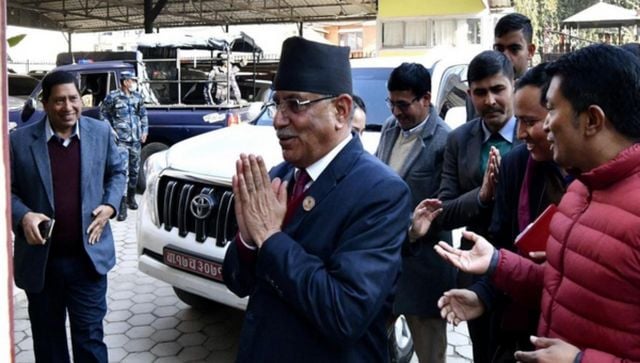 New Delhi: The coalition government in Nepal is divided over whether the home ministry should be given to the Swatantra Party. The conflict arose after the annulment of Rashtriya Swatantra Party president Rabi Lamichhane's status as home minister.
What is the controversy surrounding Rabi Lamichhane?
The Supreme Court in Nepal on Friday stripped Rabi Lamichhane of his lawmaker position, saying that the citizenship certificate he produced to contest the parliamentary election was invalid. According to a report in the Kathmandu Post, " The cancellation of his citizenship certificate also cost him the positions of the home minister and party president. But on Sunday, Lamichhane reacquired the citizenship from the District Administration Office, Kathmandu and his party subsequently reinstated him party president."
CPN-UML positive on giving home ministry to Swatantra Party
CPN-UML, a major coalition partner wants Rabi Lamichhane back in the cabinet. UML vice-chair Subas Nembang said, "The ministry was allocated to the Rashtriya Swatantra Party with consensus among ruling partners. Everyone had agreed. There has been on change in that situation."
Meanwhile, Prime Minister Pushpa Kamal Dahal met UML Chief KP Sharma Oli to discuss the matter. Reports, however, suggested that no decision has been made yet.
A member of the prime minister's Secretariat said PM Dahal is in the mood to wait and watch after the recent court decision. "It seems Oli is trying to tighten his grip on the ruling coalition with the backing of the Rastriya Swatantra Party and the Rastriya Prajatantra Party. Chairman Dahal and other Maoist Centre leaders want to change this state of affairs," the Secretariat member said.
Prime Minister Pushpa Kamal Dahal has kept the home ministry with himself after the Supreme Court verdict.
Will Rabi Lamichhane's face criminal investigation?
The Supreme Court verdict might also lead to a criminal investigation against Rabi Lamichhane. According to reports, members of the ruling Maoist party urged the prime minister and party president to rethink reinstating Lamichhane as home minister.
Read all the Latest News, Trending News, Cricket News, Bollywood News,
India News and Entertainment News here. Follow us on Facebook, Twitter and Instagram.