What Donald Trump did in first week as President-elect to confound and delight America
He is not your run-of-the-mill politician. Therefore, President-elect Donald Trump has the US agog as he goes about putting together his Cabinet and White House team, dipping his toes in what he calls the Washington 'swamp,'
New York: He is not your run-of-the-mill politician. Therefore, President-elect Donald Trump has the US agog as he goes about putting together his Cabinet and White House team, dipping his toes in what he calls the Washington "swamp", getting ready to meet Japanese prime minister Shinzo Abe, and still finding time to blast The New York Times, while blowing off presidential press protocols to eat dinner and drink virgin Bloody Marys with his family at the swish 21 Club in mid-town Manhattan.
Here are some of the things Donald Trump did much to America's exasperation and delight in just over a week since he was declared the president-elect.
Trump's Twitter Burst: "Everything Going Smoothly"
On Wednesday, Trump indulged in one of his trademark Twitter takedowns of the The New York Times, blasting it for reporting that US allies and world leaders had gone stir-crazy trying to get in touch with him, while cold-calling Trump Towers in New York.
Trump retorted:
The failing @nytimes story is so totally wrong on transition. It is going so smoothly. Also, I have spoken to many foreign leaders.

— Donald J. Trump (@realDonaldTrump) November 16, 2016
I have recieved and taken calls from many foreign leaders despite what the failing @nytimes said. Russia, U.K., China, Saudi Arabia, Japan,

— Donald J. Trump (@realDonaldTrump) November 16, 2016
Australia, New Zealand, and more. I am always available to them. @nytimes is just upset that they looked like fools in their coverage of me.

— Donald J. Trump (@realDonaldTrump) November 16, 2016
The New York Times had reported that Trump had "taken calls from the leaders of Egypt, Israel, Russia and Britain, but said they had been conducted haphazardly and without State Department briefings that traditionally guide conversations with foreign leaders."
Sending mixed signals with his hires
Priebus is a sensible choice guaranteed to mollify the Republican top brass, but Trump set alarm bells ringing on Sunday by naming far right firebrand Stephen Bannon as his chief strategist and senior counsel. Bannon, who was chief executive of the Trump campaign, once described Washington's top Republicans as "c**ts", according to The Daily Beast.
Moderating campaign promises
However, Reuters quoted Kansas secretary of state Kris Kobach, who is reportedly in play for the post of attorney-general, as saying that Trump's team is mulling a Muslim registry for immigrants from Muslim countries. The report also said the Trump team was looking at how Homeland Security "could move rapidly on border wall construction without approval from Congress by reappropriating existing funds in the current budget."
Trump ditches his press pool
Trump has had a testy love-hate relationship with the media during the election campaign and now it appears to be settling firmly on hate. In the past week, Trump has on two occasions, including his first visit to the White House to meet President Barack Obama, ditched the media. He has relished throwing traditional presidential press protocols to the winds. On Tuesday night, he again gave the slip to the pool of reporters tasked with following him in public to run off quietly to eat dinner with his family at the 21 Club. Trump shook hands with some of the startled dinner guests who were surprised to see him stride into the chic Manhattan steakhouse, while the press pool went on a mad goose chase looking for Trump all over New York.
"Trump has not held a news conference since the election and has not designated a surrogate to brief reporters on his transition... The cold shoulder has renewed a nagging question for reporters: Will President-elect Trump's behaviour be a preview of his approach, or perhaps non-approach, to his relations with the news media when he takes office?" asked The Washington Post.
"He banned about a dozen news organisations, including The Washington Post, from his rallies and events, and threatened to sue others, including The New York Times," added the newspaper.
World
NATO is urging China to join international efforts to limit the spread of nuclear weapons amid concerns that the country is rapidly developing missiles capable of carrying atomic warheads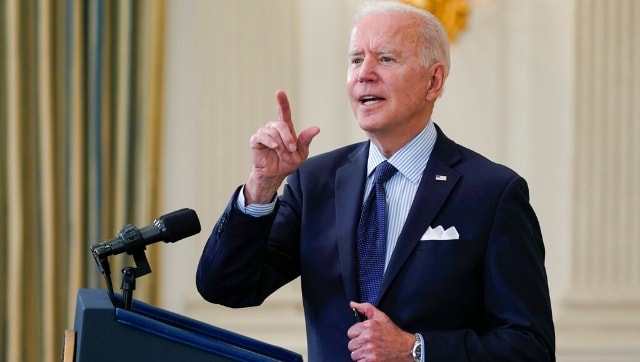 World
The remark comes in the wake of the announcement of the formation of a new interim government in Kabul by the Taliban
Entertainment
The Netflix documentary paints Muhammad Ali and Malcolm X as unhinged victims, rather than powerful narrators, of the black rage lining the periphery of America's White Supremacist movement.