West African leaders to hold extraordinary summit on Mali crisis
By Tiemoko Diallo BAMAKO (Reuters) - West African leaders will hold a virtual extraordinary summit on Monday to propose measures to end the deepening political crisis in Mali after five heads of state met with the government and the opposition in the country's capital city Bamako on Thursday. The presidents from five West African countries held talks all day with various parties to an end to the political stalemate that has rocked the country and raised fears it could undermine a regional fight against Islamist militants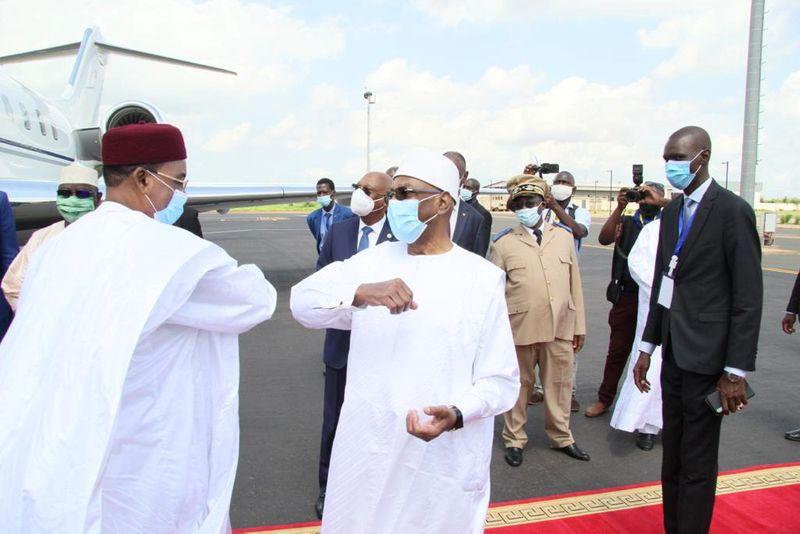 By Tiemoko Diallo
BAMAKO (Reuters) - West African leaders will hold a virtual extraordinary summit on Monday to propose measures to end the deepening political crisis in Mali after five heads of state met with the government and the opposition in the country's capital city Bamako on Thursday.
The presidents from five West African countries held talks all day with various parties to an end to the political stalemate that has rocked the country and raised fears it could undermine a regional fight against Islamist militants.
"We have decided that we will report back to all the heads of state during an extraordinary meeting on Monday July 27," said Mahamadou Issoufou, Niger's President and current chair of the 15-member regional ECOWAS bloc.
"ECOWAS will take strong measures that will contribute to the resolutions of the crisis," Issoufou told journalists after the meetings.
Infuriated by corruption, disputed local election results and army losses to jihadists, tens of thousands of people have taken to the streets in recent weeks, sparking clashes with police in which the United Nations says at least 14 protesters have died this month.
The opposition, a group called M5-RFP whose figurehead is Saudi-trained Muslim cleric Mahmoud Dicko, has said it will not quit until President Ibrahim Boubacar Keita steps down, raising concerns in neighbouring countries of a protracted crisis.
Dicko told journalists after a final meeting late on Thursday that there had been no progress, and nothing had been offered at the moment that was acceptable to them.
"M5-RFP demands the resignation of Keita or the satisfaction of our demands," which include the establishment of a committee of inquiry into civilian deaths and a transitional government, the group's spokesman Nouhoum Togo had told Reuters on Thursday.
Niger's Issoufou said however that ECOWAS drew a red line on the demand for President Keita to resign.
"There will be no unconstitutional change of power in the ECOWAS region," Issoufou said.
(Reporting By Tiemoko Diallo; Writing by Bate Felix and Edward McAllister; Editing by Andrew Cawthorne and Diane Craft)
This story has not been edited by Firstpost staff and is generated by auto-feed.
World
ATHENS (Reuters) - Greek police used teargas and water cannon to disperse people who had gathered in central Athens on Saturday to protest against mandatory COVID-19 vaccinations. More than 4,000 people rallied outside the Greek parliament for a third time this month to oppose mandatory inoculations for some workers, such as healthcare and nursing staff.
World
ISTANBUL (Reuters) - Two Turkish soldiers were killed and two were wounded in an attack on their armoured vehicle in northern Syria, and Turkish forces immediately launched retaliatory fire, Turkey's defence ministry said on Saturday. "Our punitive fire against terrorist positions is continuing," the statement on Twitter on said. It did not specify where the attack occurred, but media reports said it was in the al-Bab area.
World
By Marcelo Rochabrun SAO PAULO (Reuters) - Protesters took to the streets in several Brazilian cities on Saturday to demand the impeachment of far-right President Jair Bolsonaro, whose popularity has fallen in recent weeks amid corruption scandals against the backdrop of the pandemic. This week, news broke that Brazil's defense ministry told congressional leadership that next year's elections would not take place without amending the country's electronic voting system to include a paper trail of each vote. Bolsonaro has suggested several times without evidence that the current system is prone to fraud, allegations that Brazil's government has denied