'We're not a colony': Mexican president stands firm on not recognizing Biden win
MEXICO CITY (Reuters) - Mexican President Andres Manuel Lopez Obrador on Wednesday dug in his heels as one of the few leaders of major countries yet to congratulate Joe Biden on his presidential election win, saying it was too early and that his country was 'not a colony'. Lopez Obrador, who accused rivals of electoral fraud in his presidential defeats in 2006 and 2012, says he has no side in the U.S. election, and will wait until legal challenges launched by the Trump administration over the vote have played out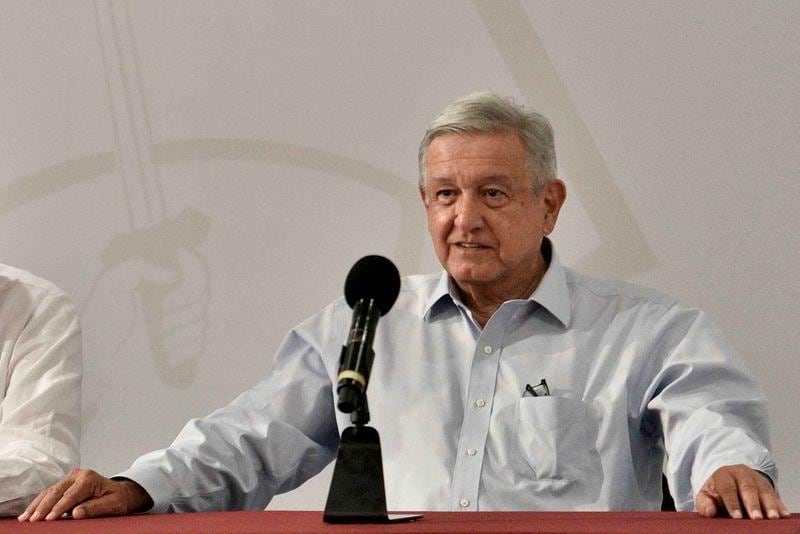 MEXICO CITY (Reuters) - Mexican President Andres Manuel Lopez Obrador on Wednesday dug in his heels as one of the few leaders of major countries yet to congratulate Joe Biden on his presidential election win, saying it was too early and that his country was "not a colony".
Lopez Obrador, who accused rivals of electoral fraud in his presidential defeats in 2006 and 2012, says he has no side in the U.S. election, and will wait until legal challenges launched by the Trump administration over the vote have played out.
"We can't make any kind of recognition of a government that is not yet legally and legitimately constituted," he told a news conference. "It's not up to us, that's interventionism."
Lopez Obrador showed no such hesitation in congratulating the victors of Bolivia's divisive 2019 presidential election, which was later annulled over irregularities. Critics charge his position on Biden does not look neutral.
U.S. President Donald Trump, who has repeatedly threatened to hurt Mexico economically if it does not curb illegal immigration, has refused to accept defeat and launched lawsuits to press claims of election fraud. State officials have said they are not aware of any significant irregularities.
Biden, a Democrat, cleared the threshold of 270 Electoral College votes needed to win the presidency on Saturday.
While in opposition, Lopez Obrador likened Trump to Nazi dictator Adolf Hitler and pledged to put him "in his place" if elected. Since taking office nearly two years ago, he has been at pains to avoid conflict with the American president.
His attitude on the vote has upset some Democrats but Lopez Obrador insisted there would be no repercussions for Mexico.
"Because we're adhering to our policy of principles," he said. "Also, we're not a colony. We're a free, independent, sovereign country. The Mexican government is not a puppet of any foreign government."
Left-leaning Lopez Obrador is part a shrinking group of world leaders yet to congratulate Biden, along with Brazil's right-wing President Jair Bolsonaro, Russia's Vladimir Putin and China's Xi Jinping.
(Reporting by Anthony Esposito; Editing by Nick Macfie; Editing by Dave Graham and Nick Macfie)
This story has not been edited by Firstpost staff and is generated by auto-feed.
Find latest and upcoming tech gadgets online on Tech2 Gadgets. Get technology news, gadgets reviews & ratings. Popular gadgets including laptop, tablet and mobile specifications, features, prices, comparison.
World
VIENNA (Reuters) - The U.N. nuclear watchdog and the United States pressured Iran on Wednesday to finally explain the origin of uranium particles found almost two years ago at an old but undeclared site that Israel has called a "secret atomic warehouse". Israeli Prime Minister Benjamin Netanyahu drew attention to the Turqazabad site in Tehran in a speech to the United Nations in September 2018, urging the International Atomic Energy Agency to visit it
World
NEW DELHI (Reuters) - Sri Lankan President Gotabaya Rajapaksa said on Wednesday he had delivered on a key election promise to rebuild the island nation's intelligence network in the year since assuming office.
World
WARSAW (Reuters) - Polish authorities said on Wednesday a former secret service agent and a Chinese citizen who worked for a telecommunications company have been charged with spying for China. Reuters previously reported on the allegations against an employee of Huawei and a former Polish domestic intelligence operative who were being investigated by the Warsaw government for suspected espionage