'Welcome home,' Ursula von der Leyen to Zelenskyy as EU leaders hail Ukrainian President's arrival
Ukrainian President Volodymyr Zelenskyy's tour of European capitals brought him to Brussels on Thursday to lobby EU leaders for jets and long-range weapons to bolster Kyiv's defences against the Russian invasion
New Delhi: The leader of the European Union Ursula von der Leyen hailed the Ukrainian President Volodymyr Zelenskyy's first visit to Brussels, the capital of EU, ever since the beginning of the war in Ukraine in February 2022.
"Welcome home, welcome to the EU," European Council chief Charles Michel tweeted above a picture of him shaking Zelenskyy's hand, alongside European Commission head Ursula von der Leyen.

Ukrainian President Volodymyr Zelenskyy's tour of European capitals brought him to Brussels on Thursday to lobby EU leaders for jets and long-range weapons to bolster Kyiv's defences against the Russian invasion, the AFP reported.
Ukraine had applied for EU membership in February last year and was granted candidate status in June.
Earlier this month the EU leader Ursula was in Kyiv for an EU summit. The visit was accompanied by a series of purges against Ukrainian officials involved in corruption cases in an effort by the Ukrainian government to show its commitment to the anti-corruption levels of the union.
Meanwhile, Ukrainian President Volodymyr Zelenskyy, during his visit to UK yesteray, left the country with a firm British commitment to train Ukranian fighter jet pilots on NATO-standard aircraft, along with an offer of longer-range missiles.
UK Defence Secretary Ben Wallace has now been tasked with investigating which jets the UK might be able to supply to Ukraine, Downing Street announced — but Prime Minister Rishi Sunak fell short of making actual promises on their supply, which his spokesman said would only ever be a "long-term" option.
This is Zelenskyy's second visit outside Ukraine since the beginning of the war on 24 February 2022.
His first visit outside Ukraine since the war began was to the US in December last year where he managed to score an aid commitment worth $45 billion.
With inputs from agencies
Read all the Latest News, Trending News, Cricket News, Bollywood News,
India News and Entertainment News here. Follow us on Facebook, Twitter and Instagram.
World
The head of the Wagner group, Yevgeny Prigozhin, said this week that his forces were in control of around 70 percent of the city, and a Russian aide in the wider Donetsk region said the city was "practically surrounded"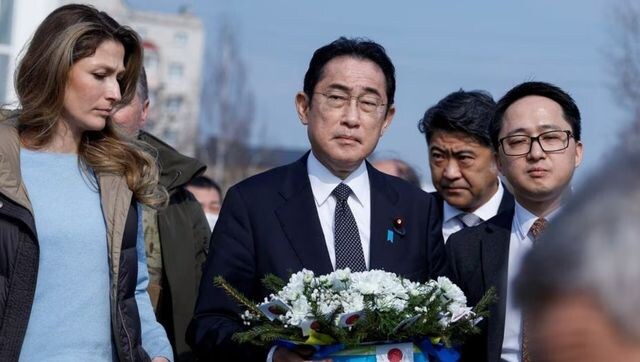 World
Russian troops were accused of massacring civilians in the capital region suburb of Bucha, which they occupied for several weeks in early 2022
World
Ukrainian President Volodymyr Zelenskyy on Tuesday said he had held 'productive talks' with Japanese Prime Minister Fumio Kishida on his visit to Kyiv