Watch: Last chance to see North Korea for US tourists
For years the US State Department has warned its citizens against travelling to North Korea, telling them that they are "at serious risk of arrest and long-term detention under North Korea's system of law enforcement".
Pyongyang (North Korea): On Sunday, the Westerners lined up before giant statues of North Korea's founder Kim Il-Sung and his son and successor Kim Jong-Il and, on command from their guide, bowed deeply.
It is a ritual that the Trump administration intends to stop US tourists performing, with Washington due to impose a ban this week on its citizens holidaying in the Democratic People's Republic of Korea (DPRK), as the North is officially known.
The move comes amid heightened tensions over Pyongyang's nuclear and missile ambitions — it launched a rocket earlier this month which specialists say could reach Alaska or Hawaii — and after the death of US student Otto Warmbier, who had been imprisoned for more than a year by Pyongyang.
Warmbier was convicted of crimes against the state and sentenced to 15 years' hard labour for trying to steal a propaganda poster from a Pyongyang hotel. He was sent home in June in a mysterious coma that proved fatal soon afterwards.
Most tourists to North Korea are motivated by curiosity and the desire to experience a different destination.
The iconic 20-metre-high (66-feet) statues at Mansu hill look out over Pyongyang and groups of North Koreans in suits and ties arrive regularly to pay their respects. Passing traffic is obliged to slow down.
As the tourists reached the platform speakers played "We miss our general", about Kim Jong-Il, the father of current leader Kim Jong-Un.
"President Kim Il-Sung liberated our country and built a people's paradise on this land," they were told.
Call centre manager Kyle Myers, 28, from Ireland, said he wanted "to go somewhere very different from what I'm used to" for his first trip to Asia, "to see something that not a lot of people from back home have seen".
The mounting tensions in the year since he booked the tour had made him nervous, he said, but he added: "I don't see the threat here for tourists as long as they behave themselves and they follow the rules of the country."
'A little disquieting' 
Some of the visitors — who paid from 1,850 euros ($2,157) for the tour — expressed enthusiasm. Australian IT manager Pallavi Phadke, 43, was among those who placed a bouquet before the statues.
It was "a sign of respect", she said. "It's the same as covering your head when you go to a mosque or removing your shoes when you go to a temple.
"The people seem happy, they certainly don't appear to be oppressed or anything," she said. "They're very proud of their country, they're proud of their history and it's nice to watch them be patriotic."
Many disagree, including the United Nations, multiple Western governments and independent groups have accused Pyongyang of widespread human rights violations.
Other tourists were more sceptical. Mark Hill, a writer and editor from Calgary in Canada, compared the statues to "a very grim Mount Rushmore".
"It's all very impressive and also a little disquieting," he said.
For years the US State Department has warned its citizens against travelling to North Korea, telling them that they are "at serious risk of arrest and long-term detention under North Korea's system of law enforcement", which "imposes unduly harsh sentences for actions that would not be considered crimes in the United States", including showing disrespect to the country's leaders and proselytising.
It is "entirely possible that money spent by tourists in the DPRK" goes to fund its weapons programmes, it adds.
The ban will go into force 30 days after it is formally declared, said department spokeswoman Heather Nauert, and "US passports will be invalid for travel to, through and in North Korea".
'Monolithic evil force' 
The vast majority of tourists to North Korea are from China, its sole major ally and key provider of trade and aid.
Americans make up around 20 percent of the 4,000 to 5,000 Western tourists who go to the country each year, according to Simon Cockerell of Koryo Tours, the leader in the niche market, which brought Sunday's visitors to Pyongyang.
Warmbier's death had already hammered the market, he said, with bookings down 50 percent since then.
"Almost everyone in their lives has made some mistake and of course they don't want the consequences of that mistake to be so devastating," he said.
But Washington's move, he said, was self-defeating. As well as the potential ramifications for North Koreans who earn their living from tourism, he said, it would "completely eliminate any human interaction between United States citizens and North Korean citizens".
Pyongyang's state propaganda about the US was "100 percent negative", he said, but contacts between tourists and locals "work against the idea that foreigners are some kind of monolithic evil force out to undermine the North Koreans".
"The idea that tourism is somehow sustaining the government is absurd," he added. "The numbers are very low, the revenues are very low."
Young Pioneer Tours, the firm that brought Warmbier to the North, had already said it would no longer take US citizens to the country.
Among Sunday's tour group was comedy writer Evan Symon, from Los Angeles, who as a result of Washington's ban is likely to be one of the last American tourists to the country for several years.
"It's just what happened," he said. "Kind of cool in a way, I guess."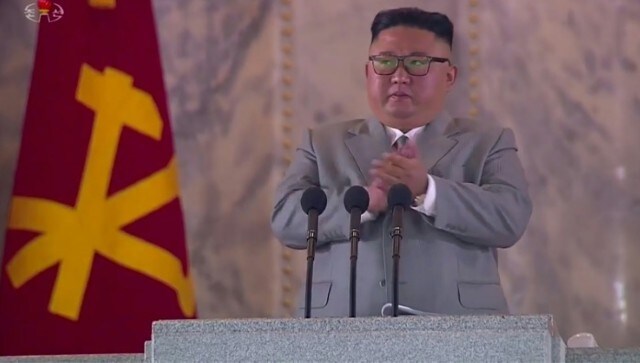 World
Some experts say North Korea could dramatically escalate weapons demonstrations after the Winter Olympics, which begins on 4 February, 2022, in China, the North's main ally and economic lifeline
World
North Korea issued a statement berating the Biden administration for imposing fresh sanctions over its previous missile tests and warned of stronger and more explicit action
World
Months after North Korea joined the major powers, such as Russia, China and the United States with the test of a new hypersonic missile late last year, Japan is getting ready with its own Next Gen weapon to defend against any misadventure from its neighbours