Jagmeet Singh, Justin Trudeau's prime ministerial rival in Canada, is a criminal lawyer with uneasy relationship with India
Canada continues to churn out social media-friendly politicians as Jagmeet Singh, a criminal lawyer with sartorial flair was elected as leader of the NDP party.
Canada continues to churn out personable and social media-friendly politicians as media darling Prime Minister Justin Trudeau now faces competition from Jagmeet Singh, a 38-year-old criminal lawyer with a certain sartorial flair.
Singh was named leader of Canada's New Democratic Party (NDP) on Sunday, the country's third biggest political force after Justin Trudeau's Liberals and the Conservatives. He won almost 54 percent of votes in the first round of voting against three other candidates.
After being named NDP leader, he tweeted, "I'm officially launching my campaign to be the next Prime Minister of Canada."
Singh was born into a Punjabi Indian family in Scarborough, Ontario. He often wears a brightly coloured turban and usually wears a kirpan, a knife carried by Sikh men which is banned in certain places in Canada.
Prime Minister Justin Trudeau congratulated Singh on his election. "I look forward to speaking soon and working together for Canadians," he wrote on Twitter.
Singh is a member of the Ontario provincial member parliament, not of the federal parliament in Ottawa — meaning he cannot press Trudeau during the daily question period. He hinted during his campaign he would not immediately seek a seat, which would require the resignation of an elected official to give him a place in a constituency where he could easily win.
Singh creates the same kind of buzz that Trudeau does
Like the photogenic prime minister, Singh has been splashed across the pages of a glossy style magazine — GQ in his case, Vogue in Trudeau's — and generates the same kind of buzz that Trudeau does despite a smaller platform as a provincial legislator in Ontario.
He uses Twitter (@theJagmeetSingh) to make policy announcements and statements — a series of tweets explaining why he wanted to be party leader went viral in June and was featured on BuzzFeed — while his YouTube channel showcases legislative work.
Using fashion to disarm people and create conversation
Singh, who said as a young man he was subject to random stops by police, says the racial discrimination he suffered in his youth gives him an edge over his rivals.
"There are a lot of Canadians that have faced certain struggles in their lives... they see in me someone who understands those struggles," he said at a vegan restaurant in between events.
His practice of wearing natty suits and turbans that vary from shocking pink to lime green dates back to his lawyer days when he was trying to dispel negative perceptions. His solution was to stand out as much as possible. "It disarms people and it creates conversations. So fashion for me has been used as a tool to engage people, to disrupt their normal notions of someone who looks like me," he said.
Viral video
Singh catapulted to online fame after a video of his calm response to an anti-Islam tirade by a woman at a campaign event in Brampton, Ontario received much approbation.
The woman, who identified herself as Jennifer in the video, thrust herself in front of Singh before he was about to speak and said, "We know you're in bed with Sharia. We know you're in bed with the Muslim Brotherhood."
Despite efforts by the organisers and supporters to take her aside, Jennifer refused to be removed and threatened to call the police.
Instead of responding aggressively to her boisterous attack, Singh calmly responded to the crowd: "We believe in love and courage... We don't want to be intimidated by hate, we don't want hatred to ruin a positive event... So let's show people how to treat someone with love: We welcome you. We love you. We support you."
A video of the exchange went viral and has received over 7 lakh views and shared over 4,000 times on Facebook. Brampton Focus, a local news outlet, caught the exchange on camera and uploaded it on its Facebook page which can be viewed here:
The video shows his supporters chanting "Jagmeet" and "love and courage" before breaking into applause.
The India (dis)connection
Singh is known to be forthright on issues and has earlier criticised US President Donald Trump's travel ban as well as has spoken out against India's treatment of minorities, according to The Times of India. In 2013, he was denied a visa to visit India. According to Singh, he had been selected as Sikh of the Year by two NGOs and had to visit Amritsar for the award ceremony.
In 2016, he had moved motion in the Ontraio Assembly seeking to describe the 1984 anti-Sikh riots in India as "genocide", reported Hindustan Times. The motion in a slightly different form was passed in 2017 after it was brought by a Liberal Party MPP. Singh spoke during the debate, severely criticising the Indian government.
In 2017, he accused India of interfering with his campaign by using its influence to stop members of his community from backing him.
These reasons have garnered him support from pro-Khalistan elements as well, says Hindustan Times. In fact, when the NDP leadership results were announced, a leading separatist figure, Sukhminder Singh Hansra, was present in the room.
Electoral chances
While Singh has won the initial voting, he will have an uphill battle when he challenges Trudeau's governing Liberal Party in the next election. Singh's party has just 44 of the 338 seats in Parliament. The party lags well behind the centrist Liberals and right-leaning Conservatives in political fundraising this year, according to Elections Canada data. Singh will now focus on rallying supporters and targeting centre-left voters who helped propel Trudeau's Liberals to a decisive victory in 2015.
There are hurdles ahead. Singh needs to persuade voters that his party can form a government, although it has never held power federally. There are also questions over whether he will have success in Quebec, Canada's mainly French-speaking province, where overt signs of faith are frowned upon.
Singh's most realistic hope is to take over the party and win enough seats in 2019 to deprive Trudeau of his majority in Parliament. That would leave the Liberals dependent on the NDP, who could then demand concessions in return for support.
Ipsos Public Affairs pollster Darrell Bricker calls Singh "a dangerous candidate" for Trudeau, especially in the Toronto region which accounts for about 20 percent of Parliament seats. "When you look at what happens here, if he can have any impact on the vote at all it's a threat," he said.
With inputs from agencies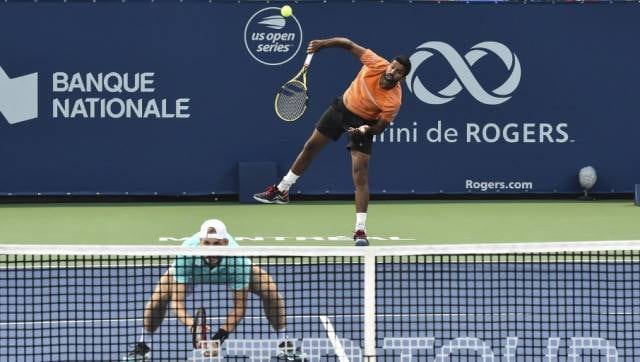 Sports
Bopanna and Shapovalov went down 6-4 3-6 10-5 against their German opponents to crash out of the ATP Masters 1000 tournament.
science
In a preview of the discussions, Blinken said, "We won't trade shots in arms for political favours. This is about saving lives."
Politics
It won't hurt the 'liberal' order to criticise its own for their egregious mistakes. Trying to cover them up, however, will snatch defeat where victory is eminently in sight