Intrigue in the House of Saud: Anti-graft sweep, arrests and mysterious deaths mark strange times in Saudi Arabia
Dozens of high-profile Saudi political and business figures arrested in an anti-corruption sweep will face trial, the attorney general said.
Dozens of high-profile Saudi political and business figures arrested in an anti-corruption sweep will face trial, the attorney general said, after the biggest purge of the kingdom's elite in its modern history.
Authorities hinted they could widen the crackdown after princes, ministers as well as billionaire tycoon Al-Waleed bin Talal were swept up in the weekend purge — hours after an anti-graft commission headed by Crown Prince Mohammed bin Salman was established.
The purge underscores an unprecedented restructuring of the kingdom as Prince Mohammed steps up a dramatic reform drive for a post-oil era while consolidating power before his eventual succession as king.
"All those suspected...will have full access to legal resources, and the trials will be held in a timely and open manner," Attorney General Sheikh Saud al-Mojeb said in a statement, describing the crackdown as "phase one".
"A great deal of evidence has already been gathered, and detailed questioning has taken place," he added, without specifying a timeframe for the trials.
Mojeb said the authorities were forced to pursue their investigations "discreetly" in order to ensure that "there was no flight from justice".
Saudi-owned Al-Arabiya television reported that 11 princes, four current ministers and dozens of ex-ministers were arrested as the commission launched a probe into old cases such as floods that devastated the Red Sea city of Jeddah in 2009.
A government official gave AFP a list of 14 of the most high-profile names including Prince Al-Waleed, ranked among the richest men in the world.
The anti-graft commission has uncovered evidence pointing at "widespread corruption", its president Khalid bin Abdulmohsen al-Mehaisen said in a separate statement.
Investigators had been gathering evidence for three years, he added, hinting that the government was preparing to expand the crackdown.
"The committee will continue to investigate corruption cases, identify the culprits, issue arrest warrants and travel restrictions and bring offenders to justice," he said.
Prince Abdulaziz bin Fahd, a son of the late king Fahd, was rumoured to have been killed in custody or while resisting arrest amid the crackdown.
The hashtag "death of Prince Abdulaziz bin Fahd" has since featured on social media, fuelling fevered speculation online.
"There is no truth whatsoever to rumours circulating in media concerning Prince Abdulaziz bin Fahd", an information ministry spokesman said in a statement.
"Prince Abdulaziz is alive and well."
Culture of privilege
Saudi forces have grounded private jets at airports, possibly to prevent high-profile figures from leaving the country, an aviation source told AFP.
Bank accounts of those arrested will be "frozen" and any assets related to the corruption cases will be registered as state property, the information ministry said.
Government social media channels have repeatedly replayed a months-old interview with Prince Mohammed in which he stressed that neither ministers nor tycoons will be spared if found guilty of corruption.
Saudi civilians seldom comment publicly on cases involving the powerful elite, but the message appears to resonate with the masses who seethe over a culture of privilege and entitlement among old-generation royals.
A front page headline in leading Saudi newspaper Okaz on Monday dared the arrested elite to reveal the sources of their wealth. "Where did you get this?" the headline said.
"The crackdown signals the beginning of the end of the era of excessive elite privileges," tweeted Ali Shihabi, director of the Washington-based Arabia Foundation who is said to be close to the establishment.
"The message to elites is that they can no longer feel automatically entitled to massive wealth and privilege going forward."
Aside from the arrests, the head of the Saudi National Guard, once a leading contender to the throne, as well as the navy chief and the economy minister were replaced at the weekend in a series of high-profile sackings that sent shock waves through the kingdom.
The dramatic shake-up comes at a time of unprecedented social and economic transformation in ultra-conservative Saudi Arabia, as the kingdom steps up its reform drive for a post-oil era.
News & Analysis
The World Health Day theme for this year announced by World Health Organisation is 'Building a fairer, healthier world'.
Sports
This was the England captain Kane's first international goal since he scored against Kosovo 500 days ago in November 2019.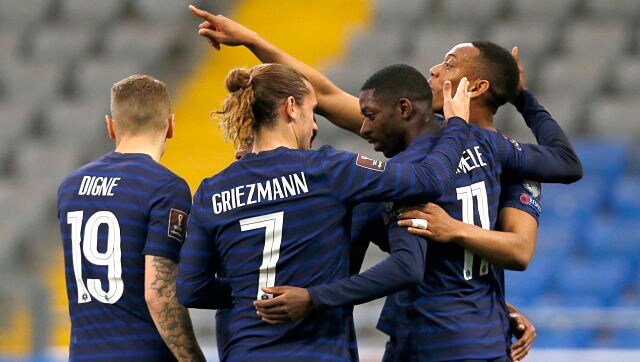 Sports
It was a welcome result for reigning world champions France after they kicked off their campaign in qualifying Group D by drawing 1-1 at home to Ukraine last Wednesday.