Watch: Giant Iceberg, nearly the size of Greater London, breaks off from Antarctic ice shelf
Few cracks occurred in the Brunt ice shelf decades back following which two major cracks were reported
In a shocking weather event, a massive iceberg, nearly the size of Greater London has broken off from an Antarctic ice shelf following decade-old cracks. As per the British Antarctic Survey (BAS), the cracks called 'Chasm-1' were discovered by scientists around a decade back but two major breaks were witnessed in the last two years.
A video of the massive crack in the shelf has gone viral on social media and attracted a lot of attention. The visuals show nearly 600 square miles (1550 square kilometers) of the iceberg with a major crack that broke from the 492 feet thick Brunt Ice Shelf on Sunday.
It is also noted that the ice shelf is near the BAS Halley Research Station which is said to be safe from the crack. The station moved 16+ miles away after the crack started widening. As per the BAS glaciologists, a phenomenon is a part of the ice shelf's life cycle, also called the calving event, and not a result of climate change.
Watch:

In a news release issued by BAS, it has been confirmed that the calving event was expected and is a natural behavior of the Brunt Ice Shelf.
"Our science and operational teams continue to monitor the ice shelf in real-time to ensure it is safe, and to maintain the delivery of the science we undertake at Halley," it said.
While this crack has not caused any damage or affected the surrounding, it is still uncertain whether the crack in the structure would trigger a speed-up in the flow of ice and further influence the behavior of other cracks. In the meantime, the video of the giant iceberg is being widely shared on social media catching the attention of citizens and environmental experts.
The viral video has also grabbed thousands of views with several likes and retweets.
Notably, the region had been experiencing rapid sea ice extent in the past few decades, ranging from record highs to record lows. While the impact of climate change is undeniable, the situation in Antarctica remains highly variable.
Read all the Latest News, Trending News, Cricket News, Bollywood News,
India News and Entertainment News here. Follow us on Facebook, Twitter and Instagram.
World
Henan is one of the most religious provinces in the largely secular country and home to one of China's most vibrant Christian communities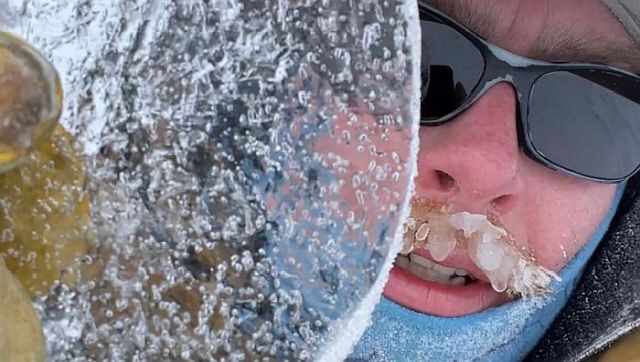 Explainers
A growing number of scientists are using the short-form video app TikTok to increase climate change literacy, campaign for action, and combat online misinformation. Some of them have gone viral
World
After weeks of peaceful strikes and marches against raising the official retirement age from 62 to 64, police on Saturday closed the Place de la Concorde opposite parliament for demonstrations following two successive nights of clashes